The day started off like any other holiday break type day for me
. I had plans to go see the new Fast and Furious movie today seeing as how it was Michael's birthday but I declined because I had forgotten to mention it to my mum last night and she didn't give me enough money for the movie.
Had to decline going to Michael's birthday party and instead stayed home and did homework.
Got quite a bit done actually. I was able to get through my Literature passages and did a few more annotations and coloured in my latest pictures for Vis Comm. Now I need to backtrack and actually do research pages and actually have some real instrumental drawings (I'm totally leaving out all the necessary components that make up Vis Comm). I'm really disliking this subject now. I'm imagining that I may end up with probably a D or C for my folio...yeah that's how pessimistic I am about this. Really look at the work below...it's shit-tastic. :D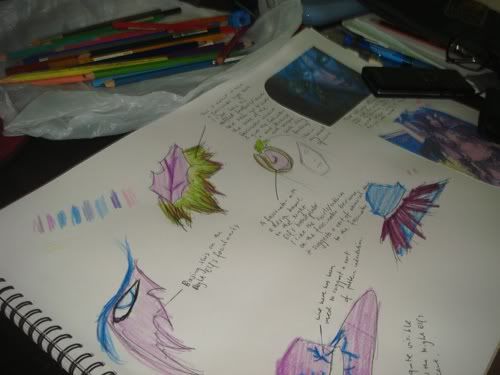 Oh and last night, as well as this morning, I was delighted to find that people have actually read my fan fic, Jailbait!
I posted it on MySpace ages ago and it was nice that some of my friends would read it but I wanted anonymous people to read it to. It's got about 100 views on Soompi but no one commented on it until last night. Sorta made my night. Then this morning, someone else commented it again. So yeah, that was something nice. :D
During the time in between the drawings and dinner, I downloaded the new Silversun Pickups album,
Swoon
. It's a nice listen, but I like their previous album just a little more. I also checked out Telegraphs new single,
I Don't Navigate By You
. I first read about them in an issue of Kerrang and they seemed pretty promising. Can't wait for their first studio album to be released in May. Below is their music video for their latest single from the soon to be released album,
We Were Ghosts.
Funny how the guy singer keeps chucking a spaz whenever he sings.
For dinner I had pizza from Pizza Hut. Everyone else was busy or had already ate so I went on my own (poor me).
BBQ Meat Lovers are the best, I won't accept anything else.
When I got home, I decided to leave my homework for a while because I had done enough for today and watched quite possibly, the worst film ever made: Undefeatable.
It's so bad though, that it's just so funny. You might remember that ridiculous fight scene I posted a few days ago. Well I watched the movie that it was taken from and lemme tell ya...you'll have the greatest time making fun of this movie; IT'S THAT AWESOME! I love the comments left behind by the YouTube community. Stingray is awesome. :D
Oh and as promised last night, here is a picture of my brad new shoes.
As you can see they're nothing fancy, just a pair of regular and generic Adidas shoes. :D
Hieuyy signing off.