Below are my 3 final Photoshopped images for Vis Comm.
I took the photos at Fitzroy Gardens. Special thanks to Jenie for modelling my hat.
After photos, my friend Kevin and I went to the city.
He bought a
Vincent Valentine figurine
while I bought 3 DVDs. I practically got the third DVD for free because if you bought two DVDs it was 20% off and three DVDs was 30% off. Limit was 50% off I think. I bought myself
Rough Cut,
Beast Stalker
and
NANA
. I rewatched
NANA
last night; awesome. No way in heck am I going to consider buying
NANA 2
cause that was horrid.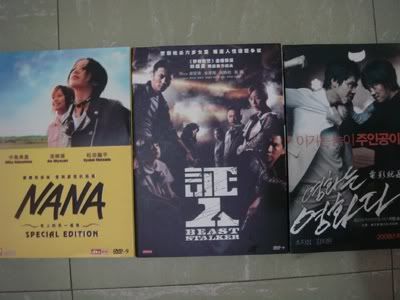 TODAY


Today I went to the Dirt Cheap Books warehouse in Collingwood to try and find a cheaper copy of

Norwegian Wood

but they didn't have it.
They did however have a whole bunch of awesome
Dragonball
mangas as well as some really cool art books. You may have seen the
Dirt Cheap Books
commercial on television. :D
Now I am going to organise my VCD folio and follow up with some dinner and Maths.
I hate the Applications component of Linear Modelling/Graphs. :@
End post.