Nothing much to report on other than the fact that I had a dream last night that I had had some sort of connection to Natalie from
communitychannel
on YouTube.
In my dream, I found an old photo that had my mum and Nat in it, haha. Dunno why I felt like sharing it but yeah. I like watching Nat ramble about stuff on YouTube; she's so awesome.
Anyways, I thought I'd share two pictures today.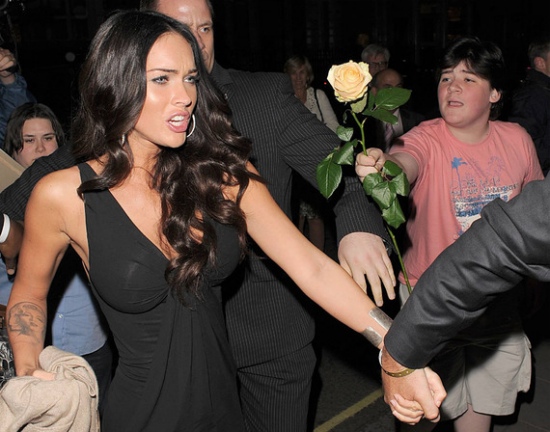 Fail, hahaha.
Gotta feel sorry for that kid. By the way, Megan Fox's boobs look like they got a lot bigger...nice.
First officially released photos from

Tim Burton's Alice in Wonderland
.
Helena Bonham Carter looks bloody freaky with that clown get up (she's playing The Red Queen). Oh and turns out Burton's
Alice in Wonderland
isn't actually a direct remake of the original
Alice in Wonderland
. It's actually a sequel of sorts.
The premise is that Alice is 17 years old and is about to be proposed to by some rich snob; a high society type guy. She freaks out and runs away and then is led back to Wonderland. Her last visit was 10 years prior. She doesn't remember ever visiting Wonderland though so it's up to the citizens of Wonderland to help her remember and rah rah rah. This ramble went on a bit too long...
EDIT:
I forgot to add this video in. It's Megan Fox explaining the photo above.