God I love Winter!
I love wearing my trackies underneath my school pants; so warm and comfortable. :D
Today was my oral presentation at school and I am fairly confident to say that I may have scored very well on it.
I may have stumbled on a few words and spoke a bit too fast but hey, that's what happens when your nervous. Talking to the teachers was a lot better than what I had imagined. Anyways, as any hungry student, I can't wait for feedback and get results. :@
After my oral, I hung out with Aaron and Masa in the city.
We grabbed a bite at the new KFC at Elizabeth Street (I think it's new...never seen it on that street before and certainly looked new.) I didn't even know KFC had their own version of a McCafe until today. :S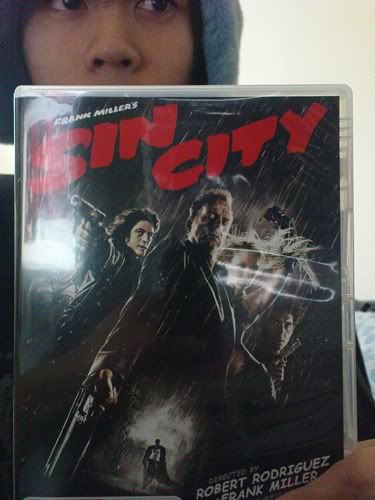 I also acquired probably the second coolest movie ever made today;
Sin City!
First goes to
Pulp Fiction
...I still want it. There's a difference between cool and great!
Star Wars
falls under a category of it's own;
iconic and legendary
.
AND YOU CAN'T ARGUE THAT! :@
My hands are bloody cold.
Flicking through a few pages of
The Umbrella Academy
again.
Still has that same feel and smell.
:D
Oh and my DVD collection has practically filled my shelf now.
Gotta transfer it to my bookshelf...though it looks so much better on top of me here. :S
End post.