So maybe I should start just doing weekly updates, as opposed to updates that go up everyday.
It's hard writing stuff about one day unless it's a good one. Otherwise it's all just school, go home, rest and study (the latter of which I barely divert my time to at home and reserve for at the State Library).
So yes, a summary of the week in one conveniently compiled post (still looks the same as before).
Sound good
? (In Lt Aldo Raine's voice...)
I probably won't be putting an FML (which I've done in maybe in a few previous posts) this time around cause copying straight from the site to here makes it autolink and it's tedious getting the links out.
Anyways, trying new things out to see what I like about working with for my blog.
Feedback would be kinda nice. :D
So away I go with a few things I did this week!
(wall of text, wall of text! D:)
______________________


1.

I've been resting on my laurels with Visual Communication and Design. I could've finished my second piece by this week but I've just been too lazy.
Thankfully, our teacher has given us ample time during the holidays to get our development folios up to scratch which is good considering I've done almost all my work during the holidays. I was able to print out my poster and am mounting it this week. I didn't like it on the screen but when it came out as a print...it actually looked quite nice and authentic. I was quite proud of it (even if there wasn't much done to it). I'm quite happy with how that turned out (Y).
2.

Had a Studio Arts excursion on Friday which was pretty boring.
Half the day practically got cut off cause the
National Gallery of Victoria
screwed up our teacher's plans. So our teacher let us off for lunch and told us to meet back at
Federation Square.
Thomas and I had some Korean food but came back late. No one was waiting for us and a guide said that the class had already walked in but was unsure as to where they were headed. Thomas and I decided to leave and go home instead. Hopefully, no repercussions ensue as a result of our departure.
______________________
3.
I finally bought a copy of the
Marvel

Civil War
storyline.
I've been wanting to read this story arc ever since maybe last yearor before even when I started getting slowly hooked on comic books (I hadn't bought my first comic till this year, however). I loved the story and I'm quite excited to play the game version of this when it comes out later this year in the form of
Marvel Ultimate Alliance 2.
______________________
4.
I read two great articles on the escalating numbers of city violence and gang attacks in Melbourne's CBD in

The Age

and

Herald Sun

during a Studio Arts class the other day.
It was a really great read; the kind of read that just lingers in your mind for a while and has an affect on you. I think
The Age
are doing a series on it as I was reading Part 1 in a series of 4. Melbourne's generally considered a safe city I reckon; the kind of city I'd be quite proud of living in but these alcohol fueled brawls damage the city's credibility (especially considering how good our Universities are and how that'd have an effect on interstate and/or international students. We've already had that whole fiasco with the Indian students and how they're being harrassed and such). I thought I'd just talk about that cause it's this kind of shit that makes me really question the human condition.
______________________
5
.
Going through a Donnie Yen movie rampage at the moment.
Actually just an Asian movie rampage in general. I've got this whole pile of movies with me at the moment and I don't know when I'm ever gonna get through them all or if I'm even gonna finish them.
______________________
6.
I
saw a 10 year old kid smoking a cigarette the other day
. What's worse was he was confidently smoking in a clearly no smoking area and with a security guard looming over him. Where and how did this kid get a cigarette? Where the parent's at? Once again, just really makes me question the human condition.
______________________


7.
Friday night wasn't meant to be anything special but something pleasant happened!
Kevin had to go see
Jabbawockeez
perform on Friday night so we (Eddie, Kevin and I) couldn't go see
District 9
. So I was planning to watch a bunch of the movies I previously mentioned but an old friend, Angela, called me outta the blue and we ended up catching up in the city and had a really good time.
ANGELA! :D

It may look disgusting but it was good. I've been craving Beef Curry for a while. (Y)
We went to eat at a Japanese themed restaurant called
Yuriya
and spent a long time walking and talking in the city streets of Melbourne. Good times, good times.
______________________


8.
Saturday was a great day for me personally, mostly cause I got to hang out with everyone that I wanted to hang out with.
I started the day having a cold and rainy breakfast with Masa and Dunstan. After breakfast we relaxed at Dunstan's place for a bit and then went back to mine so that I could change and go to the city.
From there, I had plans to have lunch with Minny and Thy. Now since the three of us had lunch in Melbourne Central, it was convenient for me cause Eddie and Kevin came by afterwards to watch
District 9
with me there.
District 9
was great; I implore everyone to see it!
After
District 9
, I parted from Kevin and Eddie to go see Masa, Dunstan and Jason who were at
Cue City
. We were soon joined by James, Kevin and Thomas in the city and ate dinner. Finally, we all went together to St Kilda to celebrate
Raoul's 18th!
Good day!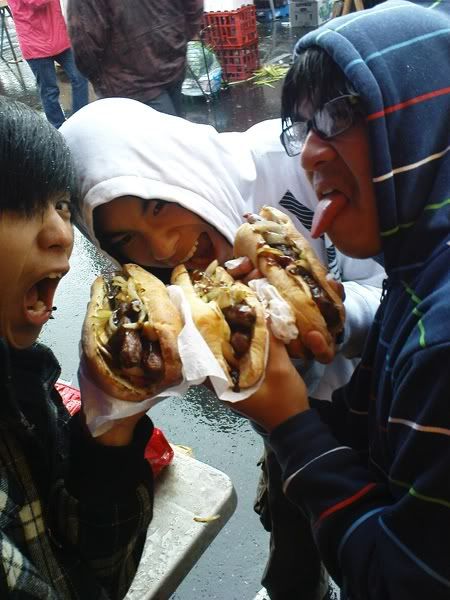 Incredibly wet and rainy at the fruit market as you can see. Our breakfast was dubbed, "The Lot". It consisted of two sausages, two strips of bacon, two fried eggs, a shit load of fried onions all shoved inside some Turkish bread with BBQ sauce. (Y)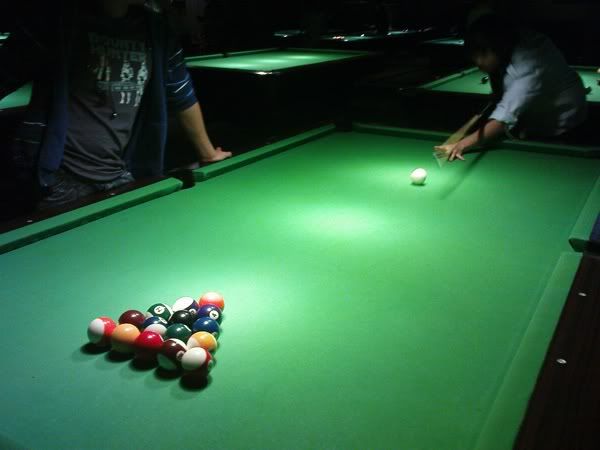 Pool at Cue City. They were playing Fire by 2NE1 there and I couldn't help but sing along. ==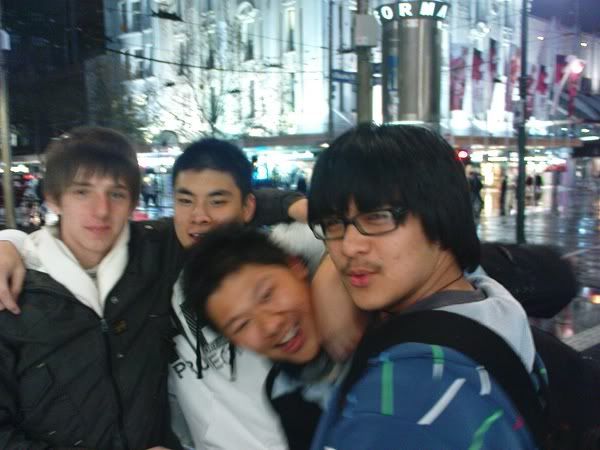 James, Dunstan, Kevin and Masa in the city.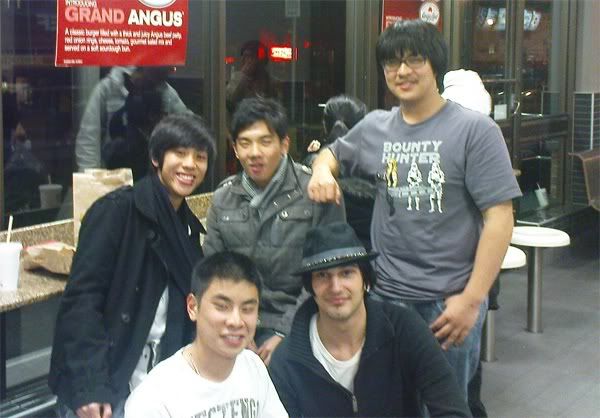 Myself, Jemmy, Masa, Dunstan and Bill (don't you think he looks like Johnny Depp?) We had a great time at that Maccas actually, haha.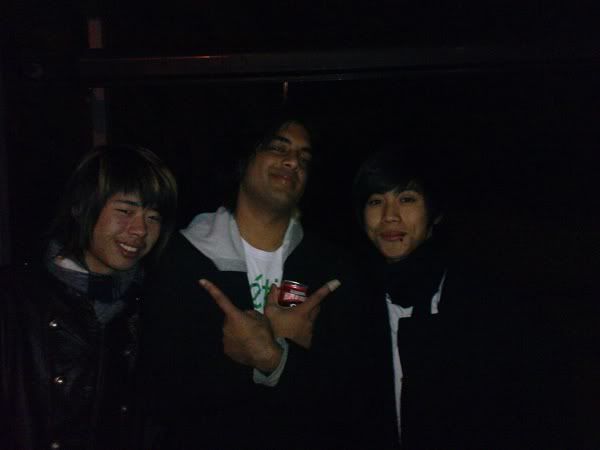 Daniel, Birthday Boy Raoul and myself. :O
______________________
Wow, city seem's so far away from where I was. :S
9.
Finally, I visited La Trobe University with Thy today because they had their Open Day for everyone to come visit.
I was really impressed with the campus; it's incredibly bigger than what I had previously imagined and the courses on offer were practically catered towards me and are really flexible. Most of all, I actually really dig the whole rural scene. I can definitely get used to being out in the green with fresh air and having a quieter schooling life. Definitely beats having the hustle and bustle of the city crowds.
Earlier in the week I had bumped into a friend who graduated from high school last year who said that he hated studying at Melbourne Uni cause it's not as glamourous as he thought it would've been. He told me not to believe the hype about schools like Monash or Melbourne Uni simply because a lot of it is false. His theory about these prestigious schools are backed up by a 2009 study that said that students rated La Trobe as the best Victorian University that satisfied students in their studies while others rated prestigious universities such as Monash and Melbourne Uni at the bottom. :O
End post.