Oh, I just noticed Blogger/Blogspot has a searchbar in their Dashboard. :S
Oh by the way, what do you call it:

Blogger or Blogspot?
I mean considering that the site itself is called Blogger yet the site's domain name for everyone contains Blogspot, I was just thinking which one would be more correct. I guess Blogspot sounds better than Blogger cause it sounds too generic but technically speaking (being that I am a person of great technicality...does that make sense?) I guess it should be called just Blogger.
Study Week this week!
The week just before the exams. Umm, in spite of perhaps sounding too overly confident and a bit arrogant, but I am kinda feeling really good about the exams and am not stressing as much as a lot of others. So yes, a positive attitude into the final exams are a good thing. Nowadays I don't even find studying to be a daunting task...in fact, whenever I'm not doing anything I actually sit myself down and try to go through something.
Crap, am I an overachiever? Is this bad?
:S
Can overachieving really be a bad thing?
I mean I strive to do the best I can... I don't see anyone
wanting
to underperform or wanting to do bad in anything life throws at them - everyone wants to do well in something. D:
Anyways, I clearly must have some time on my hands to be blogging, and I'll try to make this one at least a little more fun to read (with maybe more some insightful comments) than my last posts.
Umm, where to start? How about sharing more of my love for film for everyone!
________________________

T
he director
and creat
or of the wonderous and amazing

District 9

, Neill Blomkamp has had his next untitled sci-fi feature film funded and endorsed by Media Rights Capital.
I loved this man's work with District 9 and can only hope that his career continue to be fruitful. His next sci-fi feature will be set on a different planet and is completely original, much like District 9. It will also be very, very violent he says.
Even better.
:D
________________________


Jackie Chan, shame on you!
I posted a trailer to his latest Hollywood offering,
"The Spy Next Door"
on FaceBook the other night and my thoughts with that are still largely negative. It's basically
The Pacifier
but instead of a butchy Vin Diesel, we get an aging Asian man. But anyways, that's not the point of this paragraph cause Jackie Chan is set to star in an upcoming remake of
The Shaolin Temple
, simply retitled,
"Shaolin"
. Joining Jackie is a pretty solid cast in Wu Jing (the next Donnie Yen! :O), Nicholas Tse, Andy Lau and Fan Bingbing. Here's some trivia:
the original movie marked the on screen debut of Jet Li
! I can always trust his Chinese works to be ten times greater than anything he's done for America (unless it's "Rumble in the Bronx" or "Who Am I?"...classics)
________________________

I...want...THIS!
Goddamn we finally know what's inside the briefcase! To celebrate Pulp Fiction's 15th Anniversery, DVD retailers will be selling this amazingly cheap package! Stocks are limited though and chances are, people may have pre-ordered a whole bunch out at JB Hi-Fi already but here's hoping I can grab this as soon as it's released! T___T
________________________

I was on my way to grab some Red Bull (as I usually would whenever I'm in the city) the other day and as I walked passed this clothes store in QV, I noticed they were playing

NANA
. I actually really like this movie, it's not so much a guilty pleasure, but I really love the characters cause they're so goddamn likeable and who doesn't like a good love story? It also helps that Mika Nakashima was hawt in it, haha. Granted, the second act of the movie was really long-winded but I still like it. I smiled with with major fandom after having seen that.
________________________


Does anyone reading this have a particular song(s) that resonates with them?
I was doing a survey question one night for FaceBook and despite it being a rather generic question, I couldn't really answer what particular song was my all time favourite (I think I ended up writing one that I really liked anyway). Even for movies I can't do that (actually that's a lie, Star Wars will always be number 1 for me with everything else below it and in no particular order either). I think if I had a soundtrack of my life thus far, it would probably consist of:
Placebo
- Every You, Every Me
Killswitch Engage
- My Curse
Shiina Ringo
-
Kabukichou no Joou
Alter Bridge
-
Broken Wings
Dir en grey
-
OBSCURE
Spontania feat JUJU -
Kimi no Subete ni
Eminem
- Without Me
John Williams
- Star Wars Theme Song
Guns N' Roses
- Civil War
Bloc Party
- Helicopter
Bullet For My Valentine
- Curses
Oooooh, Hieu Chau getting all emo here. :O
Actually now that I look at it there, really...only two songs there got me hooked onto the band/artist but they still carry across a bit of a memory or relate back to an experience in my small life so far. I guess those songs kinda describe my character as well? :S
If your life was a movie and had to have a soundtrack, what would it consist of?
________________________


Finally, I have to write about this: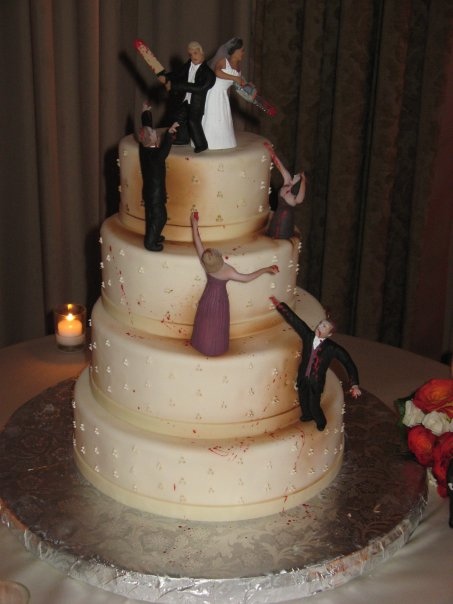 This zombie wedding cake is freaken awesome.
If I had to have a geeky wedding and if the bride to be let me have a geeky wedding, this cake would have to be there. I want it. It's so cool how they're fighting off the zombies together. Speaking of brides, I always thought just referring to Uma Thurman's character Kill Bill simply as, "The Bride" was pretty cool. It's like calling Clint Eastwood, "The Man With No Name". Goes to show that sometimes putting "The" in front of anything is cool. That's just me rambling... :D
End post.