Does anyone reading this listen to The Academy Is?
I started listening to them again, and a thought just occurred to me the other day that I don't know many people that listen to them (which just goes to show you that I don't know many people, D:). In fact, I only know of one person that listens to them. So to reitterate, does anyone listen to them or is it just me? =\
So I finished formal high school classes yesterday and am super stoked that the year is pretty much coming to a close.
My graduation however isn't until a month down the road, just after exams though. Today however was my Year 12 Farewell Assembly where we all got together, signed shirts and reminisced about old days as well as watching several videos documenting our school year. Below are a sample of the photos from today.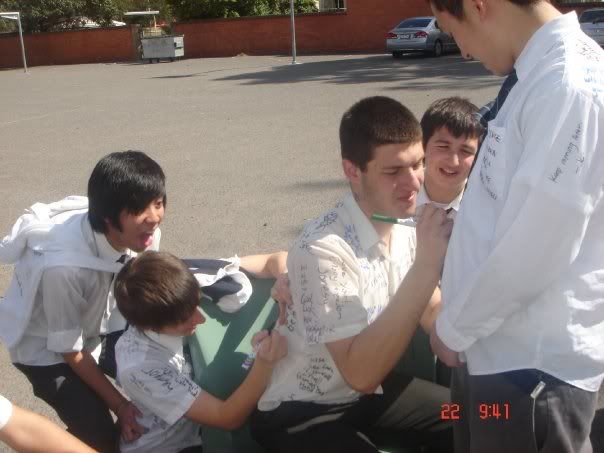 Yes, I'm raping the poor boy...
I've been friends with these guys since Primary School. I've known my friend, Peter, on the far left there since kindergarten!
The amount of messages on Jemmy's back that referred to him being Donnie Yen or being a tank or being a gym freak are unbelievable. :D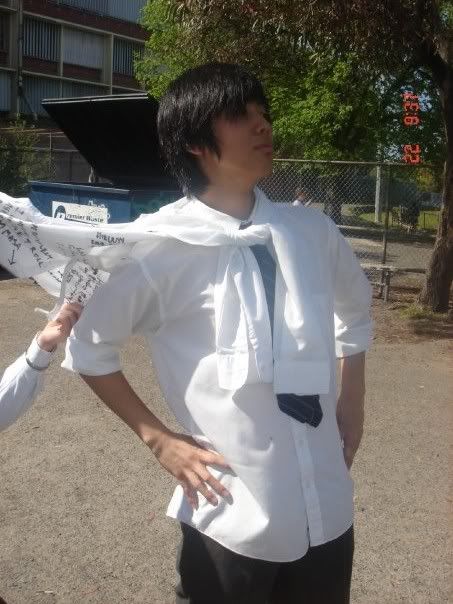 Captain Boo Cake

- a superhero that is just completely absurd and full of sexual connotation. Seriously, even I don't know how I concieved of this character. D:
That would be me beating Raoul in the head while he's covered up and blinded by my shirt. And look at James just laughing at Raoul's demise. :D
One final hurdle awaits me...the exams.
Best of luck to all Year 12s who may be reading this!
Oh hey a short post, there's something different. D: