Ahhh Maths, how I hate you.
I didn't do as well as I would've liked to in my Further Maths exams.
I hated it.
I predicted I'd get a 32 study score for Maths and it's probably what I'd get (maybe 30). Yeah, I fail at math. But the good thing is that I'll never have to see
y=mx+c
ever again in my life.
YEAH!
Tomorrow is my Literature exam, a subject that I feel most comfortable in. After Literature, I've got a five day gap and then it's the Vis Comm exam followed by the Studio Arts exam.
I'VE ALMOST MADE IT!
:D
________________________________
SHOCKING!
This was the horse that won at yesterday's
Melbourne Cup
and I am indeed shocked. I had a triefecta going for horses 1, 6 and 7 but none of them placed this year! I love the Melbourne Cup because I feel it's really the only family oriented activity that my family partakes in (even if it does involve gambling, haha). At least my dad was wise enough to place a "Win" bet on that horse and win a nice amount of cash. My predictions for the winners and/or placers in the Melbourne Cup have been pretty good and accurate since first grade which had attracted attention from my parents' friends cause they loved my predictions, haha. my dad gave me 50 dollars in the morning though. He gave me 10 percent of his win, haha. Ahh, could I
BE
anymore narcisstic? :P
________________________________
While we're on that note of sarcasm, I've been re-watching episodes of

Friends

via the power of the interwebz lately.
Okay that was a poor link, but ya know...Matthew Perry's character,
Chandler Bing
, is all about sarcasm! Anyhow, it started off with me just watching clips of hilarity from the sitcom which grew to an unhealthy regurgitation of those clips on YouTube. So I just decided, to watch it all over and love it again.
Phoebe Buffay, I love you.
________________________________




Hey looky, a brand spankin' new trailer for next year's,

Prince of Perisa: The Sands of Time.
I love the game and despite what some naysayers might suggest, I'm quite looking forward to this action adventure movie. Here's hoping that it will channel the same vibe and success that
Pirates of the Carribbean
had enjoyed. Speaking of chanelling, I do feel that it's paying a nice amount of respect to the video game (a lot of Sands of Time and Two Thrones references). Anyways, for those who wanna see the trailer and watch a buff Jake Gyllenhaal run around slashing things, check it out aboveeeeee. Gemma Aterton's narration makes me wanna die though...
________________________________


Here's something I've been doing a lot lately: playing around with my predicted results for my VCE on the online ENTER Calculator.
It's kinda fun to me actually yet at the same time, it distracts me from also obtaining the scores I so desire. Anyways, at my most optimistic, I'll probably get an ENTER of 81+ though realsitically, I'd probably get something like a 75, which still is pretty good considering. I've got backups to all my courses so I shouldn't feel bummed out with anything I get, I suppose. If not Media at RMIT (which is completely out of reach now), then it's Creative Arts at La Trobe. If not Creative Arts at La Trobe, then it's Media and Communications at Swinburne. :D
________________________________
Here's a quote from a movie that I admittingly have affection for, Mean Girls:
"Oh, I love seeing teachers outside of school. It's like seeing a dog walk on its hind legs.
" Actually, that is a really quotable movie... Anyways, another thing I've been doing a lot lately: finding the Facebook acccounts of my school teachers. You know, sometimes I forget that they're normal people as well. Ah god, it's so fun hunting teachers down. Kinda weird finding them embrace it but whatever. I'm not saying adults can't though... =\
________________________________




Melanie Laurent, you are smokin' hot.
Pun intended. :D
You know who else is hot? Emma Stone.
Her husky voice is...alluring (is that the word I'm looking for?) Who the hell is using the camera anyway?
Sucks
. ==
And yes...this is how I spend my time on YouTube.
In between clips of Friends, gaming news from Machinima and episodes of insanely awesome Yu-Gi-Oh! The Abridged Series, I induge with celebrity photoshoots. And the occasional late night inteview.
________________________________




Just another strange Korean MV that makes no sense but the song has the

Wonder Girls effect

.
I call it the Wonder Girls effect because it has an insanely catchy chorus that lingers in your mind (well my mind anyway). This is thanks to the repitition of the same words over and over in the chorus. I'd like to think this is a smart term that I've coined but I'm guessing that people have coined it in a different way and this is nothing new. The MV is stupid but reminds me a bit of
Oldboy
. I currently have this song on repeat right though...
Damn those catchy tunes
.
The song itself sounds like it belongs in a DJ Max game
. It sounds a lot like this song, I reckon (this one's a lil faster):
________________________________


According to the guys at

Machinima.com

, Australia won't be releasing

Left 4 Dead 2

here which is freaken stupid.
Damn you censorship. It'd be pretty ignorant of me to say, "I don't see why they wouldn't want to sell it here" but come on - it's a zombie killing game!
It's completely harmless.
If anything, it'd encourage kids to kill zombies and know what to do in a zombie apocalypse! If I heard correctly, I believe
Grand Theft Auto 4
was censored upon it's release here.
And I thought America were way more conservative than we were, this sucks.
I mean you've released far worse things in cinema like, oh I dunno, the
Saw
movies? How about
Inglourious Basterds
?
Geez, Australians need to soften up.
________________________________

Procrastination lead me here.
Whilst reading my recent purchase
(Blackest Night #4)
, I came across an ad promoting a limited comic book series called,
"The Great Ten"
. The art struck me at first so I wanted to find out more about the artist. What I found was this:
Imaginary Friends Studio
. It's an awesome arts/illustration/graphics studio that has done prolific work for movies, games, comics and even in the world of advertising. Their portfolio of work is really full of life and after having witnessed their drawings, I felt the need to draw myself. If I didn't have my sights set on working within the media, I probably would've become a graphics designer just for this kinda stuff. Check out their website,
ImaginaryFs.com
to see their amazing body of work.
________________________________


Seeing the artwork of the studio and any other artwork from awesome studios and artists always makes me wanna draw, which is exactly what I did after seeing that compilation of art.
Here's an illustration I did of
Marvel Comics' "Merc With A Mouth"

Deadpool.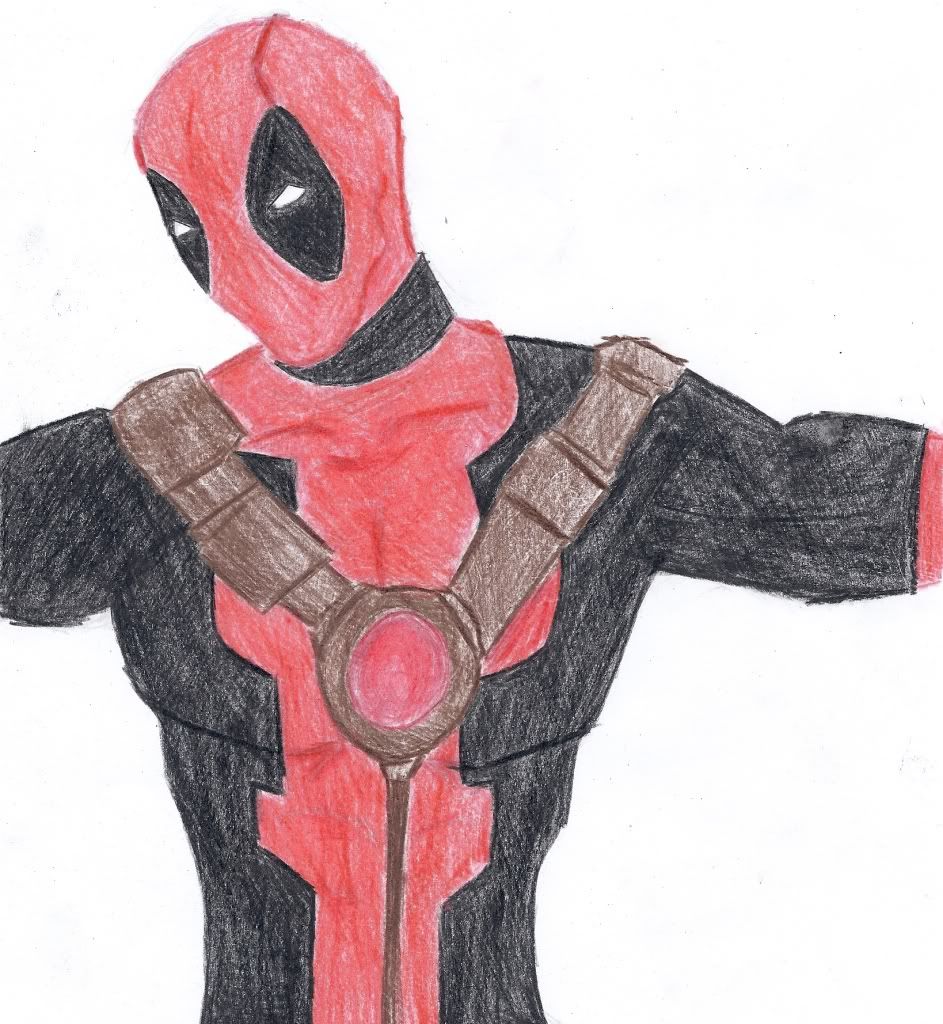 ________________________________
And as always, some Star Wars love.
This image is from an Italian artist by the name of,
Franco Brambilla.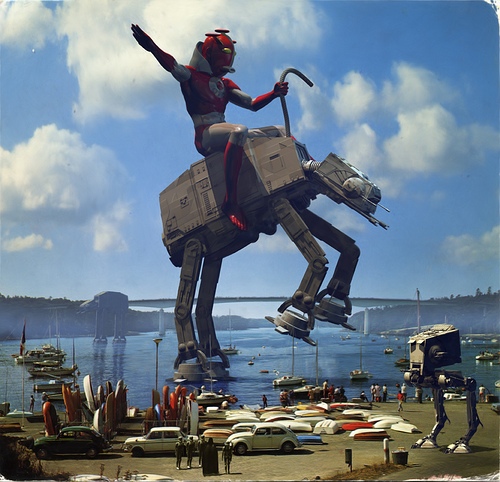 End post.