I am now an officially enrolled student of

La Trobe University.
The enrolment wasn't difficult but it would've made things a lot easier had I chosen my subjects beforehand. Thankfully, they allowed time to do so during the enrolment session as well as provide further information into the enrolment.
To be honest though, I didn't re
ally want to be at the enrolment session and wished that things would've done all online rather than having to hand it to the university in person.
I guess I've just gotten too used to the idea of doing everything via the internet that, subconciously at least, I'd think that doing it electronically would've been more sufficient. But, having said that, I'm glad that I actually got to go to the University and start to familiarise myself with the place. I'm quite excited about some of my subjects within my degree.
I'll be re-learning Japanese as part of my degree (I chose it as my elective) but am afraid that I MAY have to re-pick another Arts subject because the lady on the day said something about not allowing students to do three subjects in one day.
At least that's what I thought I heard. According to my timetable for Semester One, I've got three subjects on Monday. :S
Actually just the other day I was kind of regretting my decision to follow into La Trobe's

Creative Arts

course.
I love what the course offers but I feel that had I chosen Journalism, I could've still have chosen certain areas of Cinema Studies that could become available to me through electives. I'm still happy with Creative Arts but it's only now that I realised I could've done something else and still do what I wanted in cinema.
------------
Speaking of all things cinema, my local

Hoyts Cinema

called me up the other day and asked if I was still interested in a casual/part time position there.
I handed in an application and resume to them back in December and didn't really expect to get in so it came as a major surprise that they returned a call. I said yes of course and the woman on the other side of the phone conducted a brief interview to get an idea of my status/position to work at the moment (what with Uni coming up and all). She said she'd call me back some time soon if they have a position available so, once again, fingers crossed.
------------
Oh my parents should NOT have bought me that Playstation 3 because I am becoming far too addicted to it thanks to Playstation Network being free and all.
Hooray for online mulitplayer!
I got my Playstation 3 bundled with, what is quite possibly, one of the greatest video games I have ever gotten to play:
"Uncharted 2: Among Thieves"
. I really wanted to see if this game was worth all the hype and rave reviews and within the first 45 minutes - hour of playing the game I was incredibly hooked. It's already one of my favourite games of all time, haha.
I could write a review about the game cause it damn well felt like I was looking at a film.
The experience of playing
"Uncharted 2"
is one I haven't really had since playing
"The
Legend of Zelda: Ocarina of Time"
. As a child, that was my favourite game and, to this day, it's still considered one of the greatest games ever made. What makes "Uncharted 2" stand out more than "Ocarina of Time" though is the fact that the narrative itself doesn't feel like it's specifically written for a video game but feels more like you're watching a high-octane, fun, action adventure blockbuster movie (imagine if you will a witty, younger, modern day Indiana Jones type character/adventure fused with pretty much every action movie you've ever seen).
Every character actually has a personality and has life to them and this is thanks to the incredible voice acting.
Seriously, the level of voice acting in this game is phenomonal. The visuals are superb - it's one of the most beautiful looking games I've ever seen.
The score is exceptional mixing big orchestral sounds with familiar sounds from Eastern Asia. The dialogue written for each character is damn good - it's a really quoteable game, haha. I had many "LOL" moments in this game.
I can't stress enough how much of an engaging experience and wonderful time I had playing "Uncharted 2".
It's a crime for anyone who owns a PS3 to NOT own or play this game because it's a definite winner in the PS3 catalogue. It deserves all the accolades and is, without a shadow of a doubt, a classic amongst this generation of gaming.
Actually it kinda felt like I gave a review of the game, huh?
------------
While we're on the topic of console based video games, Kevin brought his Xbox 360 to my place so that we could play some

Call of Duty: Modern Warfare 2

online!
Unfortunately, he's only just subscribed to them and is using the 10 day free trial that Xbox offfer for their online service, Xbox Live so we've only got 10 days to exploit this and use all of Modern Warfare 2's multiplayer offerings. We've been playing the game till 4AM ~ 5AM. Yeah it's that addictive and damn fun. Too bad I'm gonna have to start sleeping earlier nights soon. =="
_____________________________________________________


WHAT I'VE BEEN WATCHING
This film is bad.
I love
Donnie Yen
but this
"Dragon Tiger Gate"
kinda sucked ass. Sure, action wise the film delivers and is really entertaining (two major fights within the first 15 - 20 minutes of the film, haha) but the fact that I was not interested in any of the characters and was at a complete loss with how characters got from point A to point B really made the movie feel abysmal to me.
Shawn Yue
and
Nicholas Tse
didn't even need to be in the film cause the whole movie was all about
Donnie Yen
(though I probably wouldn't have it any other way cause Yen is AWESOME). Then again, being that this IS comic book adapatation of a popular comic in China, I guess they had to fit in as much stuff as they could when it came to adapting the comic onto screen.
Thankfully the film is short though.
I actually thought that

"Law Abiding Citizen"

was a pretty good movie.
The second half of the film is amazingly absurd though and I thought that the movie was going in a good direction in the first half, exploring the cracks in the American justice system and exploiting it. While the second half wasn't as good as the first half, I was still kinda on the edge of my seat trying to anticipate
Gerard Butler's
character,
Clyde Shelton
, next moves. I couldn't help but draw comparisons between this film and thematic elements located in Christopher Nolan's,
"The Dark Knight".
To me, it was like watching
The Joker
take on
Harvey Dent
if Batman was on vacation, haha.
In all seriousness though, one main problem I had was that I wasn't sure of who the actual protagonist was.
Who was I supposed to cheer for? I empathised with Butler's character in the beginning and thought to myself, "WTF? Huh?" as the movie kept progressing. I didn't even know how to feel towards
Jaime Foxx's
character,
Nick Rice
. The second problem I had was the violence. They could've gone about not making the movie as violent as it was. Normally I'm more than fine with violence in movies (hell, this is coming from a guy that laughs at wonderous deaths in horror movies) but I just feel that they could've toned it down and still get the right message they want across in a certain scene. Violence was a plot device I guess in this film.
Oh and being that this is the first released film of 2010 that I've watched (according to the Australain film calender anyway cause this was released last year in the States), I'm gonna give this a score and say that
Law Abiding Citizen

gets a 3.5/5.
_____________________________________________________


TIDBITS OF FILM NEWS
People who've been following my blog will realise that I'm not really a

"Twilight"

fan.
Sure, I'll shell out 15 dollars to see it in theaters just so I can see for myself that it's not worthy of any hype and then walk out of the theatre realising I've wasted 15 dollars. But, since these Twilight movies are only launch pads for the budding careers of the young actors that are on screen I shouldn't really divert too much hatred towards it (though I really disliked
"New Moon"
).
Having said that, there's a small thing that I'm looking forward to in the next Twilight installment because Academy Award winning composer

Howard Shore

will be composing the score for the next film, Eclipse.
Howard Shore has composed scores for films such as
"The Lord of the
Rings"
and
"The Departed"
so it'll be interesting to see how he sets up the mood and tone of the Twilight universe through music.
------------
In awards news, the Director's Guild of America awarded

Kathryn Bigelow

for her outstanding direction on war film,

"The Hurt Locker
". This makes
Bigelow the first woman to win a DGA award
and what better way to award the first woman this award after directing what is undeniably an amazing film. Some of you reading this will know how much I loved The Hurt Locker because of it's realistic portrayal of war (more specifically the bomb defusing aspect of it), incredibly tense atmosphere the film invokes and the very human characters.
Reknowned film critic,
Roger Ebert,
made sure to note that only 6 times in the last 60 years has the DGA winner

NOT

won the Oscar for Best Picture and that in 58 of the last 60 years, the DGA winner went on to win the Oscar for best director.
Looks like we've got a shoo-in for this year's Academy Awards ladies and gentlemen.
------------
Speaking of the Oscars, the nominees for this year's 82nd Annual Academy Awards are in and you can find the main list of this year's nominees below.
For the complete list of nominees, head on over to the official website to see who else got nominated in the lesser categories.
BEST PICTURE:
Avatar
The Blind Side
District 9
An Education
The Hurt Locker
Inglourious Basterds
Precious: Based on the Novel "Push" by Sapphire
A Serious Man
Up
Up in the Air
DIRECTING:
Kathryn Bigelow - The Hurt Locker
James Cameron - Avatar
Lee Daniels - Precious: Based on the Novel "Push" by Sapphire
Jason Reitman - Up in the Air
Quentin Tarantino - Inglourious Basterds
ACTOR IN A LEADING ROLE:
Jeff Bridges - Crazy Heart
George Clooney - Up in the Air
Colin Firth - A Single Man
Morgan Freeman - Invictus
Jeremy Renner - The Hurt Locker
ACTRESS IN A LEADING ROLE:
Sandra Bullock - The Blind Side
Helen Mirren - The Last Station
Carey Mulligan - An Education
Gabourey Sidibe - Precious: Based on the Novel "Push" by Sapphire
Meryl Streep - Julie & Julia
ACTOR IN A SUPPORTING ROLE:
Matt Damon - Invictus
Woody Harrelson - The Messenger
Christopher Plummer - The Last Station
Stanley Tucci - The Lovely Bones
Christoph Waltz - Inglourious Basterds
ACTRESS IN A SUPPORTING ROLE:
Penelope Cruz - Nine
Vera Farmiga - Up in the Air
Maggie Gyllenhaal - Crazy Heart
Anna Kendrick - Up in the Air
Mo'Nique - Precious: Based on the Novel "Push" by Sapphire
ADAPTED SCREENPLAY:
Neill Blomkamp and - District 9
Nick Hornby - An Education
Jesse Armstrong, Simon Blackwell, Armando Iannucci and Tony Roche - In the Loop
Geoffrey Fletcher - Precious: Based on the Novel "Push" by Sapphire
Jason Reitman - Up in the Air
ORIGINAL SCREENPLAY:
Mark Boal - The Hurt Locker
Quentin Tarantino - Inglourious Basterds
Oren Moverman and - The Messenger
Joel and Ethan Coen - A Serious Man
Pete Docter and Bob Peterson - Up
FOREIGN LANGUAGE FILM:
Ajami - Israel
El Secreto de sus Ojos - Argentina
The Milk of Sorrow
Une Prophéte - France
The White Ribbon - Germany
ANIMATED FEATURE FILM:
Coraline
Fantastic Mr. Fox
The Princess and the Frog
The Secret of the Kells
Up
BEST CINEMATOGRAPHY:
Maurio Fiore - Avatar
Bruno Delbonnel - Harry Potter and the Half-Blood Prince
Barry Ackroyd - The Hurt Locker
Robert Richardson - Inglourious Basterds
Christian Berger - The White Ribbon
FILM EDITING:
Stephen Rivkin, John Refoua and James Cameron - Avatar
Julian Clarke - District 9
Bob Murawski and Chris Innis - The Hurt Locker
Sally Menke - Inglourious Basterds
Joe Klotz - Precious: Based on the Novel 'Push' by Sapphire
Well paint me shocked.
I'm really surprised that
"District 9"
got a nomination for Best Picture! I doubt it'd actually come down to "District 9" being the winner seeing as how that's gonna go to "The Hurt Locker" (though the Academy do love James Cameron). I'm glad that "District 9" also got a nomination for Best Adapted Screenplay though.
Nice to see Jeremy Renner also get nominated but I'm thinking that Jeff Bridges is going to go home with the gold.
Everyone's raving about Bridges in "Crazy Heart" (think Micky Rourke in last year's "The Wrestler")
I'm hoping that Quentin Tarantino takes away the gold for Best Original Screenplay for

"Inglourious Basterds"

cause the film deserves it in my opinion.
The Hurt Locker's script was great and all, but I'd just like to see Tarantino win for that (for the sake of variety, haha). Speaking of screenplays, would've liked
"(500) Days of Summer"
to have been there, hahaha. Though I can maybe see why it didn't get the nomination. (despite being previously nominated at other awards).
At least this year, no one can say that certain pictures were snubbed (such was the case last year with people angry that films such as

"Wall-E"

, "
The Dark Knight"
or "

The Wrestler"

weren't credited).
In any case, I love this year's line up of films being that the films themselves are really good and some are from directors that I personally admire.
People are saying it's going to boil down to

"Avatar"

and "The Hurt Locker" and it's even more interesting that Cameron and Bigelow were once married.
Expect the media to have a field day on this. D:
The first trailer for "

The Losers"

has hit the net.
Check it out below. The movie is a comic book adapation and sees a secret military group, The Losers, being betrayed and left for dead by a powerful figure inside the CIA/government. The movie essentially is a revenge movie and looks a lot better than The A-Team movie. Also, it's got Zoe Saldana and she's hot. It has also come to my attention that this year will be the year of the military men with the following three films being released:
"The Losers"
,
"The A-Team"
and
"The Expendables"
(the latter of which I am mega stoked about).
------------
For the martial arts enthusiasts, the trailer to Tony Jaa's

"Ong Bak 3"

has just hit the internet and looks to deliver even more crazy knees and elbows
. I haven't gotten around to actually seeing
"Ong Bak 2"
but I have seen the first movie and it's damn awesome. I also loved seeing him in
"The Protector"
. Muay Thai doesn't get any better than this, haha.
_____________________________________________________




Above you will find a Cloverfield-esque style video of the Death Star of Star Wars fame destroying the Starship Enterprise from Star Trek.
It's a fairly old video from last year but I recently re-discovered it and compeltely forgot about how awesome the video was, haha.

------------


Finally, this made me

LMAO

hard. Check it.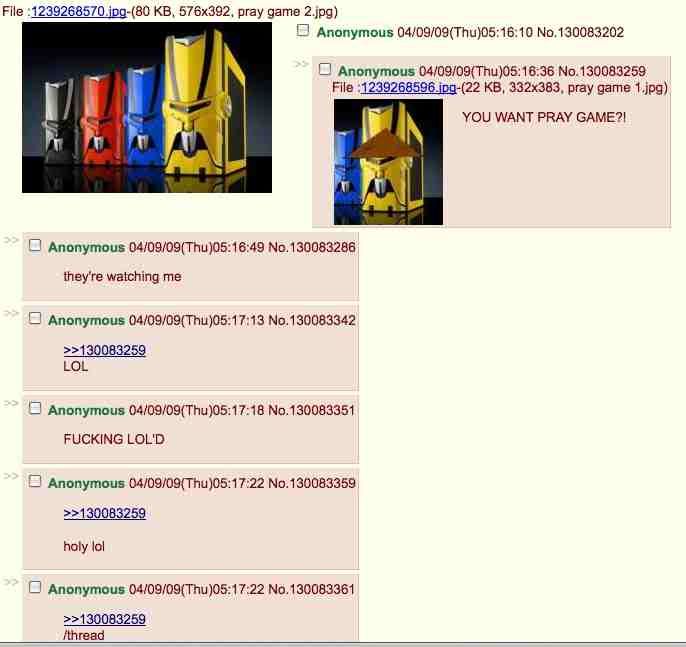 End post.
P.S.
Considering to turn this public blog into a private one.
I dunno why but I feel insecure about the information that I write here for some reason.