This week was a rather average week so there's really not much to talk about.
The only worthwhile thing to mention this week was the fact that I was involved with a small film shoot for a friend but I'll get to that later. Actually speaking of films, I was anticipating the DVD releases of
"Adam"
and
"Zombieland"
this week and was happy to see JB Hi-Fi put these two movies on their new release shelves. I probably won't be buying them anytime soon though because I've learned from my purchase of
"(500) Days of Summer"
that I shouldn't get new release DVDs when a month later, those very same DVDs will be at an affordable price.
I neeeeeeeeed. D:
------------
So, this film shoot.
I probably made it sound like a big deal (it probably is, as far as my friend is concerned) but really it's not. I volunteered to be the main character of my friend's 90 second student film and the shoot lasted two days. The film was to form part of her final assessment for this semester so it was kind of a big deal for her. Being involved with the shoot was pretty fun and watching my friend do all the preparation and telling people where to go and what to do was pretty interesting too. My role didn't require me to do much or talk at all, actually, but just to be a part of something like this was great fun. I can't wait to see the finished product. Overall, it was a very cool experience, quite fun and I would love to do something like that again sometime soon (though perhaps not in front of the camera, haha).
------------
Just bought myself
"Super Street Fighter 4"
for my Playstation 3.
It's too bad that I don't have another controller to play with someone else but man is this game hella awesome and mega fun to play. I love the new characters and the overall improved gameplay, menus and challenges that have been modified for this expansion/sequel.
------------
Oh and just to quickly answer a question from last week's post.
Someone asked me how long it normally takes for me to write each blog post and the answer to that would probably be close to an hour or a bit more. Yeah, that's dedication right there. The thing is though, since I've turned this into a weekly blog and have the memory of a fish, I save a draft and record everything as it happens throughout the week, thereby saving me time from having to post everything in one succession. It's quicker and helps me remember anything I saw, read or did this week.
_______________________________________________________________


WHAT I'VE BEEN WATCHING
I actually watched
"The Prestige"
on television as I was posting last week's blog but wasn't paying a lot of attention to the film.
There were some instances where I was wondering what was happening because things jumped from one place to the next, it was confusing at times. It's not the film's fault (or maybe it could be, I'm not sure) and I'm quite sure if I watched it without any commercial interruptions and give it my complete attention, I'd probably understand the film a little more. The only thing I got out of it was that there were two competing magicians who were desperate to find each other's tricks which would result in a pretty gratifying twist ending.


------------
I'll admit that the only reason why I watched this movie was because

Rose Byrne

was in it.
She might replace my celebrity crush of
Amanda Seyfried
but it's not all that clear at the moment, haha. Anyways,
"Wicker Park"
was interesting at first but got a bit silly later onwards. I'm amazed no one used a mobile phone to call because things would've been resolved so much quicker and made things so much easier for the characters. The only person I recall even using a cell phone is (surprise, surprise)
Rose Byrne's
character,
Alex
. The story's a bit silly yet can be quite sweet at times thanks to the film's wonderful actors who shine here. They're the best part about this movie, for me, and do the best with what they have. Also, for those of you who like pointless trivia,
Rose Byrne
and
Diane Kruger
who both star in
"Wicker Park"
would go on to work together again in the film,
"Troy"
, starring
Brad Pitt
,
Eric Bana
and
Orlando Bloom.
I wasn't surprised to find that this film was actually a remake of a French film,
"L'appartement"
starring French powercouple,
Vincent Cassell
and
Monica Belluci.
I'm sure that the original was better than the remake but it wasn't to say that I was bored because the relationship dynamics were interesting also. A decent enough movie with good looking people. Can't go wrong.
I actually can't believe they released THIS trailer for the movie becuase it's completely sending all the wrong messages about it. It's really not as intense as it's made to look, honest.
------------
For Monday's screening, we watched the

"The Invasion"

starring

Nicole Kidman

and

Daniel Craig

.
It's a remake (among a few other remakes) of the classic film
"Invasion of the Body Snatchers"
and while it does a decent job of building atmosphere and tension in the movie, I mostly found myself quite bored watching it. I wasn't emotionally invested with the characters and their predicaments and didn't find it all that great. Someone in my tutorial noted that it was the best film that we had been screened so far. I didn't want to be the bad guy and tell her that I thought it was bad for me (otherwise, who knows what my film class would've thought about me) so I kept my opinions to myself. There were moments, however, where I just had to laugh inappropriately at people getting hurt or run over (cause I'm masochistic like that).


------------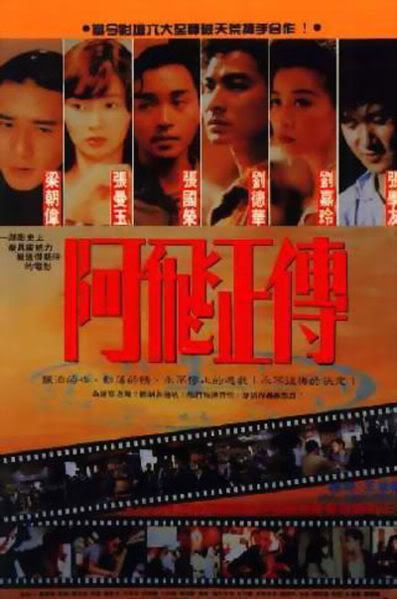 I quite liked and really enjoyed

"Chungking Express"

.
I thought it was well paced, had an intriguing narrative with even more intriguing characters and the mood and atmosphere that director,
Wong Kar Wai
, was able to achieve was quite satisfying. Having said that, when I watched
"Days of Being Wild"
earlier this week, I was somewhat confused about I felt about the film towards the end. The film didn't confuse me with its narrative, no, it was rather easy to follow, I thought. What confused me was my enjoyment of it. Did I like it, or did I simply not understand it? I will say that the cinematography and acting is top notch and it's pretty cool to see someone like
Andy Lau
before he became a mega hit in acting. I'm a bit on the fence with this particular movie, but the next film of his that I'm planning on watching is,
"In The Mood For Love"
which seems to be his masterpiece (and just so happens to be the second part of this unannounced trillogy).


------------
Hong Kong's latest release,

"Ip Man 2"

is a very entertaining and wortwhile film, one people should definitely try to see.
However, my viewing experience was somewhat deterred by the audience that I watched the film with. They laughed at almost everything that happened in the film and were very emotionally invested with the film that they began clapping and applauding whenever
Donnie Yen's
character,
Master Yip Man
, knocked down the villain of the film. It was quite a surreal experience but I guess they enjoyed it a lot more than I did if they were so emotionally invested into the film. I could've done without the rambunctious laughter though because halfway through the film, I leaned over to my friend and whispered, "Dude, is this supposed to be a comedy?" Personal viewing experience aside, I thought it was a pretty decent followup to the first film, with superb fighting choreography thanks to
Sammo Hung
. The film's story could've been a bit tighter as characters from the first film were easy throwaways in the second and there wasn't much of a threat for
Master Yip Man
in this film as there was the last. Overall, however, it is, as I said, a very worthy followup to the first and I really enjoyed it.
_______________________________________________________________


The shroud around

Christopher Nolan's

next feature film,

"Inception"

is really starting to disappear now.
Not only has an official plot synopsis been revealed, the new theatrical trailer - which was attatched alongside the United States release of
"Iron Man 2"
- was released also and you will find the trailer embedded below (hopefully it'll be there long enough for people to see it though) The trailer looks freaking amazing, it tells you SO much about the film and provides some incredibly stunning visuals and what seems to be amazing set pieces to go along with it.
Nolan's
so lucky to have worked with such an ensemble cast here. Here's how
"Inception"
will play out like.
Acclaimed filmmaker Christopher Nolan directs an international cast in an original sci-fi actioner that travels around the globe and into the intimate and infinite world of dreams. Dom Cobb (Leonardo DiCaprio) is a skilled thief, the absolute best in the dangerous art of extraction, stealing valuable secrets from deep within the subconscious during the dream state, when the mind is at its most vulnerable. Cobb's rare ability has made him a coveted player in this treacherous new world of corporate espionage, but it has also made him an international fugitive and cost him everything he has ever loved. Now Cobb is being offered a chance at redemption. One last job could give him his life back but only if he can accomplish the impossible—inception. Instead of the perfect heist, Cobb and his team of specialists have to pull off the reverse: their task is not to steal an idea but to plant one. If they succeed, it could be the perfect crime. But no amount of careful planning or expertise can prepare the team for the dangerous enemy that seems to predict their every move. An enemy that only Cobb could have seen coming. This summer, your mind is the scene of the crime.
------------
This isn't necessarily film news but I thought I'd share this piece of awesome anyway.
Fans of the awesome
"Street Fighter"
series of games have been forced to have two poorly adapted, live action film versions of the beloved fighting series.
Joey Ansah's
short, 3 minute fan-made film completely squashed both of those two films.
Joey Ansah
is a British actor and martial artist who's most notable role in Hollywood came when he played an assassin,
Desh Bouksani
, who tracks down
Matt Damon's
,
Jason Bourne
, in
"The Bourne
Ultimatum"
. Check out the awesome, fan-made short below.
------------
In the United States, the

Federal Communications Commission's

(FCC) action to allow movie studios to directly broadcast newly released films straight to your home has caused much concern over the state of movie theaters in America.
Some are already quick to call it
"the death of the movie theater"
and it isn't hard to see why. The FCC have stated that this action is
"in the public interest"
of consumers who simply don't have time to get out of the house and visit the movie theaters.
Word?
It allows people to, legally watch a newly released film - let's say for example this week's blockbuster,
"Iron Man 2"
- at the comfort of their own home.
While this may not affect audiences or the average movie-goer here in Australia, I predict that if this actionsturns out to be successful, it would quickly spread and follow throughout the rest of the world
. I, for one, enjoy the movie going experience and would much prefer to see films up on a big screen without incredible sound because I simply don't have this luxury at home. Also, the atmosphere and buzz one feels on the night of a movie (depending on how relatively popular said movie may be) is something that can't be generated from at home and is a much grander and different experience. I remember watching
"Inglourious Basterds"
last year and the atmosphere was electric throughout the film. Hell, when
Quentin Tarantino's
name appeared in the opening credits, everyone in attendance clapped! It's a much more engaging expereince to see a movie alongside other fellow movie-goers. Also, since when did we become so lazy that they couldn't be bothered travelling to their nearest movie theater to go see a movie?
It's ridiculous!
To see the full statement that was released by the FCC, click on
THIS LINK
to read more.
_______________________________________________________________
And that's all for this week's post. I don't really have anything to end this week's post with, however, I have changed my banner. If you haven't figured, it's inspired by
"(500) Days of Summer"
(particularly the elevator scene) and I thought a small change would've been nice.