Man I really want this semester to be over because I'm not enjoying it all that much.
I've got an upcoming 1,800 word essay that's due in a months time that I'm not terribly confident about cause I've not interest in the subject whatsoever. My other 2,000 word essay, however, I feel much more confident in being that I just have to write about cinema which seems fine for me. Exams are also coming up but the only one I have is for Japanese. I'm not sure if it's both written and oral but in any case, I'm hoping I'll do well for that too. I had a Japanese test on Wednesday which went well (I hope) but I couldn't figure out what the word was for "lawyer". I later realised it was "bengoshi" and not "bungaku". I was wrestling with both terms. Anyways, a run down of this week's happenings.
------------
I've done a bit of shopping this week and was able to buy four new tops and a hoodie.
Staying true to my monochromatic nature, I bought tops that were predominately white, grey or black. Yeah, I'm boring like that but I like having it like that. I also like buying shirts with awesome prints and cool designs. I prefer t-shirts over dress shirts but that's not to say I absolutely hate the latter. Two of the tops I bought had some splashes of green on it (green being my favourite colour) which look really cool with the designs that are on those two shirts. I'd show the two shirts but I can't be bothered uploading the pictures today.
Maybe next post?
------------
Okay, I can't suppress this any longer.

MARVEL VS CAPCOM 3!
I am super excited about this game because it's predecessor was my favourite arcade fighter as a child. I've been tracking
MVC2
for most of my teenage years and found a hard copy of
MVC2
at an
EB Games
but it was valued at over $100. It was a pre-owned game too. Why would anyone want to trade in that gem? I recently bought
MVC2
via
Playstation Store
and have been getting into it so much. The third installment to this awesome franchise was announced a few weeks ago but I only found out this week. I can't believe it skimmed passed my head
. Anyways, it's gonna be an awesome year next year.
------------
The other day I came across a band that have apparently been around for quite some time but they're new to my ears and my ears love what they hear.
Black Rebel Motorcycle Club
remind me of
Jet
but are like ten times more awesome.
BRMC
an awesome band and with an awesome garage rock sound. When I was listening to a few tracks of
BRMC
on the internet, I was reminded of
My Chemical Romance's
new sound (refer to
Desolation Row
). While I don't expect
MCR's
new album to sound exactly like
BRMC
, I certainly do hope that they bring that element of raw and unbridled sound that
BRMC
have. Check out their song,
Weapon Of Choice
, below and if you like that, give the song title that's used in today/tonight's post a try too.
------------
Was somewhat disappointed to see the excellent film,

"21 Grams"

in the $10 bargain bin among other bad films the other day at JB Hi-Fi.
It's a really great, moving movie that stars
Sean Penn
,
Naomi Watts
and
Benicio del Toro
, and I have no idea why it's dumped with bad films. I don't mind that it's $10 dollars cause it just means that you're getting a great movie for a great value but my heart sunk a bit seeing it there amongst forgettable straight to DVD productions.
_________________________________________________________________


Yuen Woo Ping
is better known to most Western audiences as the fight choreographer for such films as,

"The Matrix"

,

"Kill Bill"

and

"Crouching Tiger, Hidden Dragon"

.
He has, however, been around Chinese cinema for a very long time as a director and has made his name famous in his homeland for directing some kung-fu epics, including
"Drunken Master"
starring
Jackie Chan
(I've got it right next to me but still haven't seen it).
"True Legend"
is
Yuen Woo Ping's
first directed movie since 1996. It's a pretty solid film but wasn't as extravagant as I thought it could've been. Sure, the fights are filmed very well and look very good but it's the pacing of the movie that really bothered me. It felt like two movies to me. The first half was about
Beggar Su's
revenge against his friend while the other half saw him take on his iconic drunken beggar appearance, revolting against the Russians. It's an entertaining film, one that looks great and sounds great but lacks because it doesn't feel all too cohesive. I'd elaborate a bit more but I don't wanna take up so much blogging space.
------------
I caught

"Iron Man 2"

last night and had previously read on various film sites that the sequel to 2008's big hit was deemed to be rather disappointing and didn't quite live up to the first film.
I walked into the cinema with a hint of skepticism and didn't want to believe it until I saw the film and made my own judging. In a way, the critics are kind of right about it. I didn't think that it was as good as the first film. It had way too many subplots that distracted rather than added to story. Casting
Scarlett Johansson
as the Russian double-agent,
Black Widow
, was a pretty bad choice in my decision. Initially, I actually really liked her as Black Widow when I first heard that she got the job but after watching her, I felt quite disappointed. It's certainly a lot more action-oriented than the first film but it doesn't quite have the edge of the first film. Maybe the writing is to blame? It's still worth your money, I believe as I did find it to be very entertaining and much more of a blockbuster movie this time around.
------------
So I don't know how many people I've actually talked to about this but I am a fan of

Jason Reitman's

body of work.
I loved
"Thank You For Smoking"
, appreciated
"Juno"
and when it came to Reitman's third picture, the Oscar nominated,
"Up in the Air"
, I thought it was a very well crafted film. I think that the cast for this film was very well chosen - everyone fit their roles astutely. You might argue that
George Clooney
was only playing himself in this film, but I happen to disagree.
Clooney's
character is a prick in every sense of the word. His character's job is to travel from company to company all across the United States to fire people so that the particular company's boss doesn't have to face it. It's a job that most normal people wouldn't chase after and
Clooney
does a very good job in humanising that character and making him somewhat relatable and likable at the same time. It's a clever movie that pretty much touches on a lot of topics, the recession in America, technology and lifestyle choices.
------------
Was able to grab

"Smallville"

episodes from my friend this past week and have been trying to get through Season 1 as quickly as I can.
I'm halfway done with Season 1 and can't wait for later episodes. Whatever happened to this show? It aired on Australian television for a season or two and then got cancelled. I know it's in either it's 9th or 10th season this year and with that many seasons under it's belt, you'd think Australian television networks would be smart enough to air it. I guess we've gotta make room for the CSI's of the world.
I really, REALLY wanted to put the show's opening credits here but all the videos of the opening, even fan made ones had disabled embedding. This should do, I suppose.
------------
I've also been steadily watching an anime that was recommended to me by a friend called,

"Durarara"

.
It's an interesting show, to say the least. I'm not far into the thing as of yet because
"Smallville"
has been taking up a lot of my time and am unsure as to what the premise may be as of yet, though the first two episodes seem promising with the second episode feeling a lot like a commentary about the suicide rates in Japan. Speaking of, I also need to check out
"Suicide Circle"
(or
"Suicide Club"
, however you want to look at it), a Japanese film that deals with this matter. It's not quite a horror film (though it's been labeled as such) and seems more like a mystery thriller to me. But now I'm just straying far from the point here.
_________________________________________________________________


Below you will find an exclusive Internet trailer for Pixar's upcoming,

"Toy Story 3"

.
It's not that great of a trailer and I can see why it's meant only for the Internet but it's still fun to revisit familiar characters we know and love. Here's hoping Pixar don't disappoint with the final product.
------------
Those of you who are fans of Korean cinema should check out this film,

"The Housemaid"

.
It's a remake of a 1960's film of the same name. It looks to be an interesting movie and it was selected as part of this year's
Cannes Film Festival
so it's quite a big deal that it got selected to run in contention there. I like the use of canted camera angles throughout the trailer and how the house itself seems atmospheric. There aren't any subtitles in this trailer so you'll have to make do.
------------
Reknowned Japanese horror director,

Takashi Miike

, is aiming to grab younger audiences by adapting an anime/manga,

"Nintama Rantaro"

to the big screen.

Miike
is known for his outlandish and stylistic approaches to horror so it comes as a bit of a surprise that he's aiming to do something for children. I, myself, haven't really watched many of
Miike's
films so I can't really say anything on the matter though I have seen
"Sukiyaki Western Django"
(not many people liked it, but I did, haha), have heard things about
"Crows Zero"
(ironically another manga adaptation) and have heard so much about his often proclaimed masterpiece,
"Audition"
that this decision does come off a little strange. Though it's to be expected I guess.
Martin Scorsese's
planning his next film to be a children's feature,
Robert Rodreguiez
has done
"Spy Kids"
and
Steven Spielberg
did
"E.T"
.
The trailer to Sukiyaki Western Django. I think it's the one they used to market to American audiences.... I think.
------------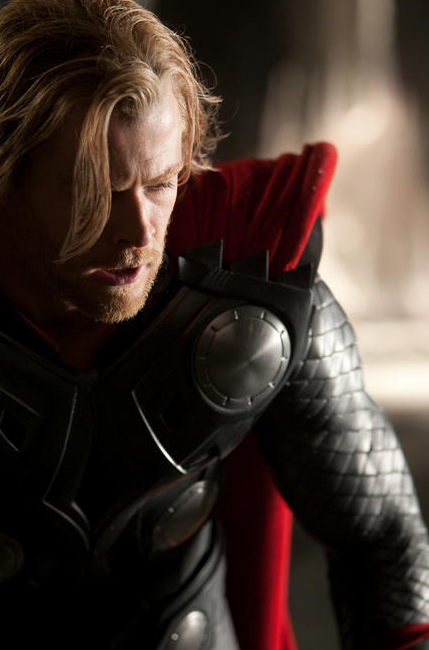 This is awesome.
Above is the first official photo of
Chris Hemsworth
as the Asgardian god,
Thor
. I reckon he really looks the part and the costume doesn't look as goofy as I had thought it would. He looks great and although he doesn't quite have the build of
Thor
, the team behind the film have definitely gone out of their way to make him look like
Thor
as much as possible. Quite impressed with this photo.
_________________________________________________________________
Wow, I kinda just realised that I covered most things that were relevant to me in this post.
Games, movies and music.
Nice.
Anyways, to finish off today's post, here's a picture I found to be quite amusing.
End post.
_________________________________________________________________
P.S.
I've been meaning to make a new banner these past few weeks but I keep forgetting to change it and update. I've planned what it would look like, I just haven't really done it yet. I'll get around to it though, once I get over all this homework.