Yet another average week for

Hieu

.
Most of which was spent finishing two assignments a week early so that's a good achievement. Now I've got a bit of time to focus on a few more exercises for Uni as well as some Japanese language preparation for the upcoming exam in a month's time. I've only got one exam too so that's very fortunate and also means I'll be having a nice relaxing (almost) two month holiday.
Uni can sure be pretty awesome.
------------


Speaking of how awesome Uni can be, I had to borrow books to use for referencing in my Wong

Kar

-

Wai

cinema essay and was amazed at the amount of useful and informative content that was found in these books.
The four books I've borrowed were not only useful for my essay, they were beneficial for my my knowledge as well. I might borrow a few more books in the future from the Uni library because the readings in the cinema section feel so relevant to me and actually hold an interest for me. I've learned quite a lot about the history of
Hong
Kong cinema and how Korean cinema is slowly usurping
Hong
Kong. Having said that, I'll probably try to reserve next week
solely
for Korean cinema. I've got four titles that I want to check out:
'My Sassy Girl'
,
'Joint Security Area'
,
'Take Care of My Cat'
and
'Memories of Murder'
. I'm looking forward to watching all of them as I've heard many great things about these films. I've been mostly looking forward to watching
'Take Care of My Cat'
though since I've been trying to track down a hard copy of it for quite some time now.
------------
I also bought a

pre

-owned copy of the game

'Dead Space'

today.
I've yet to play it though and it looks like I won't be doing so until
Wednesday
. This is because I prefer to play this game at night and when my parents aren't around to nag/annoy me while I'm playing. Now, the reason why I bought it was because I had a hypothetical discussion with two of my closest friends the other day over the subject of video games and what kind of video game we'd like to create. While I would (hypothetically) love to create an adventure game in the style of
'The Legend of Zelda'
, I would love even more to create a science fiction game. And if I hypothetically did make this science fiction game, it'd either be a sci-
fi
/action adventure game in the style of
'Uncharted'
(players travel from planet to planet, plundering sacred sites for treasure while running and gunning) or a science fiction/horror game (think
'Silent Hill'
but in space). While this may not mean much to many, the idea of a science fiction horror game got me thinking and prompted me to probe further by purchasing
'Dead Space'
. I'm aware that there are already a few science fiction/horror games like 'Doom' out on the market but, honestly, I love the idea of having people stuck in a place where they can't really find their way back home. As such, I've decided to watch a few science fiction movies in the week after next week. The films I've got in mind are:
'

Pandorum

'
,
'Event Horizon'
,
'Sunshine'
,
'Moon'
and
'2001: A Space Odyssey'
. I've already seen
'Sunshine'
some years ago (just purchased it yesterday for my collection too) and
'Moon'
recently but I really wanted to watch them again cause I think they're pretty good films. I would throw in
'Alien'
into the mix but I think five is enough for the week. I should probably go out into the sun huh? I've got far too much time on my hands.
So that's me planning ahead for two weeks of movies.
Thankfully this upcoming week is going to be my last week of Uni so I'll hopefully have enough time for all these films. So to wrap up this section, next week is Korean movie week with the following week being sci-
fi
horror/thriller week. Should be awesome. If anyone else has any other movie recommendations, feel free to suggest away!
------------
Epic day out with the guys today
. We headed to the James Esquire bar up in Docklands to watch the live feed of
UFC 114
. It was awesome watching the event not only with some mates but with other men all cheering and jeering - it was pretty awesome. Afterwards we met up with a few other friends for some
Modern Warfare 2
in the city. Epic, epic day today - seriously.
_______________________________________________________________
This week for cinema studies we studied the recent popularity of comic book movies and were screened

"Iron Man"

as our case study.
I think I've said before that I liked the first
"Iron Man
"
film much more than the recently released sequel so I won't go on anymore than that. It's just an entertainingly good movie that had a good run until
'The Dark Knight'
stole it's thunder as the definitive comic book hero that year.
------------
I saw

"Prince of Persia: The Sands of Time"

on Friday night and thought it was a pretty okay film.
As far as video game to movie adaptations go, it's not horribly bad as many others and is mostly just an entertainingly mediocre film. I don't see myself watching it again anytime soon and would be in no hurry to get it on DVD either. It was fun but dragged on a fair bit.
Jake

Gyllenhaal's
,
'Prince

Dastan

'
, was a likable enough protagonist to follow along but I hated the romantic tension between his character and
Gemma
Arteton's
, '
Princess

Tamina

'
. Her character is so poorly written, incredibly two dimensional and flat. Then again, the same could be said for most of the characters in the film. I thought
Alfred Molina's
character was probably the most enjoyable, as many people have stated also. I honestly would've liked to have seen more from
Dastan
and his brothers but that didn't happen either. Worst of all, the dagger of time was put to shame. It was barely used in the film and after hyping it up as a powerful weapon throughout the film, they never really show it off in any action scenes. The rest of the movie is mostly one big predictable cliche after another. You may get your money's worth with it, I mean I didn't hate the film - I just thought it
could've
been so much better.
------------
I watched "Being John

Malkovich

" after I came home from watching "Prince of Persia"
. It's a really bizarre and unique film but it's a pretty good one at that. I was interested in watching this after having seen
"Where The Wild Things Are"
from director
Spike

Jonze
and having loved
Charlie Kaufman's
fantastic script for one of my absolute favourite films,
"Eternal Sunshine of the Spotless Mind"
. It's a bizarre film but it's so well written and the characters that inhabit it are so well developed. I loved
Spike

Jonze's
direction in it also as it did have a bit of a music video-kind of vibe that worked so well for the film. The various plot points and transitions from one act to the next is so seamless and smooth. Certain ideas and concepts that are revealed in the movie seem so plausible and are made to sound somewhat believable which is a good thing on
Jonze's
part. I guess what I love most is how magnificently abstract and bizarre it was. The performances are great and the last scene of the movie is very tantalising. I also loved the idea of only being in
John

Malkovich's
head for 15 minutes (15 minutes of fame,
haha
). Interesting film that's worth a try.
------------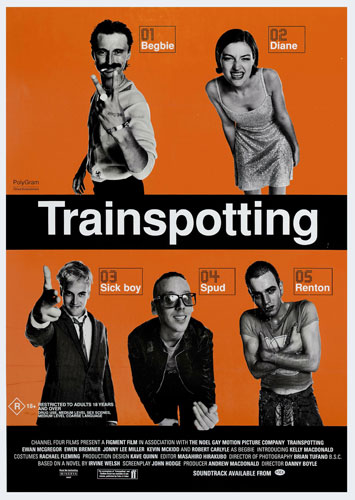 I watched

"Trainspotting"

last night and thought it was an awesome film.
I
could've
done without the techno music but I could see how important some of it would've been to the narrative. It's not as bizarre as
'Being John

Malkovich

'
but it's still a little quirky in it's own right. The visuals were amazing - there were three scenes in particular that really amazed me.
Ewan

McGregor
is damn phenomenal in this film and does a fantastic job as
Renton
. As I was watching this, I couldn't help but compare it to
Stanley Kubrick's
,
"A Clockwork Orange"
. It seemed a bit similar to me. I guess most
surprisingly
of all was that this was film was made by
Danny Boyle
, the man who directed the Academy Winning picture,
"

Slumdog

Millionare

"
. Actually, I'm not that surprised after having seen
"28 Days Later"
and
"Sunshine"
. Just amazing how he's built his career on films for primarily adult audiences and then made something everyone can love.

_______________________________________________________________
TIDBITS OF FILM NEWS
I didn't think this was important enough to post last week but I may as well post it this week since I haven't much to discuss.

Megan Fox
has left the
'Transformers'
series that made her a household name after disputes with director
Michael Bay
during the filming of the '
Transformers'
series.
Fox
has compared
Bay
to a
"Nazi"
on set and has claimed that the director was very tough and incredibly hard to work with.
Bay
in response said that she wouldn't be anywhere without his helping hand. Either way, it seems
Fox
has left the '
Transformers'
series for good (not sure whether it was on her own terms or if she was fired). Paramount are currently scouting for a replacement girl but this girl will
NOT
be
Mikaela
(the character
Fox
portrays in the
'Transformers'
series). Instead, she'll be an entirely new love interest for
Shia
LaBeouf's
,
Sam
Witwicky
. Insiders say that
The Hills'
Heidi
Montag
has sent in an audition tape and
Victoria's Secret
model
Rosie Huntington-Whitely
is
Bay's
top choice.
------------
A trailer for the World War 2 espionage thriller,

"Shanghai"

was released this past week.
The film boasts an international cast of
John
Cusack
,
Jeffrey Dean Morgan
,
Chow
Yun
-Fat
,
Gong Li
,
Ken
Watanabe
and
Rinko
Kikuchi
and sees an American federal agent (
Cusack
) return to Shanghai to investigate the death of his partner (
Morgan
) in months before the Japanese attack on Pearl
Habour
. One thing that made me visibly happy about the trailer was seeing
Chow
Yun
-Fat
wielding handguns again and being a total
badass
. The film itself doesn't look too bad, I guess. The film releases in China on June 17 and has yet to be slated for an international release (though it doesn't look like their could be one at this point).


------------
Tim Burton's

recently revised version of

"Alice in Wonderland"

has become the sixth film to pass the $1 Billion mark in the box office.
The film earned over $322 million in America and made over $667 million in overseas/international revenue. The film joins the other billion dollar successes of
"Avatar"
,
"The Lord of the Rings: The Return of the King"
,
"Pirates of the
Caribbean
: Dead Man's Chest"
,
"Titanic"
and
"The Dark Knight"
.
------------
Finally, my
condolences
go out to the friends and family of

Dennis Hopper

and

Gary Coleman

, both of whom passed away this week.

Hopper
died of prostate cancer at the age of 74 while
Coleman
was pulled off of life support after falling into a coma due to an
intracranial
hemorrhage. He was 42. I only knew
Coleman
through his catchphrase,
"
Whatchu
talkin
' about Willis?"
and was never really exposed to his work. As for Hopper, I primarily knew him through his role as the bad guy on
"Speed"
(which ironically is airing this week on television), some of his various other film roles and was aware that he was quite a major player in Hollywood (by that I mean he had a bit of an influence). The last time I saw
Hopper
in a movie role was earlier this year when I studied,
"Rebel Without A Cause"
. I've wanted to check out
'True Romance'
and
'Apocalypse Now'
, two films
Hopper
starred in but haven't had the chance to. In
anycase
, I wish these actors' respective families all the best through this time of grief.
_______________________________________________________________
I don't know if I've shared this picture before but I'll put it up anyway cause I think it's such an epic picture.
Below we have
Batman
engaging in a firey lightsaber duel with
Darth Vader
. An idea that's obviously made of win.