University's over which means I've got two months to screw around before it starts all over again!
Well that is to say I've got one month to screw around if we were talking in technicalities (seeing as how I have on exam and should use this month to study) but alas, I've basically got two months to do whatever it is I do. I think what I really need to do is get a damn job and maybe even actually attempt to do my Learners. Oh well, a rundown of this week's happenings. :D
------------
I bought myself a copy of

"The Zombie Survival Guide"

written by

Max Brooks

, on Tuesday night.
I'm still in the process of reading it of course but everything I've read so far has been quite funny and good (I'll be thoroughly prepared for the uprising of zombies in no time, thanks to this book). For anyone who has ever imagined themselves in a zombie apocalypse, this books is an essential must read because it basically tells you everything you need to know about preparing for the invasion of zombies. It's got a lot of funny things in there and has so many awesome fun things to read about the pros and cons of various weaponry, armour, safehouses and even "reported accounts" of zombie attacks throughout world history. It's just a fun piece of geeky awesomeness. I still need to get myself a copy of
"World War Z: An Oral History of the Zombie War"
also written by
Max Brooks.
------------
That short 90 minute film that I volunteered to "act" in for a friend's Film and Television course has been finished but I haven't got a copy yet.
I don't know when i'll see her again to get the film but I will upload it here for anyone who wants to see it, haha. Hopefully she's free sometime next week so I can get it off of her. (Y)
------------
The full list of films that will be screening at this year's

Melbourne International Film Festival

will be released on Wednesday morning.
Some of the films they've named already look good with
"Ghost Writer"
,
"Four Lions"
and
"Air Doll"
being my ones to watch. Of course, I'd need money if I wanted to watch all these films. I'll post up what I'd like to see once the full list is released next week.
__________________________________________________________________
WHAT IVE BEEN WATCHING

I'm so glad that the last film we were screened for this semester in cinema studies was

Hayao Miyazaki's

Oscar winning animated feature,

"Spirited Away"

.
I haven't seen this film in so long and it was so nice to see it again. While I do recognise the film as a very outstanding one, I always have to put it below
"Howl's Moving Castle"
and
"Princess Mononoke"
. Those two are my favourites but I do love
"Spirited Away"
don't get me wrong. It felt much longer than the last time I watched it but I'm still happy to have seen it again. When my tutor asked the class what we thought of the movie in terms of what we'd been studying, I was kind of lost for words and couldn't really say WHAT made the film fantastic other than the obvious (being the visuals and narrative). For me, it's harder to analyse and discuss an animated film because things like cinematography and mise-en-scene are hard to pick out since it's all predetermined with drawings and/or CGI. Truly wonderful film that many should go out and see once in their life time.
------------
A friend of mine passed on

"The Girl Who Leapt Through Time"

to me on Monday morning which was great cause I've been meaning to watch the film and was in an anime mood after watching "Spirited Away".
I watched the film on Tuesday as soon as I was done with homework at the State Library. I really enjoyed the film and thought that it could've easily been adapted into a live-action drama or full feature film. What I didn't know, however, was that this film was actually a pseudo-sequel to the original novel from which the film was based on. The aunt of
Makoto
, the film's protagonist, was actually the protagonist of the original novel which would explain why she believed
Makoto's
story about travelling through time. I also remember showing a trailer for the 2010 live-action film ages ago on this blog and thought it was strange that
Makoto
didn't travel to 1972 (this was suggested in the trailer of the 2010 film) as I thought that both films were the same. The 2010 live-action actually can also be considered a pseudo-sequel to the novel as well as the character this time around is actually the daughter of the original novel's protagonist. So if we were talking about canon and linearity,
Makoto
and the girl in the live action would technically be cousins. Something else that also came to my attention was the fact that the voice of
Makoto
,
Riisa Naka
, is also playing the protagonist of the upcoming live action. Oooooh.
Anyways back to the actual anime film, I thought it was a really sweet film and had a really good heart.
I loved all the characters, the animation was superb (characters actually looked like they came from
"Neon Genesis Evangelion"
, my all-time favourite anime series) and the voice acting was handled very well. Characters never seemed too unrealistic or exaggerated which is a problem I always encounter when watching most things in Japan. It's a really nice film and I'd recommend it to anyone who's a fan of Japanese dramas because you'd no doubt appreciate and like the film.
2010 Live-Action Adaptation
------------
The same friend that gave me, "The Girl Who Leapt Through Time" also gave me an anime film entitled,

"5 Centimeters Per Second"

.
Unfortunately, I had to watch it with the English dub so the voices didn't always click with me as they would in their native of Japan. The title, according to the film, refers to the rate at which a cherry blossom petal falls. The story follows
Akari
and Takaki, two childhood lovers trying to maintain their relationship despite some of the obstacles that complicate it. The film is split up into three parts and, in a sense, can work well on their own but added together form to make an even grander story. This is mostly evident in the way the second part of the film is told as
Akari
is almost never present and we are instead introduced to
Kanae
, a girl who falls in love with
Takaki
upon first sight. The film itself is incredibly gorgeous to look at as it relies on hues of pink and blue to truly give it an ethereal-like quality. The animation itself is also quite rich which director,
Makato Shinkai
, shows in his choices of wide composition shots and choices to show marvelously drawn landscape scenery. As I was watching the film, I couldn't help but think that this reminded me A LOT of another anime film,
"Voices of a Distant Star"
(a thirty minute film which I really enjoyed and one that I need to track down a copy of). Surprisingly, a quick Google search of the director showed that he created that very film (nice bit of trivia I found out for myself there). Also, I noticed the film was very
Wong Kar Wai
-esque in that the themes of time and love are very much prevalent to the characters and the overall narrative; characters narrate and have interior monologues; one scene in the film saw
Takaki
and
Kanae
walking down a lonely road together, side by side talking to one another in similar fashion to how
Andy Lau
and
Maggie Cheung
were in
"Days of Being Wild"
; and carries a heavy melodramatic tone much like most
Wong Kar Wai
features. These similarities could be ignored though because I've studied that man far too much. However, those of you reading this who are fans of
Wong Kar Wai
may like to check this out. I was disappointed a little with the seemingly rushed ending, however, in spite of this, I'd still recommend it also to anyone wanting to see something new or different in terms of anime. It's not a long film too (clocks in at about an hour) so it shouldn't eat too much of your time either.
I really like this trailer. It says nothing, plot-wise, about the film, yet with a few shots and the wonderful accompinament of the piano, it says so much about the film also.
------------
The first film I watched as part of my own little Korean week was 2001's,

"My Sassy Girl".
The film opened to much critical and commercial success throughout Korea and was one of the first movies to truly elevate Korean cinema into the forefront of Asian film-making. While that isn't to say that Korean movies weren't around, it just meant that the sudden rise and popularity of
"My Sassy Girl"
also paved the way for many Korean films to have an advance in international markets. You know you've made it when you have a bad American remake (seems there were also remakes in Japan and India also) and several copycats throughout your own country and other neighbouring countries. The film is based on real-life events (some of these most-likely exaggerated for the benefit of the audience) about a guy whose world is turned upside down when he encounters a drunk girl at a train station and is forced to take care of her. You can probably see where things go from here as it is, somewhat formulatic, but it's still a very enjoyable film nonetheless and was never too predictable. I wasn't ever bored and thought it was quite funny throughout (particuarly in the first half). The true star of the film, as many have noted, is the very pretty,
Ji-hyun Jun
, who plays the outrageously eccentric
"sassy girl"
(her character's name is never mentioned). The movie is basically about her so we, as the audience are seeing her through the eyes of
Geoum-woo
and react in similar fashion to him to whatever she does - confused, bewildered, excited, happy and angry. It's this high level of energy that
Ji-hyun Jun
, brings to
"My Sassy Girl"
that makes her character all the more loveable and makes the film that much more enjoyable. I'm not a fan of "coincidental" and conventional happy endings, however, the ending in this made me smile. if there was one criticism to be made, it would be length. It clocked in at about two hours and I think a few minutes could've been cut from a scene where our two protagonists enter a themepark inhabited by a soldier on the run. That particular scene felt too long but other than that, the film's very enjoyable and good fun to watch.
------------
I wanted to like

"Take Care of My Cat"

but truth be told, a bit of it was lost on me as I was watching this with a friend.
Towards the end of the film, we started talking a bit more about other things and weren't paying attention to the film so I didn't really understand some of the things that were happening. I was paying attention for most of the film, however, and it is a pretty interesting character driven film. It's a pretty good character study of young adults transitioning from high school to entering the work force and studying at Universities and handles relationships in a realistic manner. The film is admittedly slow however and there were points where I checked to see how long the film had left until it was over. Also, the cat of the title isn't featured as much as I imagined but it's role isn't as important as the relationships of the teenage girls. I'd watch it again on my own with 100% attention given but for now, it's just an okay kinda movie.
------------
Bong Joon Ho's

,

"Memories of Murder"

is a fantasticlly crafted film which tells the true story of South Korea's first wildely publicised serial murders from 1986 - 1991.
It's a police procedual thriller and it's a damn good one at that. Fans of
David Fincher's
films,
"Se7en"
and
"Zodaic"
should look no further than this Korean gem if you're looking for something very similar (it's more in line with
"Zodiac"
than
"Se7en"
though). Despite the nature of the film, certain choices in the cinematography department make this film incredibly rich with visuals (the opening scene and ending scenes are etched into my head, it's that awesome). Our two police detectives,
Park Doo-Man
(played by
Song Kang-ho
) and
Seo Tae-Yoon
(played by
Kim Sang-kyung
) are characters that are very well played by both actors and work off one another very well. The story's pacing is very meticulous with every twist and turn in the serial murder case feeding so much more interest in the viewer. It's a movie that rewards you for every minute you're watching it and almost never fails to disappoint. One scene in particular had me on the edge of my seat and writhing in anticipation to see what would happen next. Having said that, I do want to see
Bong Joon Ho's
latest feature,
"Mother"
which is in similar vein to this only not so much focused on the painstaking detective work. The film's a recommendation, definitely.
------------
If there's two Korean directors that I love seeing work from, it's the aforementioned

Bong Joon-ho

and

Park Chan-wook

.

Park's
"Vengance"
trilogy has been praised on my blog before but those were the only Park films I'd seen. I'd wanted to watch
"I'm a Cyborg, But That's Okay"
but never got the chance to and still haven't seen his latest film
"Thirst"
. I could if I wanted to, I just haven't gotten around to it. Anyways, I watched the film that introduced the world to
Park
,
"Joint Security Area"
, and it's really not that hard to see why he's one of Korea's best directors with this film. The movie takes place primarily in the Korean DMZ (Demilitarised Zone), a strip of land that indicates the intersection between North and South Korea and tells the story of four men who, despite their allegiances to their respective country, form a bond of brotherly bond between each other and become close friends. It's an important movie in Korea and it's perfectly understandable to see why as it is a film that breaks down the barriers between North and South. Park is able to get great performances from his cast, however, his decision to allow actress
Lee Young-ae
to speak with cringe-worthy English is a questionable one (her character,
Major Sophie E. Jean
is of Swiss and Korean heritage, however, it was her character's first time being in Korea). Nonetheless, it's a realy exceptional movie with a truly powerful story.
------------
Next week is sci-fi/horror/thriller week.
I'll put in a few other movies for myself as well that aren't from this particular genre if I have the time but my main concerns are with the films I listed in my previous post (can't be bothered pointing 'em out again).
__________________________________________________________________
The official theatrical trailer for

Edgar Wright's

,

"Scott Pilgrim Vs. The World"

hit the internet this week and it looks just as great, if not moreso, than the original teaser trailer released some months ago.
Actually it's really just an extension of the teaser trailer only with a lot more new footage (I'm not complaining, really). The movie looks and sounds so awesome but don't take my word for it, watch the trailer embedded below and find out yourself. Very excited about this one (but why must it be released all the way in August).
------------
Last week, I mentioned that

Megan Fox

had left the "Transformers" series and that

Michael Bay

was quickly looking fo
r a replacement in the form of Victoria's Secret model,

Rosie Huntington-Whiteley.
This was of course mostly speculation and pure gossip but rumours were silenced as this past week, Victoria's Secret released a video congratulating their "angel" for nabbing the part in
"Transformers 3"
. Seriously not anticipating or looking forward to
"Transformers 3"
after that last film but that doesn't mean I'll shell out money to watch it. The one thing I hate about Fox leaving is the fact that whenever I think of the
"Transformers"
movie franchise, I think two things: the actual robots and then
Megan Fox.
------------

For anyone interested in what

Chris Evans

will possibly look like in the

"Captain America"

film, above is the official first look for the concept art to the

Captain America

outfit that might be used in the film.
The term concept art just makes me think that they're still playing around with ideas but as it stands, this particular look they're going for is quite good and doesn't look to crazy and farfetched. I've always thought the
Captain America
outfit would look ridiclous if there were to be a true live action adaptation of it but this doesn't loo too bad. I especially like how the suspenders end up being the red stripes instead of having red stripes designed directly onto the suit itself. It's a smart move on their part, I thought. For more poses and larger images, check
AintItCool.com
.
------------
And if the

Captain America

batch of concept photos weren't enough, new images of

Chris Hemsworth

as

Thor

have been revealed also.
I like the overall look for
Thor
more than
Captain America
but these images make me afraid that
Thor
won't be wearing his helmet (not that it really matters, I just like him with his helmet). Go to
Collider.com
for high res photos.
------------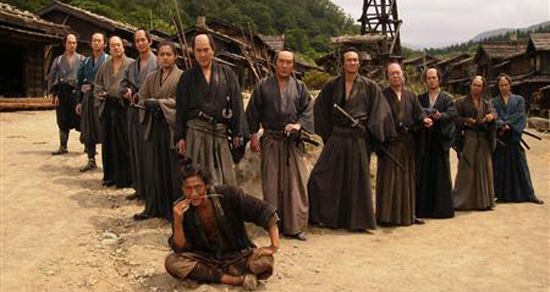 And finally, the trailer for

Takashi Miike's

next film,

"13 Assassins"

was released this past week and it looks to be the most "straight" film he's ever done.
By that I mean it doesn't contain that element of surrealism or insanity that usually comes with his films. It looks quite good and I'd be interested to see more from it.
__________________________________________________________________
And that's all for this week.
To wrap up, below is an awesome prank that was conducted by a few college students.
/Film
writes:
A bunch of students turned Carleton College's Goodsell Observatory into R2-D2, complete with sound effects.



To check out more photos from the college prank, click to link above to see more.
End post.