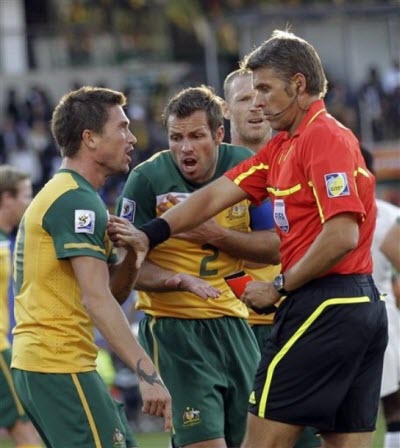 Did that just happen?
Did Ghana just tie with Australia? Australia have had such bad luck. They're not entirely out of the World Cup, I think, but their chances are so slim right now that they may as well get ready to pack up and work hard for 2014. I don't even think that red card for
Harry Kewell
was even necessary. Sure, he was the last defender between the goal and the striker but it wasn't like he put his arm out intentionally! If you wanna see someone put their hand out intentionally, see
Thierry Henry of France tap the ball back in
and allow the French to qualify. I thought the Aussies definitely upped their game after the horrific game they played against Germany but I think losing Kewell and suffering from the subsequent penalty goal that came after
Kewell's
departure left a major blow on Australia's morale. As for the rest of the World Cup, everything hasn't been quite as expected with countries like Switzerland and Serbia gaining upsets over the tournament's biggest countries and leading favourites.
------------
I stayed up till sunrise this past Monday and Tuesday to awtch the live feed of this year's press conferences at

E3

(stands for Electronic Entertainment Expo)
.
E3
is the world's largest gaming convention and the place where game developers and publishers show off their latest game and unveil upcoming projects. Rather than dissect each thing that was promoted at each press conference, I'll just list the good and bad of the big three conferences from
Nintendo, Microsoft
and
Sony
.
- MICROSOFT -
Good:
Metal Gear Solid: Rising, Gears of War 3, Xbox 360 Slim
Bad:
Spent way too long on Kinect - I get it, you don't need controllers
Good:
Almost every game they unveiled was win, 3DS
Bad:
They didn't really have anything bad. Could be argued that they didn't have originality.
- SONY -
Good:
Didn't spend too much time on the Playstation Move, Twisted Metal, Kevin Butler
Bad:
Would've liked to have seen Uncharted 3 but it's too early for that, haha.

____________________________________________________________________________
I didn't actually watch any films this week, which is very irregular of me but that's only because the new television series below, the World Cup and this weeks various press conferences at E3 have been taking over my viewings and have also screwed up my sleeping patterns.
I'd have to correct this soon though because my one and only exam (it's for Japanese) will be in two weeks time so I figure I have this entire week to cram. It's bad, I know, but I reckon a week's worth of cramming should do the trick.
I'm so glad I discovered

"Community"

and wasn't too late with it like I was with

"30 Rock"

.
I was recommended to
"Community"
on Sunday night and now I absolutely love the show. It's a really quality television show with a great cast, clever writing and is littered with epicly epic movie references, parodies and homages. So yeah, it's really no wnoder why I love this show so much. It's called
"Community"
because it's set at the fictional community college, Greendale College. I finished the first season this week and I've got quite a lot to say about it but will try and condense it to a paragraph. I felt that the coupling of a certain two characters felt so damn rewarding by season's end because the build-up to it was, to me, highly satisfying. The ending segments during the closing credits of the show are also highlights which feature the adventures of two of the show's characters,
Abed
and
Troy
.
Abed's
probably my favourite character cause he's a guy with Asperger's syndrome who constantly makes film and television references. Already my three favourite episodes are,
"Modern Warfare"
(amazingly fun episode that paid homage by parodying a LOT of awesome action films +
"28 Days Later"
reference),
"Introduction to Statistics"
(because most Halloween themed episodes for television shows are usually awesome +
"The Dark Knight"
parodies are always welcome) and
"Contemporary American Poultry"
(an entire episode that was a parody/homage of
"Goodfellas"
). One thing I've just noticed, also, is that all their episode titles are named after classes. One final thing to say is that the show gave me
Alison Brie
. New eye candy, hohoho.
____________________________________________________________________________
TIDBITS OF FILM NEWS
This is a horrible movie idea but it's got a pretty top-draw cast in

Hugh Jackman

,

Anthony Mackie

(The Hurt Locker)

and Evangeline Lilly

(TV's Lost).
This is the first official photo from the upcoming film,
"Real Steel"
, a live action
"Rock 'Em Sock 'Em Robots"
. The film is described as a "rousing sports movie" and is set in the future where human boxing is outlawed and is replaced with 2000-pound fighting robots. So basically, it's like Rocky for robots. Awesome or hilarious? You decide.
-----------
A film that will definitely make it to my watch list is

Zack Snyder's

(300, Watchmen) upcoming children's film,

"Legend of the Guardians"

.
I've posted a teaser for it before but this is the full-length theatrical trailer which sheds a bit more light onto the plot and shows off a lot more of the beautiful use of CGI. I can only wonder what this film would be like to experience in 3D because it looks absolutely spectacular visually.
-----------
The international film trailer for

Edgar Wright's,

"Scott Pilgrim vs the World"

can be found below.
Expect this version to appear in various cinemas throughout Australia. This new trailer shows some new footage, more story and I think I hear
Blood Red Shoes
playing again, haha.


-----------
Last trailer today and it's for Australian film,

"Tomorrow, When The War Began"

.
As with the previous two trailers above, this trailer offers new footage and gives an indication of where the story will be heading. It looks to be a rather exciting film not just for fans of the novel series but for Australian films as well. I've noticed that Australia have had quite a lot of local releases become internationally released or recognised in the last two years.


-----------
"Toy Story 3"

came out this week in theaters all across America and, while we still have to wait for the release of Pixar's third installment in the beloved 'Toy Story' series, word of mouth has been immensely positive with almost all critics praising the film as "
a rare second sequel that really works".

However, one man had to change all that and his name is

Armond White.

For those of you who do not know who

Armond White

is, he is a film critic for the New York Press who is notorious for condemning critically praised films such as

"Up"

,

"The Dark Knight"

and

"District 9"

and instead praising universally panned films such as

"Transformers: Revenge of the Fallen"

. Everyone's entitled to their own opinions, sure, but this guy is like the troll of the film community. As it stands, however,

"Toy Story 3"

is currently at 99% on the Tomatometer which is a damn good result. Cannot wait for next week!
____________________________________________________________________________
And that is all this week.

And now for an awesome video that was featured on

Ray William Johnson's

,

"=3"

this week. Enjoy!
End post.