Another rather uneventful week in this life of mine.
At the risk of sounding like a person who has absolutely nothing to aspire to in life, I was able to finish the game
"Final Fantasy VII"
this past week. No one's interested in this personal achievement of mine, obviously, but I thought I'd like to just get it out there. A few years ago one of my discs was heavily damaged to the point where I couldn't complete this epic video game. I was able to buy it on the Playstation Store and started last Sunday and finished this past Friday. I played a total of 40 hours. Personal achievement to me but utterly sad and worthless to many. I'm thinking of continuing this trend before I get to Uni (in a week's time) by buying the 8th installment in the now legendary
"Final Fantasy"
video game series.

------------


This is already old news by now but being that this is a weekly blog update, I shall therefore continue to express my happiness for Spain who now have their first World Cup winning.
Spain scored in the dying minutes of extra time during the finals against the Netherlands and boy was it a goal to savour. Congratulations go out to Spain who, I'm sure, are still celebrating their monumental victory.
------------
I'm sure I've answered this question in a post before but just to repeat myself, I don't always write everything in the one go.
If I did though it'd almost take me most of the day to do so. However, I spread it out and write it as I go along. For example, after I finish a film, I'd go and write about it straight away so that it's still fresh in my head and then save it in the drafts. So I hope that clears things up. As for my posts not appearing in your news feed, I'm not sure what to make of that, sorry. :S
------------
Well look at that.
The Chinese built a 33 foot tall Optimus Prime statue completely from old car parts outside of the Bird's Nest Olympic Stadium. Impressive, most impressive.
------------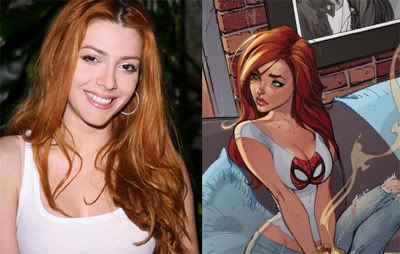 Hot girl of the week -

Elena Satine.
This red headed Georgian-born model/actress/singer was reported to have auditioned for the role of
Mary Jane Watson
for the upcoming reboot of the
"S
pider-Man"
franchise. Can she act? I dunno. But just give it to her Sony - you'd be foolish enough to let her go because she is practically the real-life incarnation of
Mary Jane Watson
. I think this calls for a small picture spam.
__________________________________________________________________________________
WHAT I'VE BEEN WATCHING
The newly released

"Predators"

is a complete throwback to the original film and still manages to hold on it's own rather well.
It's not an outstanding film but it is worthy enough to be considered the true sequel to the original film starring
Arnold Schwarzenegger
. While it may be argued that this film is basically using the same settings and formula of the original and only paints over the first film with a more sci-fi aesthetic, I say "Why fix something that ain't broke?". It was absolutely fine the way it was years ago and it still works. It's the way we want to remember the Predator alien. My only two problems with the film were
Topher Grace
and some of the exposition during moments where the human characters actually interact with one another. I really enjoyed the film, despite those few issues however and thought it was a pretty fun film that more than makes up for all those other
"Predator"
related films.
__________________________________________________________________________________
I'm not a massive follower of

Green Lantern

and his many stories but I prefer the

Green Lantern

over to most superheroes and would even go as far as to say that he's one of my top favourite superhero characters in the comic book world.
Having said that, I have been following the
Green Lantern
film due out next year for quite a long while now and this past week, the first few pictures from the
Green Lantern
film were released via Entertainment Weekly's Comic-Con magazine issue. Now for the sake of time, I won't link all the scans but if you're interested,
CLICK HERE
, to check out a few of the other pictures. May I say that brunette
Blake Lively
is almost probably more hot than blonde
Blake Lively
.
------------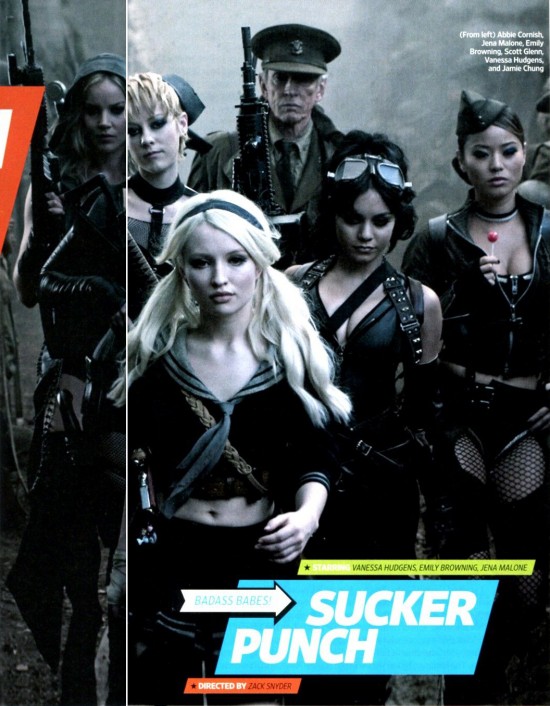 Also found in the Entertainment Weekly magazine in the United States is the official first look at

Zack Snyder's

upcoming film,

"Sucker Punch"

.
I'm surprised that he was able to direct both
"Legends of the Guardians"
and this film simultaneously.
"Sucker Punch"
stars
Emily Browning
,
Vannessa Hudgens
,
Jaime Chung
,
Abbie Cornish
and
Jena Malone
and basically looks and sounds like an all-girl over the top, stylish, action flick. Girls and guns - awesome combination. Is it bad to say that I'm a fan of
Zack Snyder
?

------------
I love

David Fincher's

films - his 1999 film

"Fight Club"

is one of my all-time favourite films. This past week, the official theatrical trailer to his latest film,

"The Social Network"

was released and I am incredibly impressed with it.
The song choice for the trailer was used to amazing effect and the trailer itself was cut really well.
"The Social Network"
stars
Jesse Eisenberg
,
Andrew Garfield
,
Justin Timberlake
and
Brenda Song
and tells the story behind the creation of Facebook. The film has no concrete Australian release date as of yet but is due for release in the United States on October 1.


------------
Another film trailer that stunned me this week was the

Ben Affleck

directed film,

"The Town"

.
Affleck
, who also stars in the film, has ventured into directing territory before with the critically praised
"Gone Baby Gone"
, a film I've yet to watch, unfortunately. I probably will see that though after seeing the trailer for
"The Town"
and think that it looks to be an incredibly top notch, well made and gritty film with an amazing cast to boot. I think the fact that the film is also set in Boston makes me like it even more (I love the Boston accent, haha). Will definitely be a film to watch out for.
M.Night Shyamalan's

track record hasn't been all that great.
With every film he's put out, they've consistently gotten worse and worse. Thankfully, he was smart enough to, this time, only pen the script and give it to someone else. Will another person's vision be enough to actually make one forget about horrible scriptwork? Maybe
"Devil"
will have the answer. The trailer was released this past week and it looks really interesting. I've said before that I'm quite a fan of films that utilise one setting and
"Devil"
does just that. Check out the trailer below.
__________________________________________________________________________________
And that's all for this week!
One more week until I return to University study. In the meantime, here is an awesome video of New York improv group, "Improv Everywhere" reenacting an early scene out of
"Star Wars Episode IV: A New Hope"
. I wish I was on that train.
End post.