...Okay so I was wrong about Argentina last week.
But the finals to the World Cup are fast approaching and I'm glad that this World Cup's finals pit the Netherlands against Spain! I wanted Spain to beat the Germans in their semi-final and was glad they moved on to the finals. My parents, on the night of the Spain/Germany game, asked me who I was cheering for in the match. When I told them I was cheering for Spain, they both laughed at me and told me they knew Germany were going to win. Imagine their surprise when Spain scored and won instead. It was my only chance to gloat in front of them and say "in your face". I was happy. As I've said before, this year's World Cup has been truly unpredictable and I think that this year's finals have proven that.
Let's go Spain!
------------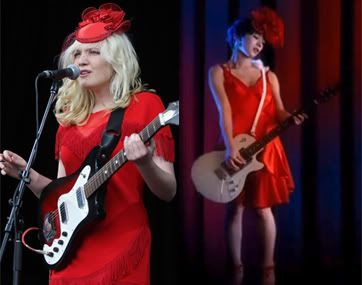 Oh hey look it's
Shiina Ringo
from awesomely cool Japanese band
Tokyo Jihen
!!! Oh wait no it's
Holiday Sidewinder
from alternative Australian band
Bridezilla
.
------------
The thought of going to a drive-in cinema screening had never crossed my mind before but I was fortunate enough to attend one this past week
. My close friend, Thy, suggested we watch
"Eclipse"
at the drive-in and I thought it was an absolutely brilliant and awesome idea cause I've never been to one and probably would've never thought about going to one. Luckily, she recently just got her P-plates so she was able to drive myself and her best friend, Minny, there as well. When we got there, we joked about re-watching
"Toy Story 3"
because the massive screen was right behind the
"Eclipse"
screen and we could've easily tuned radio to set the audio for
"Toy Story 3"
. It was pretty cool how the radio tuner was used to get the audio from the film, I thought. The whole drive-in experience was an awesome way to watch a film and I'd really love to do it again someday. I just wish my first drive-in screening wasn't
"Eclipse".
_____________________________________________________________________________________________________

"Fallen Angels"
was supposed to be the third story in director
Wong Kar Wai's
"Chungking Express"
but

Wong

ended up only using two stories because the "Fallen Angels" story would've made it too long (not to mention the film is completely different in tone to "Chungking Express").
Although the film features the same hyper kinetic energy that was featured in
"Chungking Express"
, the direction is even more energetic and kinetic this time around as the film's story calls for it with gun shootouts that bare much resemblance to those found in any
John Woo
film. As with any
Wong Kar Wai
film, the characters are very well refined and have great depth. The only character that I didn't feel was written too well was
Leon Lai's
hitman character. There wasn't much to his character, which means Lai didn't really have much to do with his character other than running around shooting people and occasionally telling the audiences his inner most thoughts. If
Faye Wong
was the heart of
"Chungking Express"
then
Takeshi Kaneshiro's
role in
"Fallen Angels"
will be the one most people remember as he is an absolute joy to watch. It's a fun role that isn't one you'd expect Kaneshiro to play, that's for certain. The film is much darker in tone than
"Chungking Express"
and while I like both films, I prefer the light-heartedness of
"Chungking Express"
(seriously,
Faye Wong
makes that movie so good). This is probably why I liked
Takeshi Kaneshiro's
mute character and his story moreso than the hitman story. At the end of the day,
"Fallen Angels"
is another solid film in
Wong Kar Wai's
filmography and is an instant refresher from the 60's laden romantic melodramas he has so often come to be associated with. This is the only
Wong Kar Wai
film I'd recommend to people who aren't too ambitious about diving head first into one of his films as it does kind of work as your contemporary Hong Kong film.
------------
Rian Johnson's

"Brick"

is an ambitiously curious movie.
The idea of transporting the characters and dialogue of a detective noir story and dressing it in a Southern Californian high school/suburbia setting is, at first glance, one of laughable proportions.
Johnson
makes it work incredibly well however and the result is a very interesting directorial debut and an even more interesting film. It's surprising to see how well these two universes collide with one another as I was expecting a bit of a
"Veronica Mars"
-like approach to the film. There is one moment in the film where things get absolutely hilarious when, we see, the world these teenagers inhabit (with their cool, throwback dialogue) clash with that of the real world and it works so well. The script is great - the dialogue is exactly how you'd expect these fictitious archetypes of the 30's and 40's to talk.
Joseph Gordon-Levitt
is absolutely brilliant and blew me away in this. His performance was quite understated. I feel like seeing more in the filmography of JGL now because he's a child actor that's really grown to have a VERY good career with quality film choices that haven't steered him into bad direction (I still think WTF over his decision to be in
"G.I. Joe"
, though). The rest of the cast are great and work well with one another. The score is absolutely amazing and gives the film its tone and atmosphere and I quite liked the cinematography and direction too. A very nice independent picture that's quite underrated and should get some more attention.
------------
This third entry into the insanely popular,

"Twilight"

franchise is surprisingly better than the two films that came before it.

"Eclipse"
is much more darker than the previous two films and even incorporates "horrific" elements that may startle or upset much of the young, impressionable female audience it tries to appeal to. Various members of the
Cullen
family who don't get enough screen time or mentions are given their own opportunities to tell the audience their back stories, providing much more clarity and a bit of depth into these otherwise forgettable characters. It's a nice touch to have some of the other
Cullens
tell the audience who they are instead of being blank objects in the background of
Bella
,
Edward
and
Jacob
. The performances are still a tad mediocre and the love triangle between Edward, Bella and Jacob is still bland and uninteresting but it's not all bad - at least they added a woman into
Jacob's "Wolf Pack
". Things were starting to look a lot like an episode of
"Queer as Folk"
over there.
------------
"Get Him To The Greek"

- the spin-off to the highly recommended 2008 comedy,

"Forgetting Sarah Marshall"

- is a film that, unfortunately, gradually gets worse as the film progresses.
It's promising at the beginning but the
"will they arrive on time?"
idea wanes very quickly and loses its momentum. The film's narrative especially takes a plunge in the third act of the film where an awkward threesome feels almost out of place and is admittedly hard to watch. There are plenty of great laughs to hold you over for a while, don't get me wrong, but it's mostly a forgettable comedy film (a bit ironic, perhaps?). While my main motivation to see this was the fact that it was a spin off from
"Forgetting Sarah Marshall"
my other motivation to see this film was to see
Rose Byrne
in an environment totally unlike anything she's ever done. It was certainly bizarre seeing her portray a foul-mouthed, Lady Gaga-esque popstar but it was disappointing that she didn't get as much screentime as I had imagined. My disappointment with the film may also stem from the fact that I saw this film with an audience of only about seven people. I believe comedy movies suffer as a result of audience participation as I was mostly laughing and I never really heard anyone but myself and my friend laugh. Maybe my experience may have differed if I was with a larger audience?
------------
I didn't know it before, but I certainly know it now.
This is now one of my favourite movies.
John Woo's

,

"Hard Boiled"
isn't trying to be a gritty tale of cops and robbers nor does it pretend to be a film about the strenuous task of being an undercover cop and coping with loss. Simply put,
"Hard Boiled"
is a straight-up action film that celebrates the greatness of gunfire, explosions, cops and robbers. The violence and action is heavily stylised in a way that is completely different to Western action films such as
"Die Hard"
or
"Rambo"
. Within ten minutes of the film, the shootout that ensues racks up a ridiculously high body count.
Woo's
understanding of the action genre allows him to create heightened senses of adrenaline and genuine excitement for the audience. Many times I found myself in awe of some of the things that were happening. The most memorable scene for most people who've seen
"Hard Boiled"
is the single-take tracking shot of
Chow Yun Fat
and
Tony Leung's
characters moving from hallway to hallway, floor to floor, shooting goons down in an awesome matter. In my mind, this film is the king of action movies. What's even greater is that the plot isn't some throwaway device that's used to allow for these spectacularly staged shootouts but it's actually as fun and exhilarating as the set pieces. A true benchmark in action filmmaking, definitely.
------------
While it's not the strongest entry into

Pixar's

consistently wonderful filmography,

"Cars"

still holds up quite well as a

Pixar

film and is one that many should be able to thoroughly enjoy.
Older audiences won't find too much to love about it (except for that love of cars and nostalgia of road trips) but kids should pick up very well. It's very wonderfully animated (like any
Pixar
film really) and I think the truth showcase of the animation in cars can be found when neon lights are reflecting off the shiny surfaces of each individual car - it's really impressive. The story unfolds quite well and I was never feeling bored but it's not something unique or something we haven't seen before. All in all,
"Cars"
is still an enjoyable film, it's just not a strong one in Pixar's long line of incredible films. Fun for the whole family and has a great message for children watching too.
------------
I didn't think I'd like

"Ratatouille"

because I didn't really see the appeal and didn't quite have enough interest in it
. I did, however, have enough curiosity to want to try it out and it really surprised me and was a lot better than I could've imagined. The film itself looks like its geared more towards adults than most
Pixar
films because the story itself doesn't lend itself to be a favourite for children. Not saying that it isn't for children - it most certainly is - I'm just saying the story, while very heart warming, doesn't seem like it would be an instant favourite amongst kids. The animation, as always, is impeccable - the textures of herbs and vegetables looked incredibly organic and you could see every strand of hair on
Remy
the rat and on the other human characters. The voice acting is perfect all around. I especially liked the voice actor for
Linguini
,
Lou Romano
. His voice reminded me of
David Schwimmer
of
"Friends"
fame which is more than appropriate for the character of Linguini. After having seen the film, it made me really appreciate fine dining and food. I think this is one of the more "unique" films in
Pixar's
catalogue of films and I'm glad to have watched this and think it's a fantastic film. I think if I were a child watching this, I'd aspire to be a chef because it makes the culinary world seem so exciting!
------------
"Wall-E"

is quite possibly the zenith of Pixar's creative genius.
It's a true masterpiece in both animated features and storytelling as it affects the audience both intellectually and emotionally. The director,
Andrew Stanton
, (who previously directed
"Finding Nemo"
) is able to convey so much by doing very little. By stripping away the dialogue and entrusting the storytelling into the animated performances of
Wall-E
and his crush,
Eve
, the endearing and lovable characters are able to communicate to everyone without the need for languages to overcomplicate things. It breaks the language/speech barriers are goes back to the essential basics of acting – movement and body language. It's almost a silent movie!
Wall-E
and
Eve
communicate with one another using robotic beeps and whirs which, at times, come to sound like words. I think that the animation is absolutely outstanding – it's probably the best
Pixar
has to offer - and that having the film set in space also helps to create spectacular visuals. Even the rusted metal textures on
Wall-E
and the sleek, Mac/Apple-like design of
Eve
, are very noticeable and look very good. I think that the commentary of consumerism, the planning for future generations and ultimately preservation of Earth. All important things for older audiences to think of and for children to get an early grasp of (especially with the preservation of Earth message).It's no secret that I'm a fan of sci-fi, so the subtle allusions to sci-fi gems like
"2001: A Space Odyssey"
were nice to see. I highly recommend
"Wall-E"
to everyone as it is a film that is highly engaging with characters and a story that will resonate with you longer after the credits roll.
_____________________________________________________________________________________________________

I was a fan of the

"Saw"

series up until the fourth film where things took a real turn for the worse.
I know much has been said about the tired and old
"torture porn"
genre but when it's done right it's not only effective (not that it isn't effective already) and good. The first
"Saw"
film was very promising and showcased some fresh Australian talent in
Leigh Whannel
and
James Wan
. As the series progressed, it gradually got worse. The
"Saw"
series is in its seventh film now and with the success of 3D, the seventh installment has been retitled as
"Saw 3D: The Traps Come Alive"
. Insert facepalm right here. It could've been worse I guess.
"5inal Destination"
or
"Fast Five"
, anyone?
------------
Speaking of the

"torture porn"

genre a little film that went unnoticed by me has only recently come to my attention as Madman Entertainment will be distributing the film soon
. The film in question is called,
"The Loved Ones"
, an Australian made feature that has had some very warm reception from horror fans and has had quite a bit of love across the various film festivals it was screened at. It was finished last year but has finally found proper distribtution. I wouldn't mind watching it cause it looks very interesting and I love films that use minimalistic settings and require only one location (films like
"Reservoir Dogs"
and
"Death at a Funeral"
come to mind). Check out the official trailer that was released this past week below.
------------
Korean cinema really is the new Hong Kong.
The upcoming Korean feature
"I Saw the Devil"
already has me itching to see the film just from its two leads alone.
Choi Min-sik
(
"Oldboy"
) and Lee Byung-hun (
"A Bittersweet Life"
,
"G.I. Joe: The Rise of Cobra"
) are two of South Koreas most prominent and top draw actors and they both share the screen in this eerie thriller about a serial killer and an agent hellbent on exacting revenge on the serial killer. The full-length trailer was released this past week and it looks quite impressive. I'd love to see a lot more from Korean director,
Kim Ji-woon
, whose previous films I've seen include (
"A Bittersweet Life"
and
"A Tale of Two Sisters"
). A film of his I've wanted to see for a while now is
"The Quiet Family"
. I found out about it through one of the books I borrowed in my University's library. That film seems quite hard to track down though.
------------
How do these guys get jobs?
The same guys responsible for the parody films,
"Epic Movie"
,
"Date Movie"
and
"Meet the Spartans"
are at it again with the recently unveiled
"Vampires Suck"
. The film parodies the popular
"Twilight"
film series yet for some reason incorporates jokes about
"Alice in Wonderland"
,
"Jersey Shore"
and
Lady Gaga
. I didn't think it was possible but these guys make
"Twilight"
look a lot better than it really is. Check out the trailer above and see for yourself.
------------
Finally, the Melbourne International Film Festival released the list of films they will be screening this year and I'm rather impressed at what they've gathered.
I won't name every film I'm interested in seeing as this blog post has gone on far too long but I will say that I'm happy and very surprised to see
"Chloe"
amongst the films being screened. Of course, the only reason why I want to see that film is because
Amanda Seyfried
stars in it. Other films I am midly excited about include
"Air Doll"
,
"The Disappearance of Alice Creed"
,
"First Squad: The Moment of Truth"
,
"Splice"
and
"Small Soldiers"
(yes, the one with the small toys fighting each other – and no, not
"Toy Story"
). Now if only I have the money to actually go see all these films. I'll try my best to get to at least ONE film.For the full list of films, head on over to the film festival's official website and check for yourself.
_____________________________________________________________________________________________________

So that wraps up today's post.
Here's a video that I posted on my Facebook the other week which should've made it's way here also. It's a recently uploaded compilation of the 100 Greatest Movie Insults and it's a damn good one too. Be advised that it will contain a lot of language.
End post.
_____________________________________________________________________________________________________
P.S.

This post was close to

3,000 words

. Amazing. I wonder how long my other posts are. I think I need to really cut down on words.