I recently received an influx of awesome music from a friend.
So far everything I've heard has been ace. Am curious now as to why I haven't bothered looking up these bands. I am now a converted fan of
The Kooks
,
The Libertines
,
Angus and Julia Stone
,
The Subways
and
The Last Shadow Puppets
. I've also just come to the realisation that almost all bands (indie or otherwise) start their name with "the". Good music for your sanity.
------------

The

Reel Anime

film festival wrapped up this past Wednesday, much to my dismay.
Not only did I like the festival, I liked the venue and the atmosphere that came along with it. It was great and so were the films. I had the pleasure of viewing
"Summer Wars"
this past week (thoughts below) and was surprised to see much more people coming in to this than
"Evangelion"
last week. if there's another
Reel Anime
film festival next year, I'll definitely be in attendance!
------------
Awesome poster, methinks.
The

Tokyo Game Show

is currently underway as I write this and goddamn, I really wanna attend one of these events in the future!
It's either
E3
,
Gamescom
,
PAX
or
TGS
that I really want to attend one day! That and
Comic-Con
, of course. BLAH!
Anyways, a lot of substantial news has stemmed from that show this past week.
These include the
official confirmation of the ICO collection
,
an official release for The Last Guardian
,
the announcement of the fifth installment in the Devil May Cry series
and
the announcement of Tekken Tag Tournament 2
among many other things that might pique one's gaming interests. Man, I love
Kotaku
.
------------
Currently saving up for the following:
Crazy awesome packaging and cover art, seriously. A screaming "must have" for the collector in me.
I know I wrote a rather understated "review" of this film but I've been really thinking about it a lot lately and really want it. Plus, the opening of this film still amazes me.
I don't understand why this game isn't in my collection yet, :(
Why don't I have a part-time job yet?

Geez, I'm hopeless.
___________________________________________________________________________________________
WHAT I'VE BEEN WATCHING
"Summer Wars"

is an amazing anime film - I highly recommend anyone whose a fan of anime and good storytelling to see this delightful feature from

Mamoru Hosoda

, director of

"The Girl Who Leapt Through Time"

(and I just learned he also directed the

"Digimon"

movie).
The film is wonderful to look at and the story and it's characters are just as riveting. Every character has their own personality and brings much more charm to the film.
Hosoda
carefully blends action, humour, drama and commentary/satire so well and offers up an incredibly engaging experience. Fun to be had at the cinema for all ages and never boring or a letdown - one of my small favourites of the year. It's too bad that the
Reel Anime
is over now but I highly recommend people check it out however they can.
------------
"As Tears Go By"

is

Wong Kar-Wai's

debut film and it's pretty much your standard gangster flick with a small love story interwoven into the mix
. The script isn't so much tight and perfect but it's probably the only film in
Wong's
filmography that actually has a story, in my opinion. The violence is confronting and not as stylishly portrayed and shot like other contemporary Hong Kong directors like
John Woo
which makes the film a little more impactful. I couldn't help but compare this film to
Martin Scorsese's
debut feature,
"Mean Streets"
as both stories are somewhat similar (the older gangster looking out for his hot-headed protege). A rather decent film at best but one an important one in this auteur's filmography.
------------
I forgot to include the fact that I finished watching season one of the brilliant

"Mad Men"

.
It's quite hard to get into, I admit, but stay on and you'll be rewarded ever so handsomely. I really dig this series and think it's a really well crafted adult drama. The characters are so well-written, especially the ever mysterious
Donald Draper
. The acting is top-class and while there isn't really a "story" to follow, the series is heavily embedded in it's interesting characters. The 60's looked like a sexy period.
Christina Hendricks
may be hot and amazingly curvaceous (no straight guy would deny her, seriously) but there's something about
January Jones
that makes me fall completely for her. Now I need to see season two!
___________________________________________________________________________________________
TIDBITS OF FILM NEWS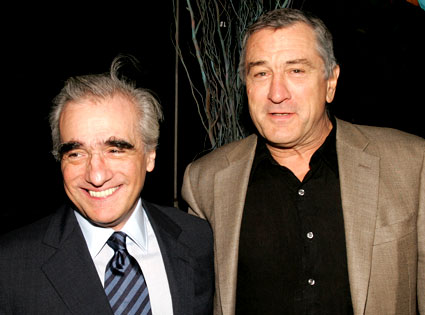 Not much happening on the film news scene this week except for one major rumour that's had me pretty darn excited
.
Joe Pesci
and
Al Pacino
are reportedly, "circling" around a project that
Robert De Niro
and director
Martin Scorsese
are supposedly looking to make together called
"The Irishman"
. It's a crime picture, a genre that all four men owe their careers to. It's an exciting idea to have these three actors work under
Scorsese
if
Pacino
and
Pesci
indeed sign on but unfortunately, this project won't be heard for a long while because Scorsese's got a few other films under his belt before this happens. He's currently shooting for the 3D children's film
"Hugo Cabaret"
. Would that be his first children's feature too?
I think so.
___________________________________________________________________________________________
So that's all really this week.
Anyways, here's a pretty funny interview I found with the always beautiful
Amanda Seyfried
and
Mark Webber
(last seen as
Stephen Stills
in
"Scott Pilgrim vs. The World"
). This video made me find out that her favourite colour is
GREEN
which makes her even more awesome than before.