How did I spend my one week "holiday" break?
So the only thing out of the ordinary there was that I actually went out of Melbourne and to Geelong on Saturday with some mates for fishing.
Unfortunately, the fish weren't biting so we didn't have much to catch on to, but it was still a pretty good time out. It was my first time on the V-Line trains too, haha. I had stayed up the entire night and had to leave my home at about 5.30AM which sucked but I liked the emptiness of the streets in the really early hours of morning. Below are a few select photos from the fishing trip.
Other than that, the only other thing that got me mildly excited was that my order for

"Mean Streets"

came in.
Essential viewing if you want to see a movie with an impact within American cinema as well as a film that chronicles the rise of
Martin Scorsese
and
Robert De Niro
.
And now back to University study.

Woop-de-doo.
__________________________________________________________________________________________


WHAT I'VE BEEN WATCHING

Ben Affleck's directorial debut,

"Gone Baby Gone

" is a crime drama based on

Dennis Lehane

novel of the same name.
Affleck casts his younger brother,
Casey Affleck
, in a role that translates perfectly on screen as a "young" private investigator looking to investigate the disappearance of a little girl.
Affleck
is able to create a wonderful atmosphere of serious grit and is also able to extract great performances from all involved. It's a movie that really moves you with each small plot twist bending and shifting it's way to the film's morally ambiguous ending. As a fan of police procedual dramas/detective stories, I found myself quite liking this and think that
Ben Affleck
can be a serious director, should he choose to stay behind the camera. Looking forward to seeing his newest project,
"The Town"
, after having seen this.
------------
While initial skepticism around this film made me lower my expectations, I found myself rather enjoying

"Legend of the Fist: The Return of Chen Zhen"

.
I had read earlier reviews where the film was said to have been racist against Japanese people and that fight scenes progressively got worse but I found these allegations to be only half-true. While the potrayal of Japanese people is rather objectively one-sided, in terms of crowd-pleasing cinema, there had to be a clear antagonist that the audience would love to hate and I think the film clearly had one. As for the fight scenes, while some may be a little lackluster, they all still quite pack a powerful punch, simply with
Donnie Yen's
screen presence and choreography. The first major fighting sequence that opens the film is probably some of the most intense and gratifying stunt choreography from
Donnie Yen
that I've seen in quite some time and most people agree to this. The film's somewhat hackneyed plot can't be overlooked though and there were a few scenes where dialogue ran too long and was unnecesary. Overall though, an entertaining crowd-pleaser and one that fight fans can enjoy.
------------


"The Sorcerer's Apprentice"

turned out to be a lot better than I had expected.
Yes, I was expecting a certain sense of campiness from seasoned actors,
Nicholas Cage
and
Alfred Molina
. Yes, I was expecting a recycled love story between a nerdy
Jay Baruchel
and a gorgeous
Teresa Palmer
. But did that matter as I was watching it? No. I went to see this film because there was nothing else particularly noteworthy to watch and gave this film a chance. I enjoyed it for what it was and I think that people of all ages would love it. This film isn't just limited for kids but I do see kids getting quite a good kick out of it. The visual effects are highly outstanding and are a major plus to the film. As fantastic as the visual effects may be, however, they don't need to be seen on a big screen. It looks wonderful there, sure, but the film to me is something I'd rent or see on TV. Great to pass the time and enjoy if you don't take it too seriously.
__________________________________________________________________________________________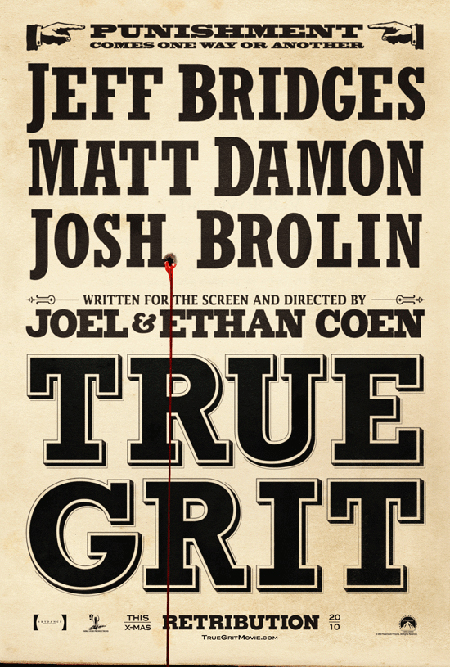 First teaser trailer to the Coen Brothers' upcoming western, "True Grit" was released this past week.
Rarely do we see western epics in cinema these days but this looks pretty satisfying. I must say that I did not recognise
Matt Damon
whatsoever in this. Check out the trailer below.
In other trailer news, a second full-length trailer for the film,

"Skyline"

was released this past week also and features much more story and visuals.
The film looks impressive and could draw some good numbers at the box office. Also reminds me a little of
"Cloverfield"
except without the handheld POV digital cameras.
-----------

Rumour has it that

Baz Lurhman's

(

"Moulin Rouge"

,

"Romeo + Juliet"

) adaptation of

F. Scott Fitzgerald's

novel "The Great Gatsby" has three major contenders circling the project.
Leonardo DiCaprio
,
Tobey Maguire
and
Amanda Seyfried
have been looking into the project apparently though it's possible this could just be the studio's way of releasing some sort of "wishlist" for their film. Probably time for me to actually read this book (or watch the original film adaptation starring
Robert Redford
and
Mia Farrow
, lol).
------------
Seems like

George Lucas

is quite intent and wants very much to have his

"Star Wars"

saga to have a 3D re-release on the big screen come 2012.
As converting 3D takes sometime, it seems that each movie will have a one year release in between in chronological order meaning Episode 1 will release in 2012 and Episode 6 will finish by 2017. Now I'm just wondering if the appeal of 3D will still draw audiences by 2012. Sure, there are great examples of 3D films but converting a film into 3D is merely a cheap device to ensure extra sales at the box office. Now I don't doubt
Star Wars'
long-lasting appeal by 2012, but let's just say I'm fine with NOT being able to experience seeing Jar-Jar Binks in 3D. Curious to see how some scenes are done in 3D though (I hear that doing a 3D film that involves flying anywhere makes it awesome, so let's hope the dogfights in space are particuarlly awesome come 2012).
------------
Finally, in sadder news,

Quentin Tarantino's

longtime editor and friend,

Sally Menke

, passed away this past week.
As an editor, she collaborated with Tarantino in the editing room, essentially stitching the film together and seamlessly cutting scenes together to form a coherent story. Her loss will change how
Tarantino's
films are structured together from now on, I think and it's sad to have lost her.
__________________________________________________________________________________________
And that's all this week.
Here's something pretty awesome, a poster that chronicles almost every zombie-related product out there from fiction to film. Purchasing information as well as a more detailed look at the smaller products can be found
HERE
.
End post.
__________________________________________________________________________________________
P.S.

I'm probably gonna change my banner sometime soon so look out for that. Hell I might even change the entire layout if I can be bothered. For the banner, I'm thinking something along the lines of

"Scott Pilgrim vs the World"

or

"Inception"