Anyone reading this interested in following my

Tumblr

?
Click the
[Tumblr]
link at the top and you'll be re-directed to it. I'm using Tumblr mostly because the pictures that people post up on there are godly very much worth the reblogging.
------------

I attended the orientation day for volunteers at ACMI just yesterday and am now an offical volunteer for them.
My volunteering shifts will be fortnightly and on Sunday afternoons. A little bit disappointing that I got the fortnightly shifts because I really wanted weekly shifts to keep me occupied throughout the next few months. I guess I can still have time to look for some part-time job somewhere. Pretty excited to begin but so damn nervous about presenting tours to a group of people.
------------
Hung out with Thy again on Friday afternoon
. Had a nice lunch with her as well as driving around her 'hood. Also bought myself a pair of cheap sunglasses for summer while we were at Northlands, too. Totally ready for whatever Summer will throw at me.
------------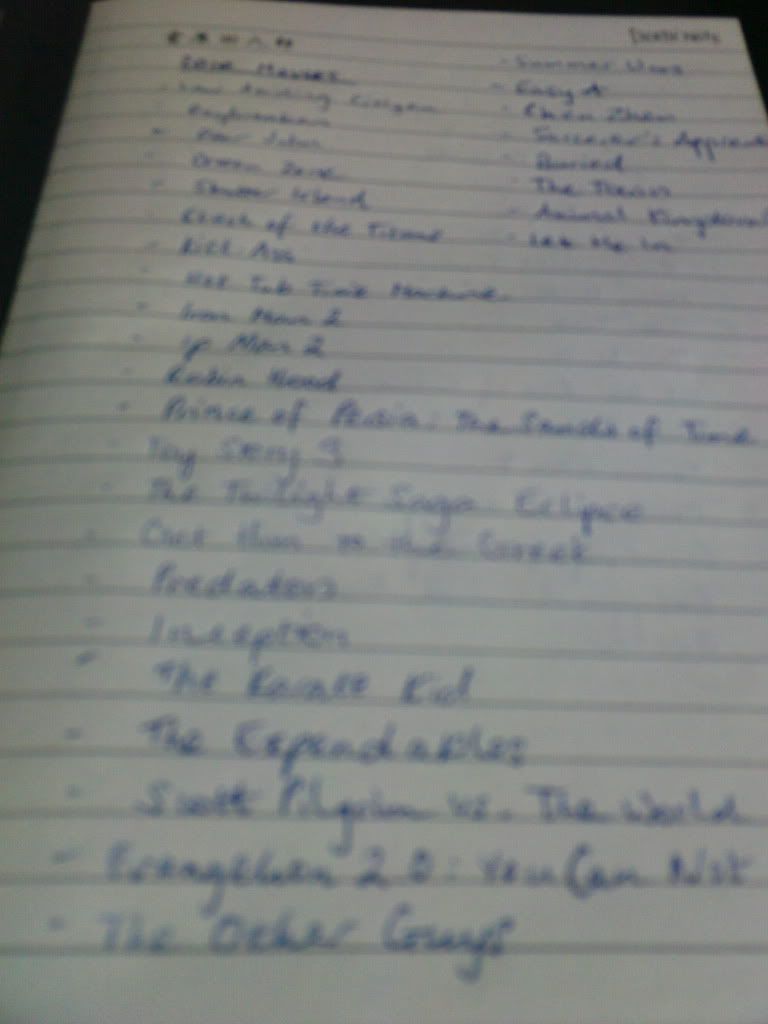 A list of films I've gone out to see in 2010. I write them in my Death Note...
I have paid to see 29 films this year in cinemas so far.
This is the most amount of films I've paid to see in cinemas in my life so far (last year, I watched maybe 18 - 20 films). This means that I have spent somewhere around $435 at the cinema alone this year. Wonder what figure I'll have by the end of the year.
------------
Was watching Hong Kong action film,

"SPL"

over the weekend (SBS truly is seriously a haven for awesome foreign films) and noticed that the ending that I saw a year ago compared to the ending I saw on television were extremely different.
The one that SBS aired was the director's cut wherein the ending is a lot more sad and depressing (and ultimately a lot more satisfying) whereas the cut that I watched was the happier ending. Was very surprised to see this but it really reminded me of the Infernal Affairs alternate ending.
*end tangent*
------------
I like this.
It's a chart chronicling the evolution of the geek. For the full sized image, click
HERE
and be educated by awesomeness.
_______________________________________________________________________________________________
"Let Me In"

the remake of 2008's Swedish film,

"Let The Right One In"

is every bit as potent as the original, if not moreso (depending on what your opinion either films may be).
I was slightly worried that this adaptation wouldn't do the original film justice as it was a film that was still very fresh in my memory and one that I really enjoyed. Thankfully, what we have with
"Let Me In"
is an almost shot-for-shot American adaptation with a few changes in story. The slow burning pacing of the film might make some bored but I found that it added another layer to the film, just as it did in the original. The film definitely has an American feel to it and is a lot different in terms of violence. A particularly noteworthy scene is a spectacular car crash scene which is absolutely awesome to watch. The two kids are cast perfectly. I honestly believe that
Chloe Moretz
is going to become one fine actress by the time she reaches her adult years as she is great. The boy, played by
Kodi-Smit McPhee
, is also disturbingly good as the bulliled child, Owen. The score is hauntingly beautiful also something I really liked in the film. As far as an American adaptation goes, this was very faithful to the original European film, while also maintaining a sense of originality. Very rarely do American remakes work but I was happy with how this one turned out.
_______________________________________________________________________________________________
TIDBITS OF FILM NEWS
There really wasn't much going on in film news this week which I guess is a good thing as far as my weekly blog posts go. Too much content can seem overwhelming I realise, haha.
"Battle Royale"

is a Japanese cult favourite that will be getting a 3D re-release in Japan very soon.
The trailer for the 3D re-release is below and shows you what they're trying to do to make the 3D pop out but it's just really disappointing to see a cult classic like this being inducted into the mainstream of Japan via converted 3D. I guess anything to capitalise on the success of 3D (though the trend is starting to wane off according to industry analysts).


-------------
It was reported eaerlier this week that

Jean-Claude Van Damme

suffered a heart attack while filming his new movie,

"Weapon"

.
JCVD's official website denies claims made on the internet that Van Damme ever had a heart attack and says that he is "JCVD is in better shape than ever and preparing for his fight in July. He did not suffer from a heart attack on the set of Weapon". If JCVD really did suffer a heart attack, I wish him a speedy recovery and hope he's well.
_______________________________________________________________________________________________
And now for something hilarious.
Thailand ripped off Disney's classic,
"Beauty and the Beast"
and the results are absolutely amazing (in a funny, "oh my god it's so bad", kinda way). Watch and be amazed.
End post.