My second volunteering shift at ACMI took place today and I only just got back from the city from it.
Today was good cause I wasn't standing for two hours at the entry level greeting and helping people find out what's on and what's available. Today I mostly spent time checking out the latest exhbition ACMI have set up for the next few months, the Disney princesses,

"Dreams Come True"

exhibition. The gallery space is immense and and the artwork is just absolutely amazing. Unfortunately, this exhibition focuses on the princesses of Disney's fairy tales so

Princess Jasmine

and

Mulan

are exempt from the exhibition. It's awesome that the unreleased

"Tangled"

(although already released in America), Disney's computer animated take on the story of

Rapunzel

is also being exhbited there. Spectacular artwork that has made me want to watch some of these films (some of them for the first time, too!) Unfortunately, as it is an exclusive exhibition, I wasn't allowed to take photos or film anything but

I IMPLORE YOU GUYS TO GO CHECK OUT THE EXHIBITION!

:D


------------


Because I haven't been watching as many movies during the week as I should be, I've decided that over the course of a couple of weeks, I will try to have a director's spotlight.
What that basically means is that I'll be watching some films from a director's filmography and then obviously report back what I think every week. There are A LOT of directors I have yet to catch up on. Having said that, I will be having a

Paul Thomas Anderson

week next week,

Satoshi Kon

the week after and the

Coen Brothers

(I've already seen

"The Big Lebowski"

at least) the week after that. I know that obvious obnes like Alfred Hitchcock and Akira Kurosawa aren't listed but that's only cause I already know of their names and will watch their films eventually down the line. Anyone wanna name any other directors to help me out?


------------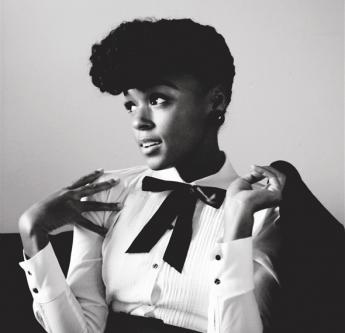 If you haven't listened to the music of

Janelle Monae

, I also suggest that you guys should have a listen to her tracks because her music literally makes me want to get up and dance. Her songs are fun and infectious and most importantly, it's damn good. Have a listen to the song below and you might agree with me.
________________________________________________________________________________________________________________________________________


TIDBITS OF FILM NEWS

I wanted to like this

"Red Riding Hood"

honestly
. A dark reimagining of the classic fable,
"Little Red Riding Hood"
would've made for a great film (and it still could) but honestly, this just looks like another cash in on
"Twilight"
. The whole "forbidden romance" shtick is here and it's quite pungent. The only two credible things about the trailer, for me, however was the well rounded cast (
Gary Oldman
in anything is automatically made to be quite cool) and some pretty lovely images (that long red hood that
Amanda
wears against the snow is quite striking). I want to think that the trailer was just cut in a way that made it seem similar to
"Twilight"
(being that the film was directed by
Catherine Hardwicke
, the first director of the first
"Twilight"
film) but first impressions are hard to overcome. Let's hope I'm wrong about that.
------------
The first trailer for Pixar's next adventure,

"Cars 2"

hit the web this week.
I wasn't a fan of the first film and, like most people, consider
"Cars"
to be their weakest film (but still better than most other animated properties out there). I enjoyed it but not as much as their other stronger entries like
"Toy Story"
or
"Up"
. Still,
"Cars"
was a major success and made a boatload of cash in merchandising so the studio saw fit to jump on this and create a sequel. I will say though that this film looks like the original in that the detail in lighting and effects look absolutely gorgeous. This was one of the things I really liked about the original - how polished down and nice some of these cars looked, especially when light is bending off of their surfaces. It's a credit to the animation house at Pixar.
------------
The official trailer for next year's superhero film,

"Green Lantern"

made its round on the internet this week.
While I am a fan of the superhero and like what has been done to the film in regards to the trailer, one of my main concerns is of the suit. The concept for the suit was completely justified and looked good on
Ryan Reynolds
as a picture but it looks awkward to watch in motion. Having said that, the film is still in post production and what we see in the trailer isn't entirely the final product. I trust they'll fix everything and that this film will be awesome. As for the trailer itself, I'm impressed by not absolutely floored. I'll need a bit more convincing.
According to

Michael Caine

,

Christopher Nolan

and the Batman crew will begin filming the third film,

"The Dark Knight Rises"

in May of 2011 with production ending on November
. Scripts are apparently supposed to arrive in the actors' hands by January so we could expect some more news on characters, casting and/or stories leading up to January. Exciting stuff!
------------
I'm not sure what's worse, an American remake of a foreign film or a foreign remake of an American film.
What we have here is the Chinese remake of the 1999 film, "What Women Want". Originally starring Mel Gibson and Helen Hunt, the Chinese remake will instead have two of Chinese cinema's biggest stars, Andy Lau and Gong Li starring in it instead. The trailer released this past week, now make of it what you will.
________________________________________________________________________________________________________________________________________
And now to end things with something I found to be so utterly true of most of the directors featured within this video from CollegeHumor.
The video is a
"what if"
scenario where other directors are brought in to direct
"The Social Network"
. It's quite brilliant as you can see how obvious some of these director's styles are infused into whatever films they do. My favourites in that were
Michael Bay
,
Quentin Tarantino
and
Guillermo del Toro
(literal Facebook is literal).

End post.