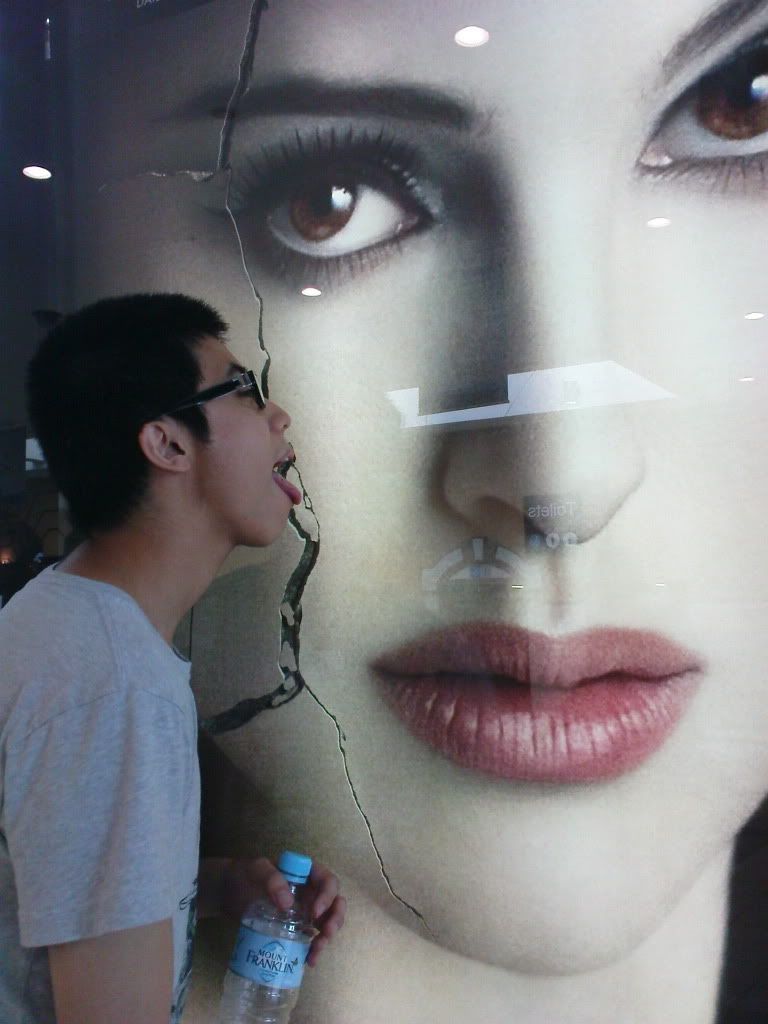 Well it's not everyday you can start off your post by showing a picture of yourself licking Natalie Portman's crack, lololololololololol.
I can't wait for
"Black Swan"
.
------------

This past week I was busy with some new volunteer work with the Polyglot Theatre, a theatre company that does innovative and creatively different shows with primarily with children.
Myself and my friend Angela decided to volunteer and help out with their latest project,
"We Built This City"
, which was basically a project where kids would come into this open space filled with mountains of boxes and just build and create cities and structures out of them.
Most of the volunteers just did manual labour sort of stuff which I didn't mind, honestly.
Much of what I did there was just making boxes, destroying boxes and transporting boxes, lol.
My experience with those Tetris blocks during Manifest definitely came in handy, hahaha.
Unfortunately there were a lot of rainy days so we had to move the space we had set up outside and use one of the rehearsal rooms in the Arts Centre as our temporary space.
------------
So I found this to be pretty cool.
That above image is from an abandoned television idea for a teenage
Batman
series that almost made it to TV.
Had the series been actually picked up and produced, it would've saw

Bruce Wayne

go to school with his famed rogues gallery in their teenage incarnations.
I would've watched it - it's a silly idea but it's one that was brimming with that element of curiousity. You can check out the other abandoned artwork on
Celeste Green and Jeffery Thomas's blog
.
Check out my purchases this week!
Purchase one comes in the form of a book titled
"Must-See Movies: The Essential Guide to the Greatest Films of All Time".
I scored this for
only $5
in the city. It was printed in 2010 so it's very recent and still very relevant. I checked the retail price online for this book and turns out it's
normally valued at $20
.
Talk about bang for your buck.
I am determined to one day get through all the films in this list (and boy are there a LOT).
My second purchase comes in the form of a film DVD,

"Fallen Angels"

.
You may remember me talking about this film and the works of
Wong-Kar Wai
previously before on my blog. Anyways, this particular copy has sat on the shelf of the World Cinema section in JB Hi-Fi on Lonsdale for the longest of times it's price never went down cause it was the only copy JB Hi-Fi had in stock (the one on Bourke didn't carry it at all).
That and this copy seems to be particuarly rare.
Luckilly, there's another 20% sale on all DVDs, CDs and Blu-rays there so that factored in my decision to purcahse the film. Had I not known about
Wong Kar-wai's
work thoguh, I probably would've bought this film based on the cover alone cause
goddamn it is beautiful.
Very minimal and yet so evocative
. It also comes with an essay by a guy whose work I used to write my WKW essay on, lol.
___________________________________________________________________________________________________________
WHAT I'VE BEEN WATCHING
Okay so this week I decided to watch a few films from
Julianne Moore's
filmography. I think she's a fantastic actress and it also helps that she's a beautiful woman. Some of these films have been on my watch list for quite some time now.
------------
"The Hours"

is a film that sees three interlinking stories about three women from different time periods who are all affected by the novel,

"Mrs. Dalloway"

and who've had to deal with suicide in their lifetime.
It's a really fine film, I didn't have too many problems with it other than
Nicole Kidman's
performance. It's a good performance, don't get me wrong, but
I question the Academy for awarding her Best Actress at the Academy Awards of that year.
It just wasn't as enthralling or captivating as
Meryl Streep
or
Julianne Moore's.
Other than that, I was pretty interested in the struggles of these women and how they're all connected.
Ed Harris
especially was great in this film and
it's a shame he didn't win for Best Supporting Actor that year as his performance was the most memorable for me.
It's a really quality film that's made in such a way that I almost felt like I was watching a film from the Hollywood's Golden Age which was in itself charming.
Being that this was

Julianne Moore

week, it wouldn't be right if I didn't comment on her.
Her range in this film might not seem all that broad but the way in which she presents herself and speaks to her son and husband are terrific.
You really get a sense that there's a quiet discontent bubbling underneath her motherly affection which is pretty scary, if you see the film.
Anyways, I'd recommend this film - it's slow but it latches on if you really invest your attention. Fine film-making to be found here.
------------
From the beginning, this film looked like an immediate B-movie.
I like B-movies though because the camp and absurdity from these films is almost endearing. The premise for
"Blindness"
is that there's a blind epidemic that strikes the world and causes everyone to go blind. Everyone is affected by this except for
Moore's
character who is not given a name and is simply known as
Doctor's Wife
. Fearing further infection, the first wave of blind victims are instantly removed from society and quarantined in an incredibly decrepit hospital where they are made to take care of themselves without the help of a proper medical staff.
Moore's
character pretends to be blind in order to stay with her husband (
Mark Ruffalo
) and take care of him.
I'll admit that this film does not have a lot going for it.
There are far too many questions that went unanswered such as
"Why does this happen?"
,
"How did it happen?"
and
"Why is the Doctor's Wife immune to it?"
.
These questions made it far too distracting for me as I was constantly wondering what the hell was going on
. Among all the questions though, I found that I a different interpretation of the film than what most people had. While most are quick to dismiss this as a really mediocre film (and it is),
I saw something interesting lying within it.

To me, the film raised the question,
"How do we rebuild society after all is lost?"
. It explored this question and it was something positive that I took away from the film that made it a bit more watchable. I mean if the world ends and a few are left to survive, who's the leader? Would we live under a monarchy or a diplomatic government? These questions just made the film that more interesting to me.
Anyways, it's not that great of a film - clocks in at about two hours which is fairly long for what this was trying to be and had a truly horrible ending that only raised more and more questions.
-----------
Most of you probably know

Tom Ford

as a fashion designer, but did you know he also made a a fantastic debut feature film in 2009 that starred

Colin Firth

and

Julianne Moore

?
"A Single Man"
tells the story of gay English professor,
George
, a man who tries to cope and live through his days after hearing about the death of his lover eight months previous.
First of all, it's an absolutely gorgeous film and features some some really beautiful cinematography.
Almost too beautiful
. It almost felt like I was watching a
Wong Kar-Wai
film at times as some of the music was provided by
Shigeru Umebayashi
- who provided
"In the Mood for Love"
it's now famous theme - and also features a lot of slow motion that is used to dramatic effect. The acting is, as you'd expect from
Firth
and
Moore
, of the utmost brilliance.
Moore's

performance as

Firth's

one time lover-turned-best friend is fun to watch as she plays almost against type as a fun vivacious English woman (her English accent is

hawwwwt

) with problems of her own.
But it's
Firth's
performance that really makes this film what it is.
The story may seem like something we've seen before and are somewhat familiar with but with

Firth's

great performance and

Ford's

direction, you really feel for his character and feel that something huge has been lost in him and that nothing could ever replace that.
Supporting performances also by
Nicholas Hoult
, a student of
George's
, and
Matthew Goode,
George's
deceased lover, are also particularly noteworthy. My main gripe with the film however was the constant saturation and desaturation of colour. I got what
Ford
was trying to convey in the film and it works to some extent but after a whle it gets a bit tiresome and gimmicky.
Otherwise, a truly fantastic film.
Should
Ford
decide to write and direct another film, I'd be there to watch it.
-----------
If you're gonna open your film with an almost naked

Amanda Seyfried

dressing up while she narrates a monologue about her duties as a high end call girl, you've got me giving my utmost attention.
"Chloe"
sees a middle aged wife (
Julianne Moore
) growing increasingly suspcious of her husband's behaviour (
Liam Neeson
) and questions whether or not he is faithful to her. To expose him, she hires a call girl named
Chloe
(
Amanda Seyfried
) to seduce her husband and see whether or not he is unfaithful to her. It's a remake of a French film,
"Nathalie..."
and I while I presume the original is superior to the remake, I found that I really didn't get much out of this in terms of story and depth.
The only interesting character (and I'm not even saying this out of bias) was

Chloe

.
And I guess as the title character of the film, you'd have to show some interesting qualities. This could've been so much better and for a sexual thriller, not much ever happens.
There's no impending threat or fear of danger around the corner and there's never really any build up. Still, the actors do the best with what they've got.
------------
"The Kids Are All Right"

is a film that sees two teenage siblings (

Josh Hutcherson

and

Mia Wasikowska

), both of whom were concieved through artificial insemination, track down their biological father (

Mark Ruffalo

) and welcome him into their family.
Julianne Moore
plays a lesbian who, along with her partner, played by
Annette Bening
, have carried and raised these children for their entire lives.
The film's not too bad in that it has an interesting premise and explores these very well.
The acting all across the board is great but there were a few things in the film that I could have done without. A few subplots emerged and vanished and their purpose was to serve as character development which would've been fine if the film hadn't made it look to be an important thing. There are a few genuine moments of comedy in the film which is good because if a film is touted as a dramedy, you expect the comedy to be at least as satisfying as the story you're offering. The biggest mistake a comedy film could make is to not be funny. I liked the film and thought it was okay. I would've liked to have seen this at the Nova last year.
-----------
So I'm thinking maybe I should watch a few of

John Hughes'

films like

"Sixteen Candles"

and

"The Breakfast Club"

as well as a few other films next week.
No major theme to it or anything next week, just keeping things light and easy. (Y)
___________________________________________________________________________________________________________


This week provided a few reveals.
Let's begin with the biggest one -
the reveal of
Andrew Garfield
in costume as

Spider-man

.
Don't know about you guys but I really do like this new suit.
Obviously they had to go in a different direction from the previous three films but with what they've got here,
they've managed to tackle that gritty and contemporary feeling that the studio had promised in this new film.
It's a design that stands far away from the more traditional look seen in
Sam Raimi's
trilogy. Also, if you look closely, it would appear that there are web shooters from his wrist which means they're going with the classic non-organic web shooters (
Spidey
never produced web from within his body, he had to make it himself). Anyways, I like this and am glad Sony decided to release this official image first before fanboy criticism would attack leaked set photos from the film.
And for anyone keeping not in the loop, here's the rundown of the Spider-Man reboot project so far.
Sony Pictures ordered a reboot of
"Spider-man"
and hired
"(500) Days of Summer"
, director,
Marc Webb
, to direct the film. The film is currently untitled but already has it's stars.
Andrew Garfield
signed on to be
Peter Parker/Spider-Man
and
Emma Stone
followed thereafter to play the primary love interest in
Gwen Stacy
.
Garfield
and
Stone
are joined by a supporting cast in
Martin Sheen, Sally Field, Rhys Ifans, Denis Leary
and
Irrfan Khan
. The film has already begun shooting and we can expect it next year.
The second reveal which was completley overshadowed by the

Spider-man

suit reveal was the

Captain America

suit reveal.
It's not an official image like the one above and looks more like smoething someone snapped while filming but at least it's something, right?
I like this as well.
It's ncie that he doesn't have the wingtips on his head cause that would've made it look even more ridiculous.
The early concept art was pretty good but this completely sold me.
"Captain America: The First Avenger"
will release this year and stars and
Chris Evans, Hugo Weaving, Stanley Tucci, Tommy Lee Jones, Hayley Atwell, Sebastian Stan
and
Dominic Cooper
.
------------
And finally, our third reveal this week is of a barely recognisable

Rooney Mara

as

Lisbeth Sander

, the heroine of the best selling novels from the

"Millenium"

trilogy by

Stieg Larsson

.
Mara
, last seen dumping
Jesse Eisenberg
in
"The Social Network"
has completely transformed into her character - so much so that she not only chopped off all her hair and dyed it but also got four piercings just for the role and admits that she doesn't even have any piercings on her body before it.
It's a really startling transformation from

Erica Albright

to

Lisbeth Sander

.
For more pictures of her new look head on over to
W Magazine's official website
.
The books have already been adapted into films in Sweden and have been very successful critically and commercially throughout Europe.
The American adaptation which sees
Mara
working again with
David Fincher
(
"The Social Network"
,
"Fight Club"
) will be released in December this year. She will be joined by
Daniel Craig, Stellan Skarsgard, Robin Wright
and
Christopher Plummer
.
------------
With the near-bankruptcy of MGM studio, the future of the James Bond franchise was in a lot of danger.
Those fears were silenced this past week as Bond will indeed live to fight another day. MGM announced that the 23rd Bond film will indeed be going forward with Daniel Craig set to return.
Sam Mendes
, director of such films as
"American Beauty"
,
"Road to Perdition
"
and
"Revolutionary Road"
is attatched to direct the 23rd installment.
------------
And finally, in trailer news, the third trailer for Battle: Los Angeles was released this past week and this film actually looks damn good.
I hope I'm right when the film is released though and am not sorely mislead and disappointed by the final product (see,
"Skyline"
). Now, I know that this film is basically a huge popcorn film where the real motivator for seeing it is the action but I'm happy with that.

___________________________________________________________________________________________________________