First week back at uni was pretty good I have to say.
Very much looking forward to all my classes this semester but I'm almost a bit intimidated by the work involved as some of them will require me to show my work publicly to my classmates and to people on the Internet.
Although the positive thing to come out of this is that I'll get to work with video for the first time.
I think I have to do some kind of journalistic story on sub-cultures and such which should be fun.
Might even share it on this blog once I do it.
------------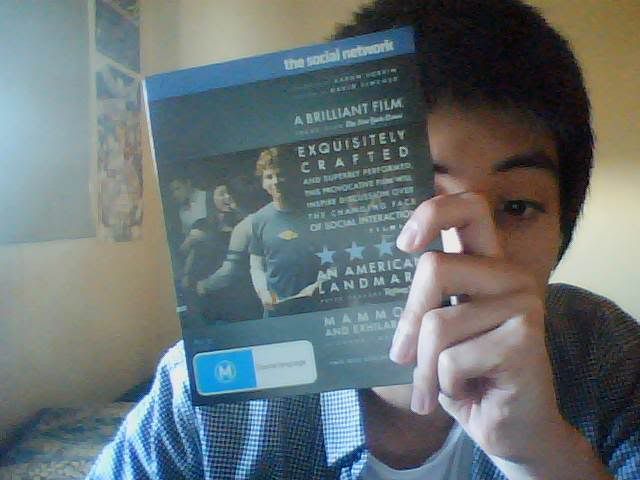 Yes, I am disappointed that

"The Social Network"

didn't get as much recognition as it should've at the Academy Awards but I'm just happy that the film even exists cause it's extraordinary.
The home releases of
"The Social Network"
released this past week and I bought the Blu-ray of it.
It's so beautiful.
This be the inside covers of the Blu-ray.
___________________________________________________________________________________________________________
This week was a highlight of Asian cinema from different regions and different genres
. This theme of Asian cinema will continue through next week as well. While I was meant to have seen
"Reign of Assassins"
this week, I decided to put that down for some other time and instead focused on two
Wong Kar-wai
films,
"Happy Together"
and
"Ashes of Time Redux"
; an existential drama from Thailand,
"Last Life In The Universe"
; a bullet-ridden action film from Hong Kong,
"The Killer"
; and a strange yet magnificent four hour film that could only be made in Japan,
"Love Exposure"
.
------------
Of all the Wong Kar-wai films, this film felt the most modern to me.
Yes, I do know that
"As Tears Go By"
,
"Chungking Express"
and
"Fallen Angels"
are all films set in modern times but this particular one just felt like it was made yesterday. I don't know why, it just does.
"Happy Together"
follows two gay Chinese men and documents the ups and downs of their tumultuous relationship while they reside in Argentina.
The signature hallmark themes that dominate
Wong's
work is once again present here but, in a way, show them in a more devastating light. This is attributed to the commanding performances from both
Tony Leung
and
Leslie Cheung
. My biggest gripe with the film, however, was the complete lack of story. It's a very character-driven piece of film but without some resemblance of a story, it just makes things hard to follow and hard to understand why a character would feel ambivalence towards someone or something. However, as per usual with
Wong Kar-wai
, expect a fantastic looking picture with tragic characters. In my opinion, this isn't one of his best as many pundits out there would like to argue but I guess that's the beauty of film and art - everything is subjective.
------------
"Ashes of Time Redux"

is the director's cut of

Wong Kar-wai's

wuxia epic and while it is a mildly ambitious film on

Wong's

part, I felt that it was rather disappointing
. Again, all the familiar themes that dominate
Wong's
films are present but are instead shown through the wuxia genre.
The most disappointing thing just so happens to be the genre in which the film associates itself with.
There are expectations that audiences have as soon as they enter a genre film. And while
Wong's
film had some familiar tropes of other wuxia films,
the film didn't feel like it had the energy or soul of a wuxia film.
I guess I was expecting something else entirely. This could be due to
Wong's
stress in the post-production stage of
"Ashes of Time"
as during this time, he went off to make a quick, small movie called,
"Chungking Express"

,
which absolutely overshadowed his larger film.
"Happy Together"
had great characters but no story and
"Ashes of Time Redux"
had story but not many developed characters. I did like how it had a kind of Western feel to it though.
------------


I forgot how I originally came across this film but I guess it was through IMDB searches of one of these three people:

Takashi Miike, Tadanobu Asano

or

Christopher Doyle

.
Whoever it may have been these three people were involved with the making of
"Last Life In The Universe"
a Thai film that's dark yet quite poignant. The film tells the story of a suicidal, obsessive-compulsive Japanese librarian who is forced to hide out with a pot-smoking Thai woman after the murder of his brother and his brother's killer is committed in his home.
Fans of

Sofia Coppola's

"Lost in Translation"

will enjoy this film as well as both are very similar to one another.
Both films see characters, distant and lost, who come together to form a unique relationship with one another. However, unlike Coppola's 2003 film, this film is a lot more darker, atmospheric and deals with the loneliness of human beings in a more different scope.
The Thai dubbing over the Japanese characters is pretty bad, I'll admit, but the physical acting that
Tadanobu Asano
brings to his character,
Kenji
, makes us feel completely interested in this multi-faceted character.
The film looks amazing and has a completely different look in terms of cinematography than
Wong Kar-wai's
films (with whom reknowned cinematographer
Christopher Doyle
regularly collaborates with). It's a really moving film that delves deep into the core of our humanity. A real gem of a film and I think people who are fortunate enough to watch this (and hopefully you do feel compelled to check it out after reading this) would be very much rewarded and satisfied.
------------
This poster is so badass.
John Woo's

action epic,

"The Killer"

tells a familiar tale and mixes it in with some flavour from Hong Kong.
An assassin inadvertently blinds a singer during his getaway from an assassination and accepts one final offer in hopes of using that money to restore her vision. The film starts off a bit quickly and almost in cliche fashion as well but as the film progresses, the action and even the drama intensify.
Of course, a John Woo action film is incomplete without some nice dosage of double handed gunplay coupled with near-ridiculous amounts of fantastical shootings and the film delivers.
"The Killer"
is also able to mix in some genuine drama into the mix which is good as it makes our hero, an otherwise unlikable one-dimensional guy, a little bit of depth and gives audiences someone to root for. And for the most part, the film comes off as a little "cheesy" at times but you'll be able to look over these shortcomings, you'll find here a commercially accessible film that tickles the gun fetishists in all of us. I prefer
"Hard Boiled"
over this because the insanity in that film cannot be beaten.
------------
I was supposed to have seen this film a long time ago.
I've had it in my possession ever since the end of 2009 and never got around to it despite all of the praise and buzz I had read about it during the film's release (it even ran during the Melbourne Film Festival in 2009, I may have documented this on my blog two years previous). The four hour running time is what probably put me off but I was determined to watch it this week (finally).
"Love Exposure"
is an epic film that one cannot put into words as far as narrative is concerned so I won't do that (but I'll let the trailer do it's best to convince you to watch it).
Yes, it's a highly ambitious film, one that no film studio in America would have ever made, especially with it's subject matter, but it's a film that - if you have the time for - is one that can be for everyone.
It's funny, it's heartwarming, it's dark and it's depressing.
And with a four hour runtime length, there really is no excuse for lack of plot and story which thankfully this delivers on.
The characters are fully realised and fleshed out throughout the course of the film and are convincingly brought to the screen but their respective actors who all do an outstanding a job.
I know Japanese acting tends to be over-the-top and exaggerated a lot of the time but the actors here find a nice balance between actual acting and exaggeration (which is only ever really exemplified throughout the comedic parts of the film).
And for all it's lunacy and crazy cast of characters, this four hour epic doesn't ever miss a beat and paces itself quite nicely that you never really notice that you've just spent four hours on it.
There's something here for everyone, I feel, and that there is quite a lot that one can take away from the film.
"Love Exposure" manages to commentate and even deconstruct aspects of life, love, religion, cults and alienation through it's four hour run length.
It's a moving, breathtaking picture that's quite the experience and is one that all film-goers should at least be a witness to once in their life.
___________________________________________________________________________________________________________


TIDBITS OF FILM NEWS

Hollywood's night of nights - the Oscars!
So everything went as expected at the
83rd Academy Awards
except did anyone ever count on
"Alice in Wonderland"
being an Academy Award winning film (lolololololol)? I know I didn't. Has a really weird ring to it - Academy Award winning film,
"Alice in Wonderland"
.
I'm glad that

"Inception"

took home four awards (especially in the cinematography department, like wow - did not see that coming) but unfortunately for

Christopher Nolan

he gets overlooked for Best Original Screenplay.
Fans couldn't have been happy about that.
But the biggest "WTF" moment for me was seeing Tom Hooper get named Best Director
.
Like really?
Okay, let's get this out of the way first - his direction on
"The King's Speech"
was fantastic and he did a good job on that. However,
David Fincher
, I believe, is long overdue for an Academy Award (definitely should've got recognition for it for
"Fight Club"
but it was a crime to let
"Zodiac"
go by unnoticed). Not only that but he's built up an incredibly stellar resume of films throughout his career and
"The Social Network"
, a film that was initially thought of as a joke which ended up becoming something that was smart and carried some value to it.
Tom Hooper
got lucky and made like one good film compared to Fincher's impressive list of modern classics. Oh well. Now we'll have to see how
Hooper
follows this up because it'll be a tough to outdo himself and maintain a pedigree of quality.
Other than that, I'd have to say that everyone else that won was well-deserved.
I'm so glad to see that
Batman
has finally gotten recognition.
Anne Hathaway
and
James "Troll Face" Franco
did a good job hosting (especially Anne who showed so much enthusiasm). Was Franco high? Probably. And yes, we couldn't understand
Kirk Douglas
but I'm sure it was his intention to pretty much make a memorable Oscar moment that provided some humour. Full list of winners and their nominees below.
------------
As mentioned last week,

Woody

and the gang will be making an appearance in

"Cars 2"

this year in a short titled,

"Hawaiian Vacation"

which, in Pixar tradition, will show before the film starts.
A clip/teaser was released this week and there it is below for viewing pleasure.
------------
L-R: Rinko Kikuchi, Tadanobu Asano, Hiroyuki Sanada, Keanu Reeves, Kou Shibasaki, director Carl Erik Rinsch.
Interesting news to me, dunno about everyone else.
A western take on a famous Japanese story,
"47 Ronin"
, is currently in the works and already has a director and a headlining star in
Keanu Reeves.
Now of course, it would be silly to make a Japanese story be told with a completely white cast.
Reeves
, in this case, is the exception as he is partly Asian and is a familiar enough name to draw in audiences. Thankfully, Hollywood studios have decided to go with authentic Japanese actors (with actual credentials, no less) and have casted
Tadanobu Asano
(
"Ichi The Killer"
,
"Mongol"
),
Hiroyuki Sanada
(
"Sunshine"
,
"The Twilight Samurai"
),
Rinko Kikuchi
(
"Babel"
,
"Norwegian Wood"
) and
Kou Shibasaki
(
"Battle Royale"
) in the film. Interested in seeing how this will turn out. There have been numerous revisions of this story on film but this is the first time it's being told by a western studio.
That right there is Hugo Weaving as Red Skull in the upcoming

"Captain America: The First Avenger"

.
Wow.
------------
And finally, a film that I've been hearing about for the longest time is finally getting distrubuted.
Starring
Rainn Wilson, Ellen Page, Liv Tyler
and
Kevin Bacon
,
"Super"
tells the story of a man who, after being dumped by his wife for a drug dealer, creates a costumed alter-ego to fight crime with the help of a girl from the local comic book store. So it's basically
"Kick-Ass"
but with less production value and independent vibe.
Awesome.
___________________________________________________________________________________________________________
And that's all this week.
You guys like to play games? Here's one I've got for you. It's called
Famous Objects from Famous Movies
. It's a hangman style game where you're given a minimalistic design of an object and you're made to guess the movie in three lives or less. It's quite fun.
CLICK HERE
to try it out.
End post.