Apologies for the tardiness of my blog post.
I've been busy… and by busy I mean playing
Dragon Age: Origins
on my Playstation 3. Like for real, that game is gonna probably consume all of me. All of me! So the following pretty much sums up everything in the last two weeks.
------------
Check out the swag these amazingly awesome people have got going on.
Officially on winter break now and am majorly looking forward to it because every student loves having a two month break!
I don't have any exams this year which is awesome! While I don't have anything planned, it'll be cool that
Tokyo Jihen
will release their new album during this Winter break and that
Dir en grey
will release a new single and an album as well. Other things like
"Breaking Bad"
returning for a fourth season is also sure to delight!
------------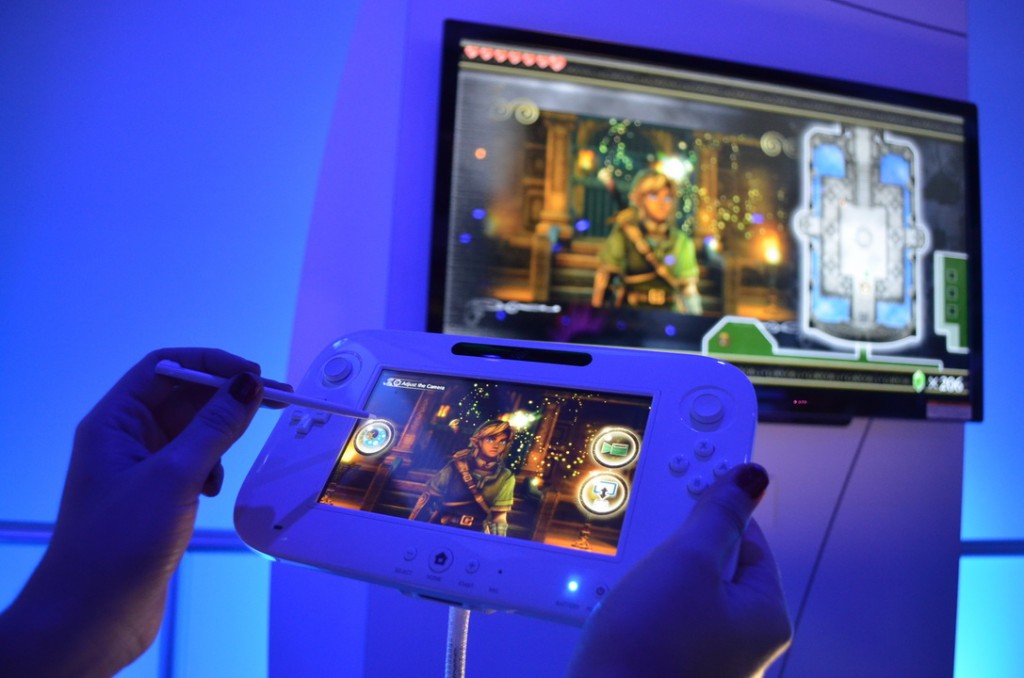 Spent most of this week in bed watching the coverage from this year's

E3

.
The press conferences were a bit worse than last year (if that's even possible) but the games that were on display were magnificent nonetheless.
Nintendo pretty much destroyed Sony and Microsoft again with their unveiling of the

Wii U
, Nintendo's answer to the powerful Playstation 3 and Xbox 360. It didn't exactly blow my mind but it was pretty damn interesting and was an idea that I think Nintendo will have a lot of fun with. Man, one of these days I swear I'll be down at E3 in Los Angeles. That and San Diego for
Comic-Con
.
------------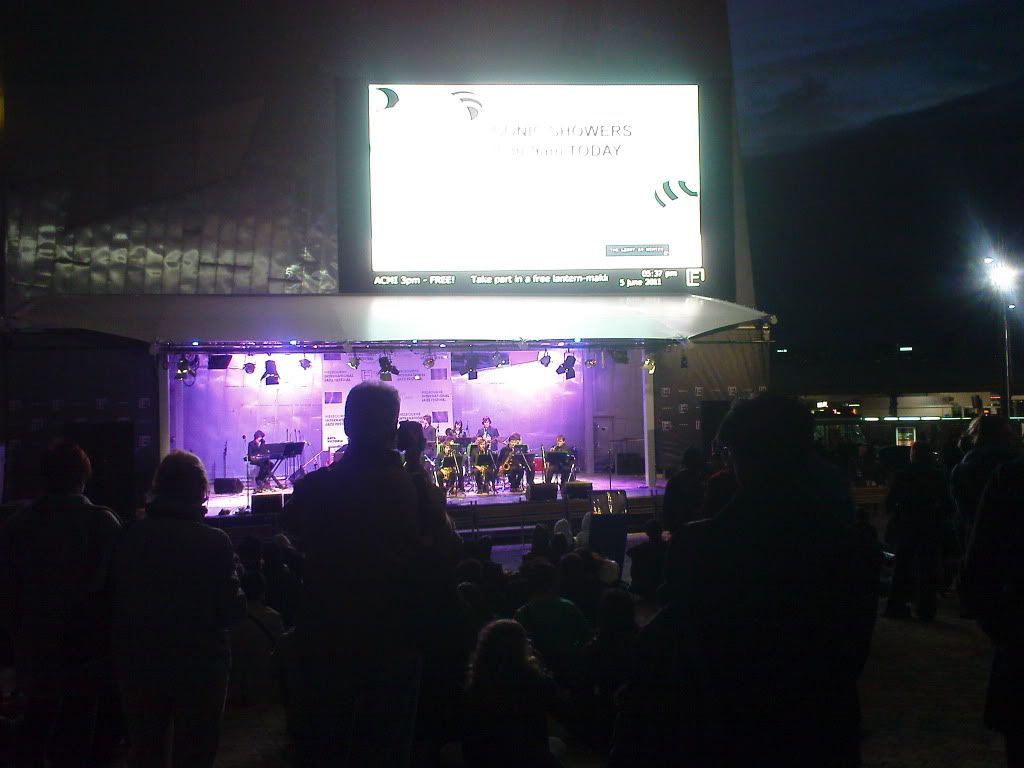 Federation Square was going off last Sunday.
I came out from ACMI after my volunteering shift was over to the sexiness of jazz music. Ugh, talk about being
"in the mood for love"
– night sky, jazz tunes… This group of jazz musicians were performing as part of the
Melbourne International Jazz Festival
.
-----------
Speaking of festivals, I headed on over to the

Melbourne International Film Festival's

website last week to check if they had any first glance looks at some of the films they would be showing and to my excitement,

"Norwegian Wood"

was among the films to be shown at this year's MIFF!
Man, having talked about this film for about two years now, it feels so satisfying to know that I may be able to watch it on the big screen!
Two other films of particular interest that I'm feeling up for that have gotten some very strong buzz amongst film festivals and cinephiles are
"13 Assassins"
and
"Submarine"
. I believe the full list of films will be released sometime in July. Oh look, another reason to love the winter break!
------------
I've also recently started using Twitter.
I opened the account solely to use for one of my university's subjects but it turns out that that idea didn't exactly work out for the subject co-ordinator who now will not be marking us on our
"participation of Facebook and Twitter"
. Never made sense to me anyway but since I opened it, I may as well use it. So with that said,
feel free to follow me
.
-----------
And look who just added a new poster to his wall.
"Taxi Driver"
is a fantastic film of fantasticness and deserves a spot on the wall of awesome love.
________________________________________________________________________________________________________________________
Last week's major release was

"X-Men: First Class"

the prequel/reboot/whatever of the X-Men franchise.
Admittedly the franchise hasn't been all that great these last few years with
"The Last Stand"
and
"Wolverine"
being lacklustre films (that did well at the box office regardless of critical and fan reaction). Fortunately enough, it's safe to say that
Matthew Vaughn's
(
"Layer Cake"
,
"Kick-Ass"
) take on the series successfully rejuvenates the franchise. The film takes place against the backdrop of the Cold War/Cuban Missile Crisis and follows the relationship of
Charles Xavier
and
Erik Lensherr
who would later adopt the alter egos of
Professor X
and
Magento
respectively. The film does a great job of getting down that 60's vibe, going so far as to make
January Jones
look like a Bond girl and make
Michael Fassbender
like a
James Bond
-esque figure (which brings to mind why Fassbender never got optioned for
Bond
).
With the exception of

January Jones

-who seems to play a vacant and emotionless woman in nearly everything she's in - everyone else is on point and does the best with the material.

Michael Fassbender
and
James Macavoy
are most noteworthy in the film as they are given a lot of time on screen to flesh out their characters' friendship, ideals and lifestyles. Given the constraints that
Vaughn
was under (20
th
Century Fox basically wanted him to make the film ready by this year and gave him like a few months to shoot it)
I'm impressed with how much

Vaughn

was able to get done but understandably, with all rushed jobs there will be small problems here and there.
One of the problems going into the film was the script itself. While the film does a good job of telling the story of
Charles
and
Erik
, the problem the film does is that it tries to do a bit too much in terms of plot and when they realise that they have to advance a plot because they were focusing on another plot too much then uh oh – here comes the montage!
A lot of strands of storyline are either too rushed or finish without any clear resolution but as it stands the film is largely entertaining and captures the magic of the first two
X-Men
films while managing to be its own kind of thing.
It's a recommendation for sure, especially when you're going into a movie with such an amazing cast of top actors.
------------
An American classic –

"Gone with the Wind"

is as big of an epic as it's touted.
The film follows the exploits of one,
Scarlett O'Hara
, a young woman desperate for love amidst the backdrop of the American Civil War.
Standing out four hours in length, the film surprisingly moves at quite a brisk pace as every bit of the story is necessary to convey not only the length of the time period but to also cram in as much as we need to know about all the characters involved.
Unfortuantely however, the second half lags a little bit what with the reconstruction after the Civil War making things a little less exciting than the first two hours.
The costumes are beautiful and the interior set designs look utterly fantastic which makes way for some truly fantastic use of
mise-en-scene
and
cinematography
.
It's really a beautiful film to behold all displayed in glorious Technicolour. The "will they, wont they" tension between
Clark Gable
and
Vivien Leigh
is well conveyed and nicely handled. The suaveness of
Gable
should be able to make any girl fluster (I wish I was as dapper and suave as he). And while
Vivien Leigh
was great in her role as
Scarlett
, I honestly didn't like her character all that well.
She was just really unlikable for me – annoying even.
Aside from that, I can see why it's such a fantastic film and highly regarded as a classic, however, for me it felt a little overrated.
The film definitely wasn't what I was expecting and I came out thinking that it was nice but not amazing.
Perhaps it's because it's because I was not born in that generation that saw it and don't quite understand the legacy it has. I'm still young though, perhaps if I saw it another time it might click with me more.
Who knows?
------------

"Super 8"

is

J.J Abrams

love letter to the sci-fi/adventure films of the 1980s.
The film takes place in 1979 and follows a group of young children who happen across a mysterious train wreck while filming a short. After the crash, unexplained disappearances of household objects, car motors and people begin to plague the town which forces the military to take action.
Abrams is clearly inspired by the films he grew up loving with clear this film clearly paying homage to Steven Spielberg's,

"E.T."

and

"Close Encounters of the Third Kind"

.
The film has been touted as a bit of a monster movie however the film doesn't necessarily play up the monster angle as much as you'd think.
Was I disappointed? Quite.
That's not to say
"Super 8"
is a bad film – it's just not what I was expecting. I came in thinking that the audience would follow these kids as they navigate their way through an extraordinary situation and for the most part – yes it is – but the monster itself is never quite shown off or spoken of in the film.
Essentially, the focus of the film isn't about a town being attacked by an unknown entity, but is rather a story that's primarily focused on the relationships that the children have with each other and their families and its pretty moving stuff too.
The kids are fantastic in the film and each brings their own unique charm to the movie.
Dakota Fanning's
younger sister,
Elle
, is especially captivating in the film and is sure to grow up into a fine actress someday. The score itself seems like something you'd hear straight from the mind of
John Williams
and really makes one feel like they're sitting through a film unique to that era.
One of the finer moments which has been illustrated in the trailer (although not to maximum effect) is the train crash itself.
It's a true spectacle of wonder and awe – it's terrifying, it's beautiful and it's amazing. Something you'd have to only see in cinemas, I would think.
"Super 8"
might not be for everyone but at least there's a bit of originality among the slew of Summer/Winter blockbusters to come out to theatres this year.
________________________________________________________________________________________________________________________
That's all this week.
I'll be sure to get into watching more films over the course of these holidays - hopefully good and interesting ones too. Take care everyone.