My order of

"Batwoman: Elegy"

arrived in the mail this week.

Ordered it from

The Book Depository

- top site to buy books of any flavour (free shipping and ridiculously cheap - especially if you're getting comic books in trade). I'm planning on getting a few more comics once I have built up a sizeable amount of money in my bank account.



I've also recently placed orders for James Sallis'

"Drive"

- the book from which the film of the same name was based on - and

"Real World"

by Natsuo Kirino.

My interest in

"Real World"

was met this week when I saw it on display at

The Book Grocer

on Russell Street. From the description, it sounded like a cross between two Japanese films,

"All About Lily Chou-Chou"

and

"Confessions"

. A quick Google search of

Natsuo Kirino

will show that a lot of books have an awesome plot to it so depending on how I go with

"Real World"

, I might just go and get her other books as well.

------------


Also went out to buy

"The King of Fighters XIII"

.

Top game and a return to form for this fighting game series. Favourites right now are

Andy, Joe, Mature

and

Kensou

. I'll somehow make a team out of that and learn how to properly use them.

________________________________________________________________________________________________________________
WHAT I'VE BEEN WATCHING
Surprise, surprise. I actually saw some films this week! This week was a mini Joseph Gordon-Levitt week. JGL has steadily been making a pretty big name for himself, having recently appeared in films such as "Inception", "(500) Days of Summer" and will be also appearing one of the year's biggest films, "The Dark Knight Rises". While some may say he's relatively new to the scene, prior to his blockbuster success, JGL had, for many years, established himself as an actor on the independent scene. Now, with a recent Golden Globe nomination for his performance in the the hotly talked about dramedy, "50/50", I'm sure he'll carve out a fine career for himself in the next decade or two to come. ("Brick" is one of my favourite films and he was magnificent in it.)
Having said that, below you'll find my thoughts on three select JGL films -

"Mysterious Skin"

,

"Stop-Loss"

and

"Hesher"

.

In addition to this, I also saw the underseen Korean melodramatic film,

"Failan"

starring

Choi Min-Sik

and

Cecilia Cheung

.
With the film being called, "Hesher" you'd think it would be about this greasy, long haired, headbanging, Metal-loving dude.
But no, it's about a kid coping with the death of his mother.
But that's okay cause this film is aces.
I loved the film, more than I thought I would.
I don't know what I expected from the film to be quite honest.
One of JGL's best screen performances in a role that many will, in the future, consider to be a cult icon (seriously calling it now).
Hell the film itself has a bit of a cult appeal to it and will probably only affect those who are willing to see it.
And while it may be about a kid coping with the death of his mother, the underlying message underneath it all is that we all go through some form of grief but it isn't until someone comes crashing into your lives and smacks you with some hard truth and reality to wake you the hell back up.
Natalie Portman's character in the film felt a bit wasted which is a shame.
Oftentimes hilarious due to Hesher's unashamed words of wisdom (e.g.using a four-way sexual encounter as a metaphor for enjoying one's life) and deeply poignant is this film.
------------
Much to my surprise, this film was produced by MTV, which was not a good sign to begin with when starting your film.
Aside from the surprisingly strong performances, there's not much weight within the film to keep it sustained for the running time.
What was the purpose of the film? What was it trying to achieve?
I'm not sure I quite understood the film.
It's like as if the film wanted to tackle a lot of issues already raised in previous war films.
The cast turn in very solid performances and bring a sense of complexity to the characters even when it seems like there isn't any.
Even Channing Tatum isn't so bad in it although he's really got to get a control of accents and stop teeth grinding.
There are other films out there that are like that do a better job like "The Hurt Locker" and "Jarhead".
------------
Often lauded as one of JGL's best performances, if not the best of his career.
I think I hold that distinction for "Brick" to be honest.
The film itself is quite bleak and harrowing and tackles a rather hard to watch subject matter - pedophilia.
I'm not sure if it was director Gregg Araki's intention to make me cringe at a lot of the scenes in the film but oversexualising JGL's character (both as a child and as a teenager) was not something that I wanted to look at again.
Definitely an uncomfortable experience and something that I wouldn't recommend to a lot of people.
Had the same effect on me that "Requiem for a Dream" had.
Having said that, the film was quite the challenge to get through.
Although, for some reason, it seemed to offer a somewhat interesting slice of Americana in the midst of all the whirlwind of tragedy and emotions brought out within the telling of the story.
The performances in the film are superb and the music is absolutely sublime.
Just don't go into this film and think it'll have a happy ending.
Don't think I'd ever want to see the film again. Once is enough.
A disturbing and frankly honest film.
-----------
Yes, the poster is Japanese, I know.
"Failan" is a beautifully restrained melodramatic film from Korea.
I'd argue that it's quite an underseen film as it seems that no one really talks about it but those who have seen it are rather enamoured by how good the film really is.
A rather remarkable feat to have our two protagonists never share actual time together in the film yet have the audience establish an irrevocable connection between them.
Truly a great accomplishment and in that regard, it's quite the original little feature.
A film like this COULD benefit from some fantastic cinematography but rather than take the artistic approach and add a visual flare to the film, there's a sense of dry mundaneness throughout.
And while that might sound like a turn off, it completely completely depth to the film.
Giving this sense of realism rather than style evokes a sense of desperation and despair between our two characters.
In some ways, this film reminded me of "Comrades: Almost A Love Story".
Slow burning film which paces itself with great precision.
Intriguing narrative structure.
Choi Min-sik shows why he's one of Korea's best actors in a role that makes feel compassion to an otherwise despicable and petty character.
Cecilia Cheung also equally impressive in providing further nuance to an already wonderfully directed film.
Great film. Seek it out and keep a box of tissues close by.
________________________________________________________________________________________________________________
TIDBITS OF FILM NEWS

Two films are being put on hold right now - the American remakes of

"Akira"

and

"Oldboy"

.

In the case of

"Akira"

,

Warner Brothers

have decided to put the project on hold in order to take a look at the costs behind "Akira" and if they want to even take a risk on it. In addition to the costs, they want to also look further at their casting decisions for the project. Good move, I say. And if it somehow all goes underwater then

"Akira"

fans can celebrate.
As for the "Oldboy" remake, production for the film is being delayed due to Josh Brolin's commitments in promoting

"Men in Black 3"

.

The film is still going under way but is still yet to secure an actor for the villain. Still not even sure if

Mia Wasikowska

has actually accepted her role yet.

------------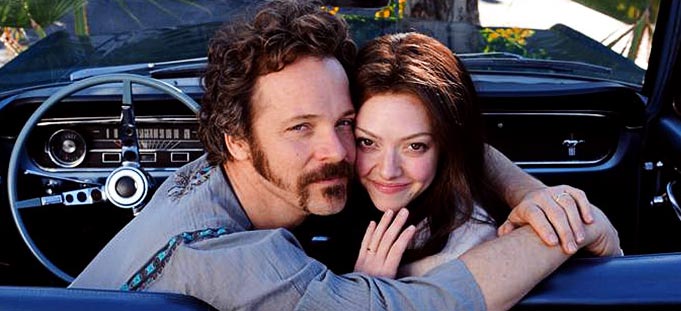 You want to hear about my celebrity crushes?
Well okay then! First up we have a still of
Amanda Seyfried
as former real-life pornstar
Linda Lovelace.
Wait, Amanda Seyfried is playing a pornstar? Oh boy. Also in the still is
Peter Sarsgaard
as
Chuck Traynor
.
------------
Speaking of Amanda, she's also reported to be in final negotiations for a role in Tom Hooper's

"Les Misérables"

. Hooper

, whose last directing credit was

"The King's Speech"

directs a very stacked cast with

Hugh Jackman, Russell Crowe, Helena Bonham Carter, Anne Hathaway

and

Sacha Baron Cohen

agreeing to take part in the musical.
------------
Meanwhile another of my celebrity crushes, Elizabeth Olsen, can be seen in the first trailer for the horror movie

"Silent House"

.

The film, purportedly filmed in a single take, is a remake of the Spanish film,

"La Casa Muda"

(also purportedly filmed in a single take) and was first seen at the Sundance Film Festival last year where

Lizzie

gained a lot of attention for her turn in

"Martha Marcy May Marlene"

(a film which I am dying to see and won't be released in Australia until February 2nd).




________________________________________________________________________________________________________________
And that is all for today's blog post. Today's blog post title comes from Portishead. It's a name that's been floating in and out of my consciousness for years now but I never actually followed up and bothered to research on them.
Anyways, it wasn't until I saw the video below that I was absolutely sold on Portishead (and you'll see why).
They've got an awesome sound but surprisingly only have three studio albums since their formation in 1991. The band toured Australia very recently also. Enjoy and bye.
End post.