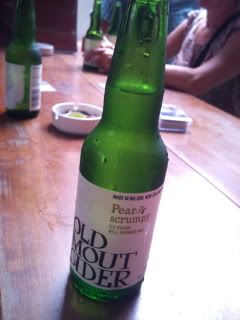 On Sunday, I was out and about at an event for Old Mout Cider.
A friend of mine who volunteers with me at ACMI invited me to the event since she works as Old Mout Cider's marketing person (so she pretty much organised the whole event). It was at Young and Jackson which is pretty much the pub that's straight across the road from Flinders Street Station. Invited some friends out and had a pretty awesome day out.
But why re-tell it when Ellen's already done so?
Boom.
------------
Ordered

"Battle Royale"

through The Book Depository and recieved it in the mail this week.

Also bought myself a copy of

"Anvil: The Story of Anvil"

at JB Hi-Fi on impulse (but a film this good warrants a purchase). I was surprised at just how thick the novel was but people on Tumblr have been telling me that it's a really quick read. We'll see about that (slow reader).
As for the DVD, I think that anyone who has consistently read my blog (no one), will know just how much I fell in love with documentary.
One of my favourite films ever - hugely inspirational and one of the few films to ever bring me to tears (suggesting that I am a big burly man who shows no weak signs of emotion).
________________________________________________________________________________________
WHAT I'VE BEEN WATCHING
Who follows me on Tumblr? You do? Well you must know how much I am in love with Elizabeth Olsen's everything. I am so in love with her that I went out to see her film, "Martha Marcy May Marlene", last week which recently released in select cinemas across Australia!
Now this is the part where you normally see my quick thoughts on the film but here's something a little different for today.
I submitted a written review (yes, I'm actually back to doing these again!), over to
Mark Battisella Films
so if you're interested in reading what I had to say about the film, please support myself and more importantly the website by heading over there and reading it (hell, why don't you go and tweet about it and like it on Facebook too!). No seriously, I'd really love it if you can spare a few minutes just to read it. Cheers.
________________________________________________________________________________________
TIDBITS OF FILM NEWS
Since I brought up Elizabeth Olsen, here's a trailer for a new film she's a part of called,

"Red Lights"

.

The film, directed by

Rodrigo Cortes

(

"Buried"

), stars

Cillian Murphy

,

Sigourney Weaver

and

Robert De Niro

and is about a psychologist and her assistant, both of whom study in paranormal activity, investigating a world-reknowned psychic.
The trailer does a good job of selling me on the film but from what I've heard, the film isn't as good as one would think (which is a shame because it looks pretty good). I'll let you be the judge and I will anticipate this film any way.
-------------
Also here's a new Superbowl trailer for

"The Avengers"

.

I'm very much looking forward to this film for many reasons (none of which I will name now). Once again, 2012 is the year to end all blockbuster films.
------------
And not so much film but more on the TV spectrum, here's a new trailer for Season Two of HBO's awesome series,

"Game of Thrones"

.

Just return to me now please... (you too,

"Breaking Bad"

).
________________________________________________________________________________________
And that is it for this week. Hey, here's the mandatory music highlight!
Today's blog post title comes from a track by
The Cure
! There it is below and now you go and enjoy it.
End post.