Delayed greetings.
I didn't put up a post last week because for one I didn't have much to write about but mostly because I've been too busy with the Korean Film Festival in Australia (KOFFIA) to really get behind writing anything.
But alas, here we are. And yeah, I was meant to update yesterday or on Saturday but I found myself busy with Reel Anime as well. More on that next week but seriously, I'm just burnt out on films right now. Never thought I'd hear myself say that!
------------
Much of last week was taken up by my time at KOFFIA. All the films that I saw at this year's festival were pretty amazing and certainly unique in their own right.
I only have good things to say about the event but I'll be sharing that with Meld sometime in the very near future so keep a lookout for that one (I'll link it through my blog once it gets published). Needless to say, I'm really looking forward to next year's program! Things can only go up from here. This is the video for the Melbourne leg of the KOFFIA event. I'm in it for like a few seconds - try and find me if you can. Reviews of KOFFIA films below.
------------
Yes, it's actually week eight of thirteen at my uni (well week nine as of writing this)!
Kind of bizarre how quickly it has all rushed by but it's been a pretty easy-going semester so far which is kind of a relief considering how freaked out about it I was at the very beginning. Managed to get through a presentation on Wednesday, hand in all documents pertaining to my television screenplay and hand in my short story in the past two weeks so I won't have a huge chunk of essays and documents waiting for me until several weeks from now. Good to know.
_________________________________________________________________
Several weeks before I saw Moonrise Kingdom, I went on a major Wes Anderson bender and caught up with all of the films that he has made to date.
So needless to say, my anticipation for
Moonrise Kingdom
was pretty high by this point. It's his latest film and there's been plenty of positive buzz about the film and while I can definitely attest to the quality of filmmaking at work here, I still hold a soft spot for
The Darjeeling Limited
and
Bottle Rocket
and think that they are my favourite films of his. But that's a personal choice, of course.
Set during the 1960s, the film takes place on an island where two love-struck children go missing, causing manic disruption on the island as authorities try to locate there whereabouts.
Simple enough to work within the function of a Wes Anderson feature where eccentric characters and oddball situations run rampant.
Moonrise Kingdom
is quite possibly Anderson's best film, technically speaking, and while there isn't a lot to fault from it, I must say that the story of Sam and Suzy, as cute as it may be, came off as being a bit of an uncomfortable experience in some parts. Young love is always cute but the way that Anderson has depicted it here almost feels like he's sexualising the children. And of course, I highly doubt that this was Anderson's intention but a few of the scenes left me wincing and feeling a bit awkward about watching what was unfolding on screen.
Considering the fact that all of Anderson's adult characters up until now have been infantilized and given childish traits, the move to focus on the naivety of young love translates much better when appropriated with the mindset of children.
While it can be argued that
Moonrise Kingdom
would be Anderson's most crowd-pleasing film, it's interesting to note how each film of his become more and more evocative of his style with
Moonrise Kingdom
being much more embedded in the director's unique aesthetic than his previous effort,
Fantastic Mr Fox
. But if you haven't seen
Moonrise Kingdom
, maybe you should check it out - I'm sure it's going to be one of those films you'd have to watch out for come awards season. Only time will tell.
------------
KOFFIA 2012 REVIEWS
Initially I was going to do nothing but full reviews and really make this post a lengthy read to make up for missing a week but then as I started writing I realised that I'd have enough reviews to get me through missing two weeks.
And I didn't want to do that so instead I'll just make it a similar deal to how I went about with my Wes Anderson feature a few weeks ago. I did write fully written ones for everything up to
The Frontline
but then got a bit exhausted and burnt out on writing reviews which eventually all sounded the same, I dunno. But anyways, here we go!
This year's theme for the Korean Film Festival in Australia was all about discovering connections.
The films programmed in this year's festival, I think all, in their own way, reflected that theme really strongly and gave a very impressionable and memorable film festival. Running in it's third year (and the second time it's touching down in Melbourne), I personally hope KOFFIA remains a mainstay as far as film festivals in Australia is concerned. Korean cinema has really established itself as one of, if not THE, premier cinema of Asia to watch out for in these last years so I wouldn't want to miss out on any of the quality films coming out from this country.
Opening the festival was Sunny, a nostalgic throwback to the 80s that's warm and heartfelt film.
Interestingly enough, the film uses the girls' friendship in a way that can be read as an allegorical take on South Korea's anxieties during this dark period in their history. Aside from the seriousness of these turbulent times,
Sunny
charms with its memorable soundtrack of '80s hits which evoke the strengths of friendship and the power of nostalgia. Never missing a beat, essentially what the film comes down to is this - if the girls from
Take Care of My Cat
grew up during the '80s and had a rocking sense of humour, they'd have grown up to be the women in Sunny. Hugely enjoyable - a film that transcends its "chick flick" label and grows to become a universally appealing experience.
------------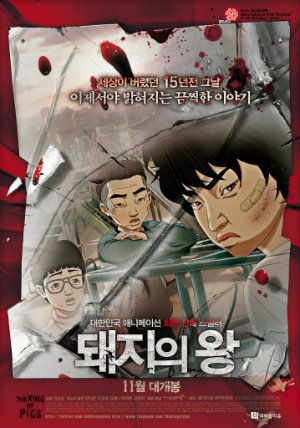 Having made its Melbourne debut at this year's Melbourne International Film Festival, The King of Pigs made its way to KOFFIA and delivered a unique and unflinching psychological study on the cruelty of bullying and a critique of class/social status.
Where
Sunny
is warm and inviting,
The King of Pigs
is dark and brooding. It screened straight after
Sunny
and, whether it was a deliberate decision or not, felt like it really complemented Sunny as both films deal with the strengths of friendship in different ways.
The King of Pigs
demonstrates how the intangible essence of a traumatic memory can cause a reverberation in life and how with it's two hour running time, provides a much more harrowing journey. An endlessly intriguing film, one that provides a glimmer of hope as far as mature Korean animation is concerned.
------------
On the other end of the animation spectrum is, Leafie: A Hen into the Wild.
The film was a massive success back in South Korea which is a surprise considering how Korean animation has struggled to persevere in the landscape of Korean cinema. Based on a popular children's story,
Leafie
might seem rudimentary by western standards but there's a poise about the film that makes it seem comparable to that of
Bambi
. A surprisingly powerful film,
Leafie
deals with strikingly mature content in a way that invites discussion between parents and their children. It's a gorgeously animated feature that's both engaging and satisfactory.
------------
The Frontline was South Korea's official submission into the Academy Awards earlier this year so it goes without saying that the film has some sort of prestige behind it.
It's set during the 1950s and is about the daily battles between North and South at Aerok Hill - a battleground that changes hands on a very routine basis. Early on the film, there feels like a strong
Joint Security Area
influence but
The Frontline
breaks away from this comparison. The film doesn't just use the war as a sight of spectacle - although the battles themselves are quite striking and shot superbly - but uses it to engage with the psychological duress of the soldiers who've been fighting a war with seemingly no end in sight. At times, it can feel a little hollow but a standout performance by Lee Je-hoon (who can also be seen in the outstanding film,
Bleak Night
) makes the film that much more engrossing.
------------
Kim Ki-duk is a widely revered name in Korean film so it was a welcome joy to be able to catch his film Spring Summer Fall Winter... and Spring on the big screen (and in 35mm no less).
Hailed as one of his best films,
Spring Summer
, is a multi-narrative story about a monk at different stages of his life and spans across several seasons. As beautiful of a film as it is, I can't help but feel alienated at times due to the religious overtones of the film - like as if having an appreciation/understanding of Buddhism would enhance the viewing experience. Nonetheless, each segment of the films plays out like a wise parable and is immaculately shot with grace and poise. Dialogue is sparse but there's no need for long-winded conversations - it's a quiet, almost spiritual experience. An engrossingly wondrous film.
------------
Films like The Client prove just how fun a good law thriller can be and it showed with the audience I saw it with.
The fun of the chase is what makes the ride all the more fun and a good audience wants to guess and hypothesise as much as the characters on screen do. It's why a film like this has maintained a strong sense of popularity amongst audiences for so long. Despite the rather awkward and slow pacing of the film's first half, by the second half,
The Client
really picks up and really gets the ball going. And sure, it offers nothing new in the ring of law thrillers but overall its just a fun film aided by a formidable cast of actors who I'm sure to check up on.
------------
I've been meaning to watch The Day He Arrives for a while now as the trailer for the film really impressed me when I first saw it a year ago.
Having seen it now, I'm unsure of how I feel about the film. At times it's mesmerising but at other times it's confounding. The film didn't feel necessarily boring, although I can definitely see why one would think it, but there were a lot of variables about the film that I found really intriguing such as the use of repetition, the omnipresence of the number three, and the characters in the film - all of whom are fascinating in their own little way. By no means a serviceable film, this one's not quite for the casual viewing crowd.
The Day He Arrives
demands considerable attention and has a strange quality about it that not only arouses the need for a repeat viewing (at least for me) but also evokes a somewhat ethereal essence about it. An interesting film to say the least.
_________________________________________________________________
Going to leave it at that for tonight. No Tidbits of Film News this week. Anyways, I'll leave you with this brand of 80s synthpop taken off the soundtrack of Sunny and is by a European group called Joy. Crazy addictive track this is and I especially loved how it was used in the film. Enjoy.
End post.