This last week's been pretty quiet for the most part but hey, I got around to watching a few more films which is always a plus, right?
Almost seems like I'm posting every Tuesday/Wednesday now. HRMMMM...
------------
Friday night was pretty darn fun though.
I was at a friend's going away party (she's an international student) and it was a nice night with some of my pals from uni. That's her above in the picture there with yours truly. She was my production manager for the little doco I made earlier on in the year. She's a great person and is always fun to be around. I hope she does well in life and hope to see her again!
------------


Oh and if you're a fan of Evangelion who's reading this blog right now and you're living in Australia, preferably in Brisbane, Sydney or Melbourne well then I've got some good news! Madman Entertainment, in conjunction with NTV Films, Japan Foundation Sydney, Arts Centre Gold Coast and Gold Coast Film Festival is set to bring a special Evangelion exhibition to Australia next year.
The exhibit will highlight the production process of the new Evangelion films from conceptual art to production notes. Also included at the exhibit will be a collection Evangelion memorabilia and other prized artefacts from the show and films.
A date for Melbourne has yet to be confirmed but the Gold Coast City Gallery will host the exhibit from 17 April - 5 May 2013 while the Japan Foundation Art Gallery in Sydney will host it from May 10 - May 18. Get excited guys. I am. SO EXCITED.
___________________________________________________________________
WHAT I'VE BEEN WATCHING
It is amazing to think a film like Before Sunrise exists at all.
How a film about two young travellers talking the entire time can remain both intellectually stimulating and emotionally heartfelt is something to be marvelled at. And then to replicate that same formula - albeit with a completely different agenda - with a sequel,
Before Sunset
, that takes place literally nine years after the first yet still remains to be justly compelling (and not a complete rehash of the original) is actually quite impressive. For all intents and purposes, the second film technically should not be as successful as it's predecessor - which in my mind stands as one of the great romance stories told on film.
In Before Sunrise, Jesse and Celine meet on a train only for Jesse to proposition to Celine that they disembark at Vienna and spend the entire day with each other before Jesse has to return to America.
The two aimlessly wander around Vienna. They become familiar with one another, ruminate about the concept of love while simultaneously falling for one another in the process. It's a largely bittersweet affair, however, once we and our two characters accept the fact that this may be their only night together.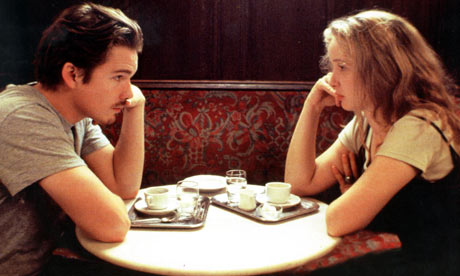 It's not a long film but it is a film that rewards those with the patience to watch the story of Jesse and Celine unfold at a freakishly natural pace.
Director Richard Linklater does an outstanding job in
Before Sunrise
, tightly controlling the almost improvised performances of Ethan Hawke and Julie Delpy. Linklater favours long takes, tracking his leads and their conversations which in turn allows every nuance from the film's impeccable script to flourish. Never does the film stifle or lose it's footing which seems almost bewildering considering the fact that it is a completely dialogue-driven film. As someone who admires the art of discourse, it's an absolute treat.
Before Sunset, the sequel to Before Sunrise, looks strikingly similar to the first though much of the film feels more poignant than its predecessor and that's perhaps due to the growth of these characters.
Jesse and Celine are now older and more mature, but not necessarily any wiser. Jesse is now an accomplished writer, touring across Europe promoting his new book. They meet once again, this time at a book store in Paris where Jesse is doing publicity for the press.
Elements of Before Sunrise seep into Before Sunset - the long takes, the conversations and the naturalistic acting all remain here.
In addition to the film being set nine years after the original, it has also meant that the time in between not only allows for the characters to mature but the actors themselves.
Before Sunset's screenplay, written by Richard Linklater, Ethan Hawke and Julie Delpy adds much depth and further characterisation of Celine and Jesse.
It's obvious that Hawke and Delpy both care for these characters as much as fans of the series are, if not more so. Linklater, Hawke and Delpy all earned an Academy Award nomination for Best Adapted Screenplay in 2005. And with age comes experience - Hawke and Delpy not only weave their own personal stories into the overall narrative of
Before Sunset
but they also add their growth and maturity as actors which actually emphatically highlights their characters' arcs.
Before Sunrise/Before Sunset are both fantastic films.
Thoughtfully engaging and never pandering to the audience with cliche or tried-and-true formulas, both films complement one another rather beautifully. The story of Jesse and Celine is told with such tenderness and rich in subtext. The particularities and details of Jesse and Celine's romance is so strong that the magic of the world that Linklater and company have created unquestionably made me want to immediately return to their world as soon as the film(s) finished.
The third film, Before Midnight, is tentatively set to be released sometime next year, another nine years after Before Sunset and 18 years after Before Sunrise.
You can bet I'll be there for that! I haven't included the trailers below but for some reason, I think not watching the trailers is a much better idea. Maybe just IMDB it or something cause I know I didn't watch the trailers before watching it and was left enamoured. But I can't say you'll feel the same way.
-----------
Last blog post I talked about Punch Drunk Love and how taken away I was with the minimalistic nature of the film and was enamoured by its charming simplicity.
Following
Punch Drunk Love
, Paul Thomas Anderson made
There Will Be Blood
a film that's essentially the exact opposite of his previous effort. There's no minimalism here as Paul Thomas Anderson goes all out and provides what is his most ambitious film to date (that is of course, once I see
The Master
which in itself looks just about as ambitious as
TWBB
).
A period film set during a time of rapid expansion in America, TWBB is a peculiar film from the onset.
The first fifteen - twenty minutes or so of the film are completely devoid of any dialogue, instead letting the story unfold through its imagery. We see men slowly descending further into the earth, digging for oil which in essence reads like a larger metaphor for the arc and progression of Daniel Plainview - the ruthlessly selfish and egotistical protagonist of
TWBB
. What unravels soon thereafter is a fascinating character study of a man consumed by greed, so much so that he is willing to do a lot of questionably diabolical acts to keep his wealth. Plainview, in essence, is capitalism personified.
It's interesting that, in the face of America's establishment of an oil industry - which I would assume was a humbly prosperous age for America - we are presented with someone whose ideals represent some of the ugliest qualities of humanity.
By the end of the film, Plainview is stripped of his soul, devoid of any sense of love in his life despite the wealth he's carved himself - an ironically worthless being. Although perhaps what's more interesting is that
TWBB
, from my perspective, is less about the greed of men and is more a film grounded on the ideas pertaining towards fatherhood and the burdens that the children take on from their fathers. And I think the fact that there is a strong religious overtone to the film certainly perpetuates that idea that
TWBB
is indeed a study of fatherhood. For me, this particular reading of the film was far more interesting than Plainview's ego trip (and if I were to try and elaborate it'd probably become an essay).
Daniel Day Lewis plays the role with stunning resolute.
The darkness that lurks within Plainview is almost terrifying and for his portrayal of Daniel Plainview, DDL was righteously rewarded with an Academy Award for Best Actor in 2007. Paul Dano, who plays a profiteering preacher, is also good in his role but when put up against the ferociousness of DDL's performance, it's clear that he's no where near the calibre of DDL. Although to be fair, the combination of DDL and a period picture essentially means automatic brilliance.
While TWBB isn't my absolute favourite PTA film, I can certainly recognise the brilliance of this film.
I personally prefer Anderson's more idiosyncratic films but this is perhaps his most formal feature to date. But really, what else is there to say about
TWBB
that hasn't already been said by many in the past? From its subtle cinematography to Jonny Greenwood's (from Radiohead) outstanding original score for the film,
TWBB
triumphs as an American classic. Film lovers will eventually have to see this film.
___________________________________________________________________
Here's the second full-length feature trailer for Tom Hooper's musical extravaganza, Les Miserables.
The production looks utterly gorgeous and while I had my reservations about the film early on, I've gone and done a complete 180 on this and am completely behind it now after seeing this trailer. Everything looks exquisite and well, I am actually looking forward to seeing this now. No doubt it'll be in contention at next year's Oscars by the looks of things.
-----------
Also the first full trailer for World War Z.
I've wanted to read the actual novel it was based on for a long time now and never got around to it but as far as my understanding of the novel goes, the film doesn't look anything remotely like the novel. While that part doesn't necessarily rub me the wrong way or even affect me, the fact that this looks like a very generic zombie film does little to get me interested. In fact it looks a lot like any other
Resident Evil
movie and doesn't look to offer anything else. Don't get me started on the tower of zombies that try to climb over each other. Silly.
-----------
Instead here's an alternative in Warm Bodies, a kind of zombie romantic comedy which looks like it has more promise than World War Z. An extremely interesting inversion of the traditional zombie film (protagonist is a zombie, complete with strange internal monologues) and he falls in love with a human survivor. Things get bizarre and funny and awesome. It's directed by 50/50 director, Jonathan Levine, and stars Nicolas Hoult, Teresa Palmer and John Malkovich. Kinda Zombieland-esque vibe but this looks like it could be fun.
-----------
Park Chan-wook isn't the only Korean director making a move to the States next year.
Kim Ji-woon, director of such films as
A Bittersweet Life
and
The Good, The Bad, The Weird
makes his American feature debut next year with
The Last Stand
(or Arnie's comeback action movie). If this trailer is anything to go by, then I'm sure Kim Ji-woon has plenty of action in him to bring State-side.
___________________________________________________________________
And that's all this week! Now enjoy Auditorium by Mos Def, whcih is the title of this week's blog post. Ciao.
End post.