So you may have wondered where I've been and why I haven't posted on this blog. Indeed, this is a very late post by my standards but I have a decent reason (in case one of you actually gives a damn about my absence).
------------
Other than catching up with some films and doing the usual lot of gaming, one of the main reasons why I haven't updated this blog is because of my birthday! The evening before my actual birthday was spent with a very small group of friends. I'd share pictures but we didn't take any photos. I mean, why take photos when you can eat in the company of friends?! HEH. We didn't do much else after that though and kinda ended up at my place after dinner. It was a good night though. Good food, good company. What's not to enjoy?
------------
On my actual birthday (which was on the 24th for those of you keeping score at home!), I wasn't intending to go out at all because it was a disgustingly hot day but a couple of my mates from high school called me out for dinner. We kinda just hung in the city the entire night and they got me a present too.
------------
The day after my birthday was spent watching Django Unchained with the same lot that I invited for dinner (minus one person). As per usual, thoughts on films can be in the next section.
-----------
Then the day after that was Big Day Out! I went with a mate from uni. Big Day Out was excellent, it was my first music festival (been to plenty of gigs in the past) and it was an amazing experience. I mean, I got to see Childish Gambino up close and got to rock out to The Killers and Red Hot Chili Peppers, both of whom put on fantastic sets to end the night. Their performances practically united everyone in attendance at BDO and it was pretty damn awesome to feel that musical bond with those bands and with everyone in attendance.
------------
And then on Sunday there was the Victoria Street Lunar New Year Festival. Didn't really care much for the festivities itself. Couple of friends and I ended up walking back and forth on the streets for a while and hung out my place for a while. I mean, the only reason to be there is for the sugar cane drink, really. Heh.
------------
So yeah, as you can see, my entire week has been pretty stacked. It's kinda nice that everything lined up really nicely for my birthday celebrations so I guess I should be thankful for that.
------------
Those are the presents that my friends got me. Not pictured is a Boston Celtics T-shirt which, at the time of taking this photo, was in the laundry.
------------
Birthday celebrations aside, another thing that kept me a bit occupied was this piece that I wrote for Meld Magazine about the Academy Awards.
If you're unsure of what to make of this year's Best Picture nominees or just want to join the conversation/sound like you know what you're talking about, you can use my guide to help you decide what to see and which movies to pay attention to come awards night. Yeah, just a bit of a plug.
_______________________________________________________________
WHAT I'VE BEEN WATCHING
I might start this new thing where I post reviews individually and then re-link them into these weekly post. Reason being is because I actually want to be able to find my reviews on my blog (and for others to be able to find it) so that I know what I've seen. Plus it may even look good as far as building my writing folio, I dunno. I may even just start going back to the beginning and tagging posts just so I know which movies are in which posts... But that might start next week. Anyways, fully writing about six films I've seen in the past couple of weeks is going to take up my entire day (and I want to use that time for other things) so I'll keep this short and dot-point my thoughts on each.
------------
- Absolutely loved ParaNorman!
- A dark and sometimes frightening film for kids but definitely something older audiences will have fun sinking their teeth into.
- At times, a loving homage to classic creature features and horror films but at the core of Paranorman is a strong and deeply thoughtful story that touches on themes relating to bullying (certainly something parents will no doubt appreciate).
- The story the film tells and the message it tries to get across is aided by charms of the film's stop-motion animation.
- Excellent voice-cast particularly with Kodi Smit-McPhee who gave me a reason to care about Norman and want him to succeed.
- Already one of my favourite films this year (even though it released last year in the States).
------------
- Wreck It-Ralph was also outstanding.
- Between ParaNorman and this, it's hard for me to say which will win the Academy Award for Best Animated Feature though signs point to this being the odds-on favourite and it's not hard to see why.
- Outside of Scott Pilgrim vs. The World, it's certainly nice to see a film treat video games with the respect that it deserves and then to do so with unabashed love for the medium.
- At times a bit too silly for my taste but the film's humour would certainly go over with the children.
- Wreck-It Ralph also features a short called Paperman that screens before the film which is equally exceptional.
------------
- After being charmed by ParaNorman and wanting more out of stop-motion animation, I decided to check out Coraline which I thought was good but not nearly as good as Paranorman or Wreck-It Ralph (that's just my opinion though)
- Carries that same dark and creepy vibe from Paranorman albiet with a bit more potency considering that it's an adaptation of a Neil Gaiman novel.
- Visually it's a lot more enticing than ParaNorman (though ParaNorman isn't without its share of visual quirks).
- I certainly think those that loved Pan's Labyrinth will find much to love about Coraline as both films are rather similar, I felt.
- But yeah, Coraline's still pretty damn good.
------------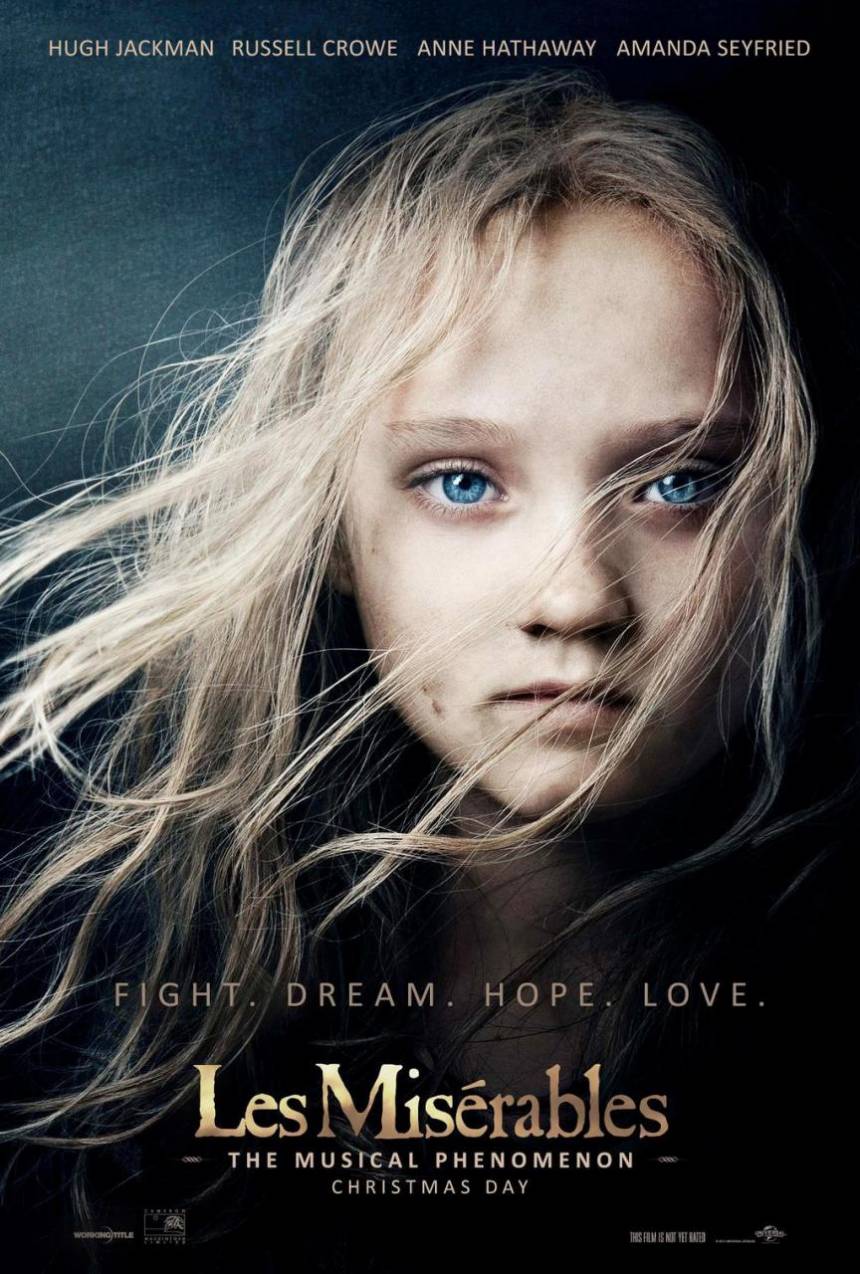 - So much praise was heaped on Les Miserables but I felt that the film was quite undeserving of it.
- I didn't think this film was good at all which is a shame considering how damn good it could've been.
- Performances from the cast are admirable at best (even Russell Crowe's) but it's Anne Hathaway's emotionally riveting performance at Fantine that truly deserves praise (and I'm pretty glad she's been getting awards for it too).
- Her performance in the film is pretty much the only reason to stick around for what can be chalked up to as an abysmal three hours of poor direction with little regard in the way of character development and storytelling.
- And let's not talk about the dreadful camera-work on display (seriously Tom Hooper, how did you think some of your shots were okay at all?!)
- At least, I walked home whistling "Do You Hear The People Sing?" - that's a good thing right?
------------
- In my opinion, Django Unchained is a near-perfect film.
- And I'll have to agree with most people who criticise the film for being a bit too long as well as having little in the way of getting to know the character of Broomhilda.
- While a film like this could've been written off as an adolescent fantasy (which I guess you could say is the bulk of Tarantino's work as well), there's a quality about Django Unchained in particular that makes me think that this is his most mature film.
- The whole time watching it, I just kept thinking of Jackie Brown though I guess an argument could be made that Jackie Brown is his most mature film.
- It might just be because he tackled slavery in America but right now I can't seem to really articulate why I think it's his most mature film (I'll have to see Jackie Brown again too).
- Also, people saying Leonardo DiCaprio getting snubbed need to calm down cause I happen to think Samuel L. Jackson's performance in this film was head and shoulder's above DiCaprio's.
------------
- Fortunate to catch an advanced screening of Silver Linings Playbook which I really liked.
- I don't think the film has the gravitas of an Academy Award winning film but it's still a great film regardless of whether or not it gets any wins at this year's awards.
- At the end of the day though, Silver Linings Playbook is nothing more than a romantic comedy disguised as a drama about family and metal illness (at least certainly within the first half of the film).
- And there's nothing really wrong with that - it certainly makes it an interesting take on the formula, one led by a pretty formidable ensemble cast.
- On that note, great cast with a particularly impressive turn by Jennifer Lawrence (she certainly seems like a strong favourite to win the Academy Award this year, especially after her win at the SAG awards this week).
- Largely enjoyable, light-hearted in nature and very funny - Silver Linings Playbook is something of a crowd pleaser.
_______________________________________________________________
TIDBITS OF FILM NEWS
A number of things happened the last couple of weeks but I won't write at length what happened so just a few dot-point headlines for the ones that mattered to me.
_______________________________________________________________
And that's it for this week! Now time for some music! This post's title comes from Donovan and was used in the trailer for ParaNorman. It doesn't quite sound like an oldie and the more I listen to it, it's kind of hard to believe how ahead of its time this particular song is cause it really doesn't sound like it belongs to the '60s at all. But what do I know? Have a listen!
End post.