Last night was excellent. One of my mates had a birthday celebration at the China Bar Signature Asian Buffet and I don't think I've ever had so much food in my life before. I'm not even that big of a fan of seafood and normally steer clear of it but last night was the exception. All I remember was downing oysters and shrimp (the occasional dumpling snuck its way through). Stayed there for a good two - three hours, I think. I think everyone had a food coma last night. Sadly no pictures from the night (this blog's readership would've grown exponentially if I included food porn, right?).
__________________________________________________________
So just letting people know that I'm keeping a movie diary of sorts (I mean if this blog isn't a diary in itself already, geez) over on Tumblr which can be viewed here.
I like the way it looks but something tells me I ought to get onto Letterboxd or something. We'll see.
Anyways, I'm not really in the mood to write at length what worked and what didn't for the films I watched this week.
I just don't have the energy to write that much right now so dotpoints it is. Hooray for short, succinct posting!
It might just be me but upon watching this film, it's become quite clear that Japan has a penchant for films about troubled/misguided youths, particularly those in high school.
Formerly belonging to a cult (based very much on the Aum Shinrikyo cult), a young boy goes in search of his younger sister, hoping to reunite with her.
Following up from a previous film of his, Harmful Insect, writer/director Akihiko Shiota manages to, once again, demonstrate the clear divide between the world of youths and adults with Canary.
Shares resemblance to the Koreeda film, Distance - and not just because of the cult aspect but due to the meandering nature of both films and its manipulation of memory.
Interestingly enough, longtime Koreeda cinematographer, Yutaka Yamazaki lends his skills to the film (which do not go by unnoticed).
Not quite as gripping of a film as you may think though - starts off strong but flashbacks to our protagonist's time with the cult impede the pace of the film (which was already slow enough to begin with).
------------
Honestly would have never heard about The Man Who Stole the Sun had it not been for Evangelion (the second film in Evangelion's "Rebuild" series uses a song from this film).
Tells the story of a bored high school chemistry teacher who decides to build a nuclear bomb.
Given Japan's history with nuclear bombs, this film was controversial in the country at the time of its release and its not hard to see why given it's subject matter.
Perhaps the most brilliant part of the film is the fact that it doesn't give our chemistry teacher a motive to commit to building it - he just builds it cause he can.
Unfortunately, the film does eventually lose its footing - becoming a jumble of genres and ideas that the commentary becomes less and less palpable.
Also, when watching the film, it's understandable how a film like this (now considered a classic in Japan) had an influence on Evangelion.
At times felt like a Japanese Taxi Driver though, which I guess is a plus.
------------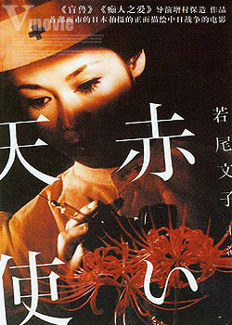 Missed this at the Japanese Film Festival but managed to track down a copy of Red Angel.
Some say this is Yasuzo Masumura's best movie but I still think that Seisaku's Wife is his best and is perhaps his most accomplished film.
Ayako Wakao stars as a nurse during the Sino-Japanese war who sees her fare share of atrocities.
Strong with political allegory, this film is essentially a non-war movie that takes on a fairly different viewpoint.
It's more or less about how damaging the effects of war can have on not just soldiers but the professionals whose job it is to make sure the soldiers are clinically sane and fit for combat.
That said, I felt that the romantic/sexual aspect of the film felt a bit too forced upon - like as if titillation would make the film more dramatic or draw audiences in to see an already alienating film (at the time of its release, Red Angel also stirred up controversy due to its depiction of the Japanese and of that particular war - a topic that's still sensitive even in Japan today).
------------
Anh Hung Tran is an interesting director - I liked Cyclo, hated I Come With The Rain and am still indifferent towards Norwegian Wood.
His debut feature, The Scent of the Green Papaya, brought Tran international acclaim which led to a nomination at the 1994 Academy Awards for Best Foreign Language film - not bad at all.
The film follows the growth of a servant girl from a child to a young woman as she lives and helps an affluent Vietnamese family.
Aside from the gorgeous cinematography (drowning in a sea of green and yellows) I honestly didn't think there was much about this film to enjoy.
As someone who hears Vietnamese in his everyday life, the way characters spoke and behaved didn't feel authentic and felt too "put on" at times which was distracting.
And for a 90 minute film, it moves at such an intolerably slow pace - the lack of music/silence didn't do anything to add to this either.
I will say however that watching the film did make me miss shacking up in my relatives' home in Vietnam though...
__________________________________________________________
Biggest piece of film news this week comes in the form of Academy Award nominations!
Seth MacFarlane and Emma Stone presented the awards on Thursday morning and This has probably been the least excited I have been for the Academy Awards compared to previous years but nonetheless, I remain in good spirits, especially when one of my favourite films last year,
Beasts of the Southern Wild
, earned four nominations (nominations that I did not expect it to get either).
Steven Spielberg's Lincoln leads the Oscar race with 12 nominations while Ang Lee's Life of Pi closely follows with 11 nominations. Many believed Argo and Zero Dark Thirty to be the triumphant leaders at this year's Oscar race but with Thursday's announcements, those two films' hopes of being Best Picture winner seems to have all but gone out the window. Dark horses in the Oscar race go to Amour and Beasts of the Southern Wild (although I would love so badly if Beasts won).
Beasts of the Southern Wild
Steven Spielberg (Lincoln)
David O. Russell (Silver Linings Playbook)
Benh Zeitlin (Beasts of the Southern Wild)
BEST ACTOR IN A LEADING ROLE
Denzel Washington (Flight)
Joaquin Phoenix (The Master)
Bradley Cooper (Silver Linings Playbook)
Hugh Jackman (Les Miserables)
Daniel Day-Lewis (Lincoln)
BEST ACTRESS IN A LEADING ROLE
Naomi Watts (The Impossible)
Jessica Chastain (Zero Dark Thirty)
Jennifer Lawrence (Silver Linings Playbook)
Quvenzhane Wallis (Beasts of the Southern Wild)
BEST ACTOR IN A SUPPORTING ROLE
Robert De Niro (Silver Linings Playbook)
Philip Seymour Hoffman (The Master)
Tommy Lee Jones (Lincoln)
Christoph Waltz (Django Unchained)
BEST ACTRESS IN A SUPPORTING ROLE
Helen Hunt (The Sessions)
Jacki Weaver (Silver Linings Playbook)
Anne Hathaway (Les Miserables)
BEST ANIMATED FEATURE FILM
BEST FOREIGN LANGUAGE FILM
BEST WRITING FOR AN ORIGINAL SCREENPLAY
Quentin Tarantino (Django Unchained)
Wes Anderson and Roman Coppola (Moonrise Kingdom)
Mark Boal (Zero Dark Thirty)
BEST WRITING FOR AN ADAPTED SCREENPLAY
Benh Zeitlin and Lucy Alibar (Beasts of the Southern Wild)
David O. Russell (Silver Linings Playbook)
__________________________________________________________
And that's all I have to write about this week. Will try to watch all the Best Picture nominees next week (not including the ones that aren't released in Australia yet). Recently got into Kanye West's music and never realised how good he was until now. Here's a track off his album, Graduation, which just so happens to be today's title too (apparently a hit single too which is funny cause I don't remember ever hearing this at the time of its release).
End post.