First post of 2013! How was your New Year's Eve spent? How was mine? Oh it was pretty nice and it wasn't like I was expecting a MASSIVE celebration or anything - I just like to be out on that night and take in the spectacles of the fireworks. The only thing not fun about NYE is the people who can be pretty damn rowdy. But this year my NYE celebrations took place at my mate's apartment in the city. Some of us were worried we wouldn't be able to actually see the fireworks but it turns out that the Melbourne fireworks shot from several different buildings which ultimately gave us a very panorama view of the fireworks. Too cool.
____________________________________________________________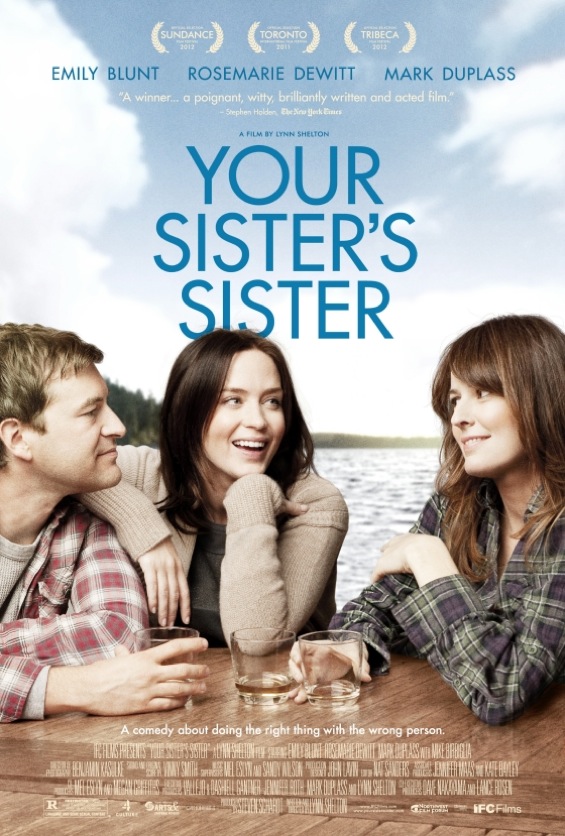 I missed the opportunity to be able to see Your Sister's Sister both at MIFF 2012 and in cinemas when it was released here.
I managed to get a hold of a Blu-ray copy of the film, however, thanks to Madman Entertainment.
The film, written and directed by Lynn Shelton, has been described as belonging to the mumblecore genre, a term used to describe films with naturalistic dialogue that, more often than not, contains murmurs and mumbling.
It's a relatively new kind of style that's been applied to American indie filmmaking but I'm fairly sure this style of filmmaking has been achieved before elsewhere (Hiroshi Ishikawa's films are a good example of this).
Mark Duplass, previously seen in Safety Not Guaranteed plays Jack, a man struggling with the death of his brother who passed away the year prior. Concerned, his best friend, Iris (played by Emily Blunt) suggests that he use her father's remote cabin to take a lone sabbatical where Jack meets Iris' sister, Hannah (played by Rosemarie DeWitt), who is also having her own sabbatical. Eventually, Iris heads up to the cabin to check up on Jack and over the course of a few days, some revelations are made between the three of them.
I thought it was a nice little film and while I can understand why some people may find Your Sister's Sister to be a less than pleasurable experience, I liked the way the film flowed and really appreciated the naturalistic performances provided by all three actors. As someone who has studied the mechanics of dialogue and narrative, I thought that Lynn Shelton's script for this was great and her direction provided a genuine and, at times, honest tone for the film. Additionally, if at any time a film subverts genre conventions (in this case, the romantic comedy) and succeeds, then I think it'd be hard not to be impressed at least the very least.
While Your Sister's Sister won't exactly go on to be an enamouring favourite of mine, it's these kind of films that always leave a lasting impression on me - these quiet and understated films. Largely enjoyable and if you're thinking of seeing a different kind of comedy/drama this is it.
Your Sister's Sister will be available on DVD and Blu-ray on January 9th across Australian retailers via Madman Entertainment.
------------
Blue Valentine has been on my watch-pile for a while now but it wasn't until the trailer for Derek Cianfrance's newest film, The Place Beyond the Pines, hit the web that I figured it was time I watched Blue Valentine. Released in 2010, Blue Valentine was not without controversy as the MPAA had deemed the film too graphic and thought it ought to have been given an NC-17 rating. The MPPA thought it was too sexually explicit to the point where they thought the film bordered on pornography (which is ridiculous when you see the film for what it actually is). The film managed to get an R rating in the end (think of that as our MA15+).
Controversy notwithstanding, Blue Valentine struck a cord when it first screened in front of audiences.
The film charters the tumultuous and destructive relationship of Dean and Cindy. Not much more needs to be said than that honestly. The film goes back and forth between where Dean and Cindy are at in the present (they have a child and their marriage is on the rocks) to the past where they first meet and fall in love.
Writer/director Derek Cianfrance creates a portrait of love that is both raw and honest which is further assisted by the clever cinematography work by Andrij Parekh.
It's incredible to see how so in love these two are from the beginning and how completely out of love they eventually become. The fact that they share a child as well no doubt complicates matters between the two further.
Like Your Sister's Sister, there's a naturalistic style to the film that compliments the bittersweet tone.
Dialogue feels inspired and Michelle Williams and Ryan Gosling are in perfect form, with Gosling providing his best performance to date (at least from the films of his that I've seen). And while Gosling's performance is certainly impressive, I don't think it's nearly captivating as Michelle Williams' here.
Blue Valentine is an exceptional film grounded by realistic nuance and honesty.
It's a unique perspective on the disintegration of love.
------------
Nominated for Best Documentary at last year's Academy Awards, Hell and Back Again, at times, does not feel like a documentary at all. I had to keep telling myself that as I was watching this incredible film about an American soldier struggling to assimilate himself back into society.
Prior to making the film, director Danfung Dennis had an extensive history as a war photographer. In the special features of the DVD/Blu-ray Dennis explains that he wanted to capture war in a completely different light and opted to try using video instead. The result is something that's brilliant and spectacular. If it weren't for the fact that the film's subject matter was somewhat distressing, I'd say that this is one of the most beautifully shot war movies I've ever seen (if not the best). To be able to capture live firefights with incredibly smooth tracking shots is an extraordinary feat and with Dennis' already keen eye for visuals, the images he leaves on you are hard to forget about.
The documentary weaves in and out of American soldier Nathan Harris' life in battle and back home. Harris is committed to his military duties but his injury has debilitated him, forcing him out of action for about a year.
Hell and Back Again operates a lot like The Hurt Locker, particularly the final moments of the film where Jeremy Renner's character is essentially alienated from life in America. Harris, like Renner's character in The Hurt Locker, is completely disenchanted with what ordinary life has to offer and, in spite of the love and support offered by his wife Ashley, he is a man who only knows how to be a soldier and nothing else. He tells his wife of war stories and how to operate guns and lovingly tells us how he steels himself during his sleep. War isn't so much a drug for Nathan, it's his life. It's all he knows which is exactly why the scenes at home feel completely out of place (in a good way) because he himself feels out of place.
Hell and Back Again is an exceptionally gorgeous looking and sounding film. It's especially effective on Blu-ray and features a gorgeous HD transfer. The special feature on Danfung Dennis' choice of camera and how he managed to get the shots he wanted is a must-watch for budding filmmakers and documentarians.
Hell and Back Again is currently on sale at Australian retailers and is available via Madman Entertainment.
------------
While not exactly at the top of my watch pile, I figured I ought to give Attack the Block a chance this week. In the face of an alien invasion, a group of teenagers go from criminals to heroes as they do battle against these aliens in their apartment block.
Written and directed by Joe Cornish, the film comes off like a mix between the films of Edgar Wright and Aliens. Edgar Wright has a producing credit on the film though so it's perhaps no surprise that Attack the Block has a bit of that Edgar Wright flavour (even going so far as to hire Wright-regular Nick Frost for a role as the teenagers' weed dealer). The humour isn't as crass as one might expect (considering how thug-ish these lads are) but there's plenty of referential quips and deaths that'll keep you laughing.
Attack the Block isn't without it's drawbacks though as character and story seem to have been ignored in favour of set-pieces. The movie moves at such a fast pace that there's really no time to soak in everything that's happen. Even the attempt at social commentary, while admirable and may provide food for thought, feels too forced in the grand scheme of things.
That said, Attack the Block isn't without it's charm and despite its drawbacks is still an enjoyable and fun film. While I can understand that the characters in this film aren't exactly the most likable people in the world, they certainly help to build the world of the fil. No doubt this movie will become (if it hasn't already) a cult classic.
__________________________________________________________
Skipping out on Tidbits of Film News this week (as I do seemingly every other week now). This blog post's title comes from the indie group Field Mouse. I found out about them through the Exitmusic Tumblr tag (Exitmusic are another great group who you should listen to!) because they did a remix of this particular song. This song reminds me a lot of Mew. I'm hoping Field Mouse release their first full album soon. Have a listen and have a happy new year everyone!
End post.